Cisco reports around 82% of global internet traffic was due to video content in 2022, and this number is growing every year. With increasing internet connectivity, and accessibility to mobile devices connecting through content has been on the rise. 
During such times, when videos are being churned out every minute, it makes sense to use an AI-powered tool to help creators better their video content.

An important AI tool that helps with achieving this is AI script generators. These script generators create the foundational blueprint for your storyline in seconds.
These tools are often easy to use and can be played around with different features, such as the level of creativity and genre you may want in your story. The features within the tool facilitate creativity and help you develop scripts that engage the users well.

Below are five tools that are not only excellent AI Script Generators but also free!
How to use: A Google sign-up is required to access this tool. The tool has an input field where you can customize the type of story idea, story type, outline, and target audience you want to reach. This allows for results to be tailored to your niche.
Results: Deliver a comprehensive introduction, prompts for all characters, and stage-setting ideas, the tool is ideal for generating medium-length and long-length video content.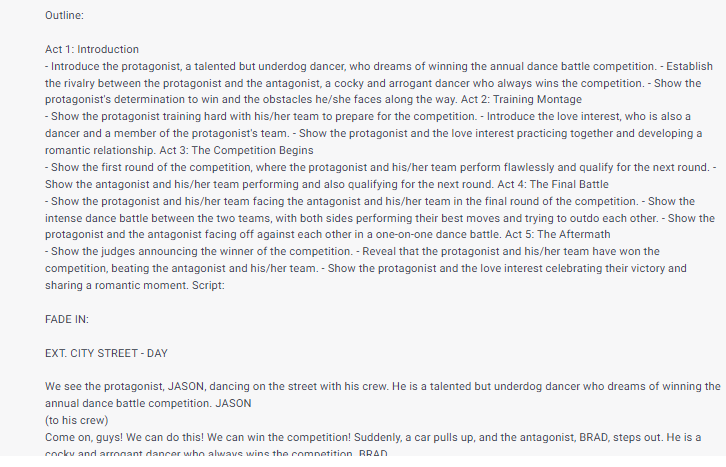 Overall Verdict: The tool is easy to use and the script generated is very detailed. It is ideal for those that want scripts for short stories. The option to choose the target audience also allows the script voice to be tailored accordingly, resulting in a script that speaks to the right people.
2. ToolBaz
How to use: The website allows you to write down what the script is about and then decide the level of creativity you want for the script.
Result: The prompt of "Dance Battle " produced a 104-word script where there are multiple cues such as music fades, and cues for voice overs. The tool was easy to use and did not require a Google sign-up.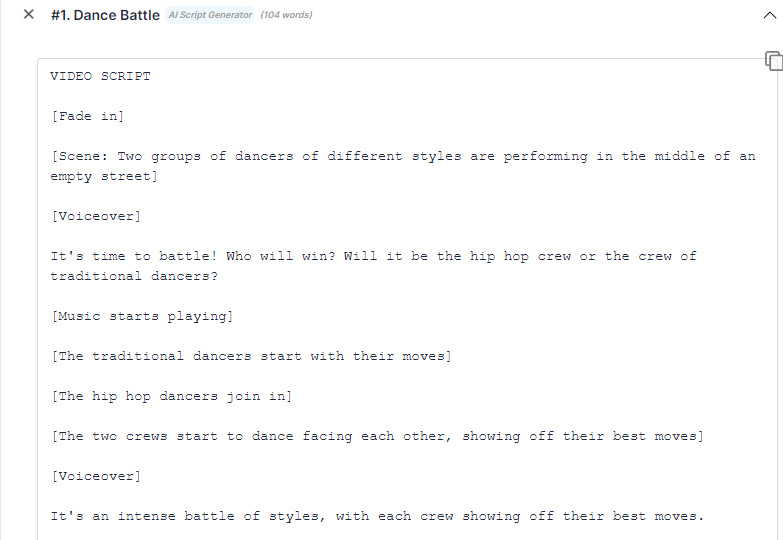 Overall Verdict: The tool is easy to use, and ideal if you need a quick story generated. However, because the only things we can control in the tool is the section where we write about the script and the creativity level, the content generated can be too simplistic. A lot of heavy lifting falls on you, the more comprehensive you make the script section the better your results will be. 
3. Writecream
How to use: You need to sign-up through Google to access the tool, and then write a prompt to generate the script in the command bar.

Result: The tool provides about 5 script outputs that you can choose from, you can also click on each output and edit new content as you wish.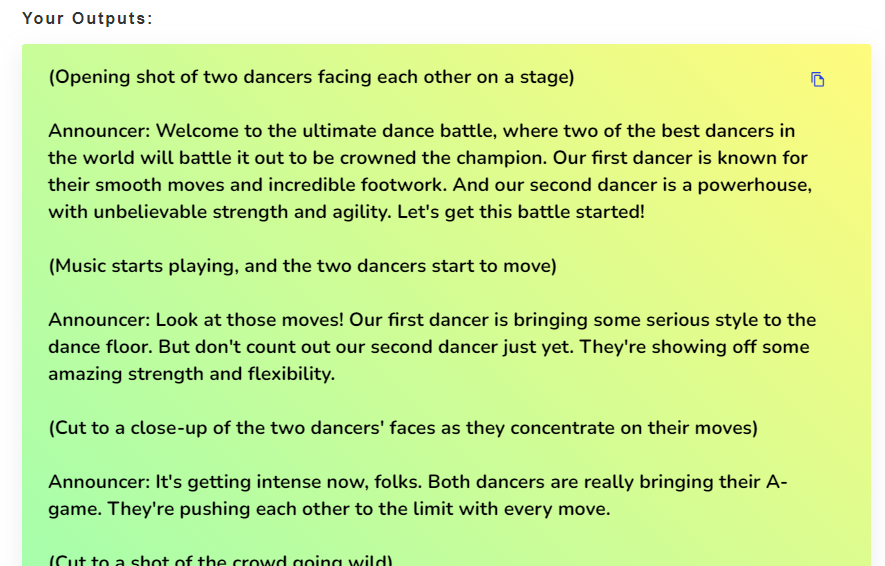 Overall Verdict: The tool requires a sign-up and a prompt from you. It is extremely easy to use and also provides you with a variation of 5 script outputs. The only draw-back here is despite providing 5 scripts, all the variation seem similar and sometimes the output may lack of originality.   
4. Veed.io
How to use: The Tool does not require a Google sign-up. For this tool, you need to answer the question listed below to generate a script. The tool delivers different types of scripts for different types of video formats as well such as social media platforms like YouTube, Tiktok, etc. can also select the vibe you want the script to have.
Results: The tool produces one script per generation, but you can opt to regenerate if you do not like the results. The script includes multiple stage and emotion cues characters should use when delivering their lines.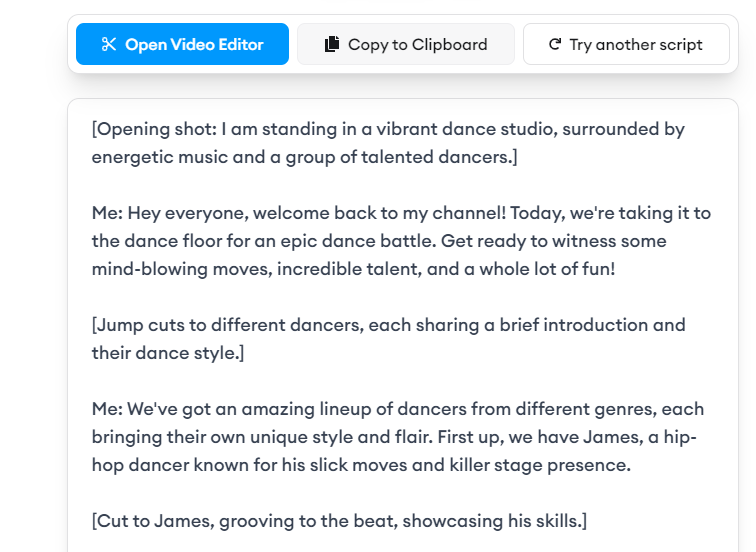 Overall Verdict: This tool is easy to use and quite comprehensive, it does not require a google sign-up and asks you a couple of questions regarding the script that you want to generate. It seems like an ideal tool for people who manage different social media accounts and are in need of constant idea generation.
5. Kapwing
How to use: The tool requires a Google sign-up. In this tool, you have the option to type in what the script is about, the time length you want the script to be, and choose a platform in which you want the script to be showcased.
Results: Generates one script based on the choices you have selected. You can alter the type of script you want by using the left-hand side input selection and customize your results.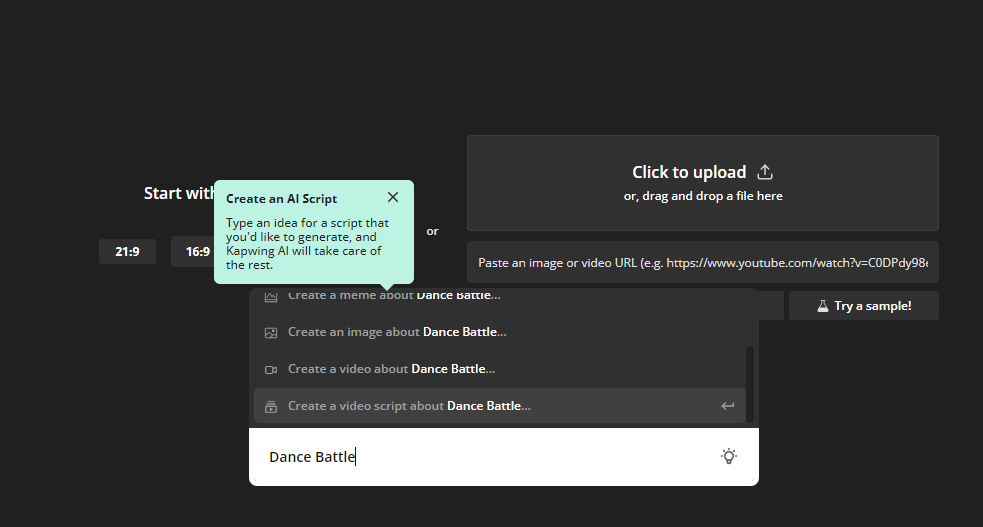 Overall Verdict: This tool is also ideal for people who need to generate multiple scripts for different platforms, based on your preference it can alter the time frame for your script as well. The only drawback of the tool is that it is limited to only generating scripts for social media platforms on its free version.