Generally speaking, if you're looking for a Copymatic alternative, it's because Copymatic doesn't have everything you need from an AI writing tool.
You might be running up against some of these issues:
Poor output quality – You want an AI tool that produces natural-sounding, high-quality content. Copymatic, for whatever reason, may not be giving you the output you want.
Missing the features you need – Copymatic has many features but may be missing the ones you want the most, like an essay grader or re-writer.
A pricing model that doesn't work for you – For teams, Copymatic, at the time of this writing, starts at $32 a month.
Bad user experience – Finally, you may just not like using Copymatic, its UI and design.
Whatever the reason, plenty of alternatives to Copymatic are available for all price points and different use cases.
In this post, we cover 6 of the best Copymatic alternatives for writers:
Smodin
Copy.ai
Jasper
Rytr
Writesonic
Scalenut
1. Smodin – Best Copymatic Alternative Overall
We start with Smodin because it has a long list of features perfect for all types of writer and writing. This includes bloggers and copywriters, as well as students and teachers.
With Smodin, you can have our AI tool write an essay for you and then use Smodin's Essay Grader to evaluate how good the essay is and make changes as necessary to help guarantee you get your desired grade.
You can also generate complete drafts of articles targeting specific keywords, generate titles and headers, use our paraphrasing tool to get new content, and so on.
To see how Smodin works for you – and if it's the right Copymatic alternative for you – start writing with Smodin for free.
Or you can keep reading to learn about the key features that make Smodin the best alternative to Copymatic:
AI Article Generator – Helping Content Writers Write Better Content

Content writers, SEOs, and other bloggers can improve and expedite their content writing process with Smodin.
Simply use our AI article generator to draft a complete article. You can choose the topic/keyword, your article's length, and other key features (like whether your article needs an image or conclusion).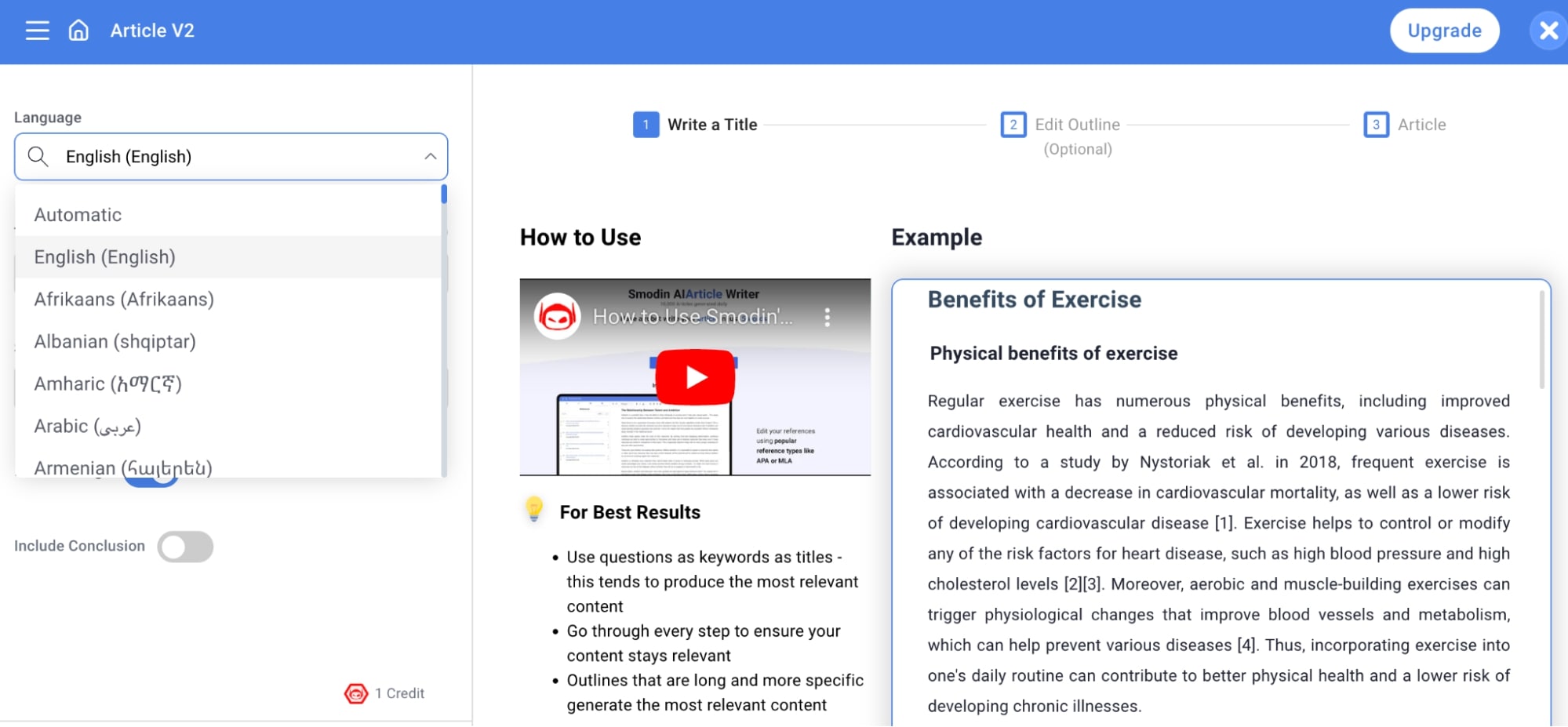 Once Smodin has your topic, it creates and shares an outline. You can customize the headers/sections on this outline. Then Smodin drafts a complete article for your review. You can request revisions, as well as write your own content.
Our AI article writer saves content writers and bloggers a lot of time when producing articles.
AI Essay Writer – Helping Students Get Better Grades
Copymatic doesn't have features specific to academia, but Smodin does. Students can use Smodin to write an essay.
The overall process is similar to the one we outlined above.
You give Smodin a topic, Smodin comes up with a title, and then produces an outline.
You can customize the outline given and pick the type of essay you're writing, whether it's a narrative essay, a descriptive essay, a persuasive essay, etc.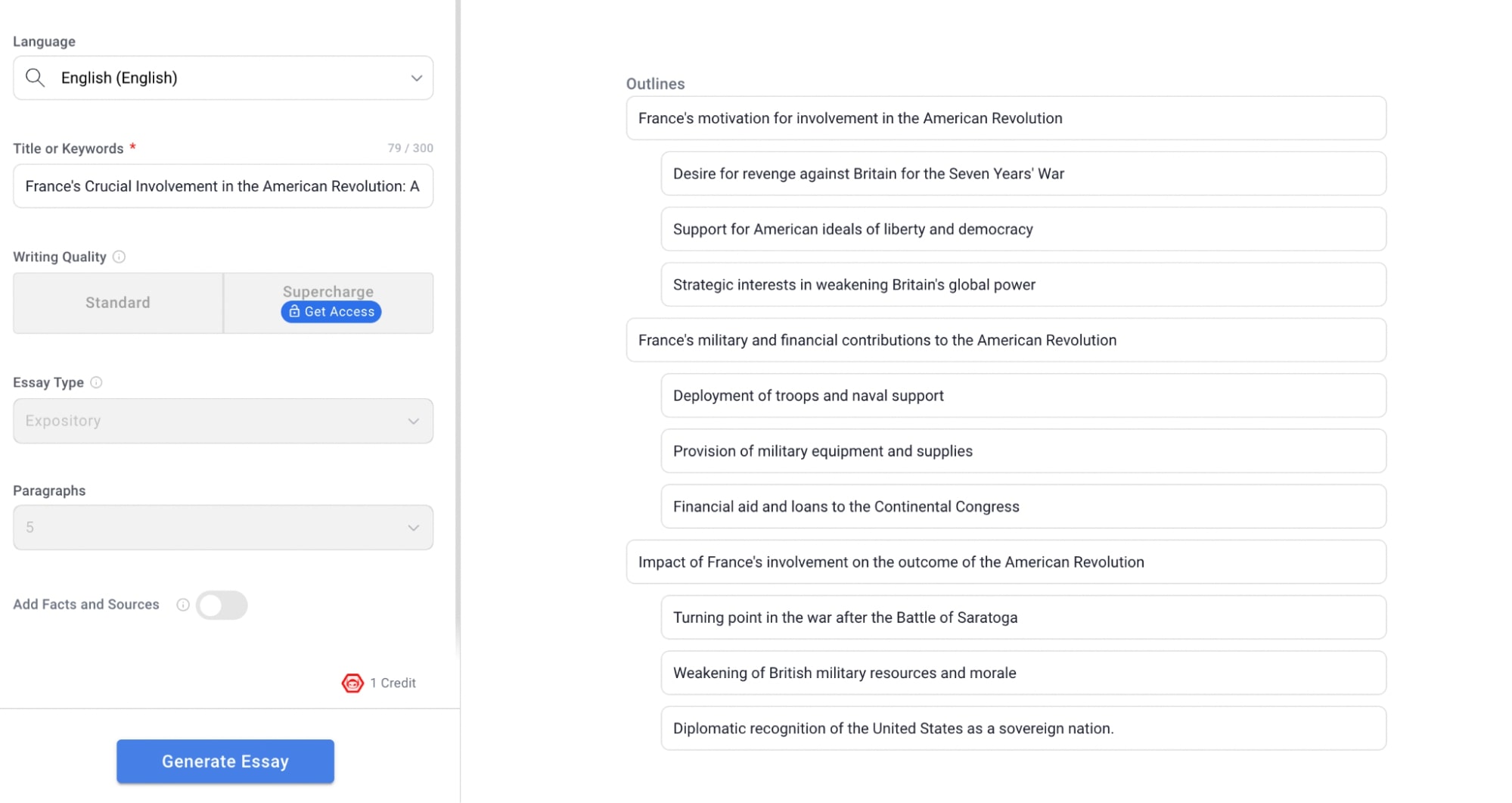 Once you've approved the outline, Smodin writes the essay for you.
This is perfect for helping students draft essays, ideate new thoughts and angles, and improve their writing.
Next, we cover how both students and teachers can grade their essays with Smodin.
AI Grader – Easy and Fast Grading

Both students and teachers can benefit greatly from using Smodin's AI grader.
With our AI Grader:
Teachers can quickly grade essays. The AI grader gives teachers more time to spend directly with their students.
Students can see what grade they're likely to get. As you'll see below, the AI grader assigns a letter grade and explains how the essay could improve. This means students can use it to improve their essays before they turn them in.
To use, simply upload your essay's rubric. If you don't have a set rubric, you can use the rubric pre-loaded into Smodin, which covers things like "ideas and content," "organization," and "clarity."
Use AI to grade your writing today
Other Key Smodin Features
We looked at Smodin's AI article generator, essay writer, and essay grader. But there's plenty more that Smodin offers writers, including:
Start using Smodin to elevate your writing.
2. Copy.ai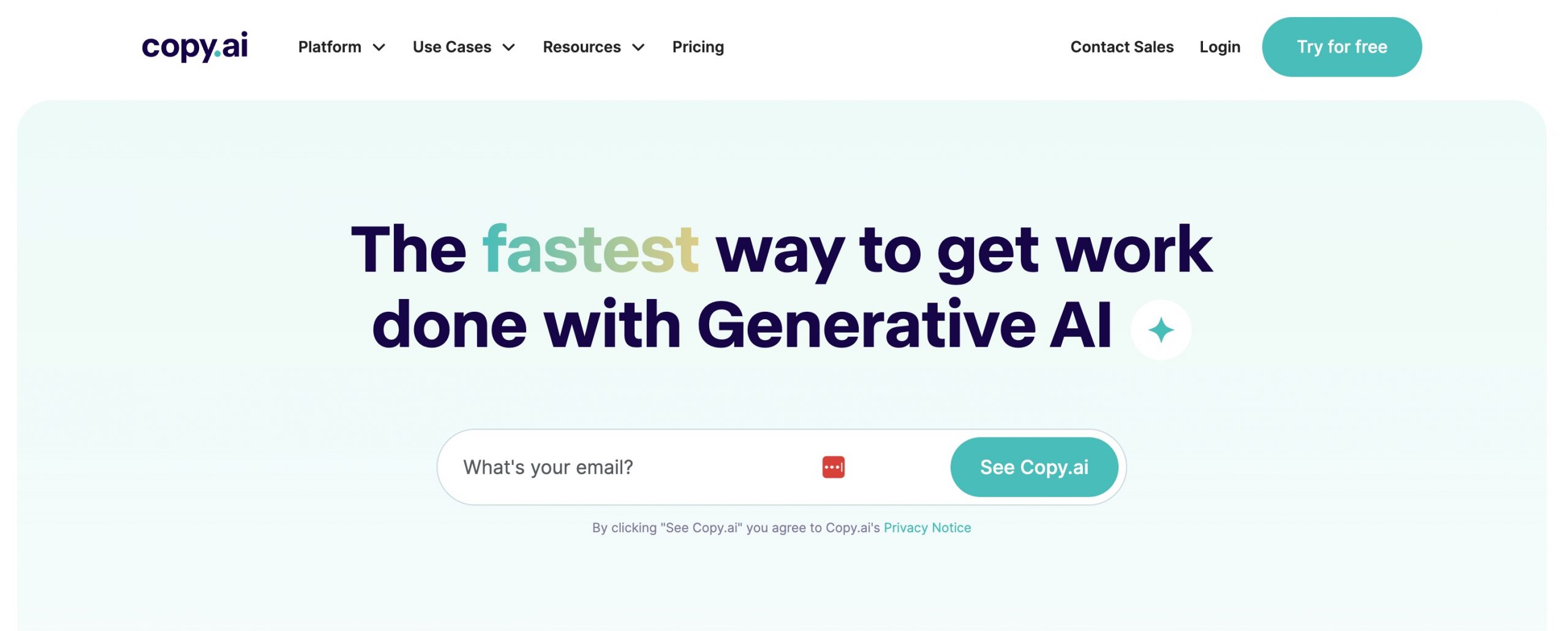 Copy.AI is an alternative to Copymatic that can help writers quickly and easily create high-quality content. Instead of spending hours writing emails, blog posts, and social media captions from scratch, Copy.AI generates them for you in seconds.
Here are 3 key benefits of using Copy.AI for your content:
Saves time – Copy.AI can churn out an entire blog post or email campaign in minutes. You just provide a few prompts and let the AI work its magic. This allows writers to be more productive.
Generates high-quality content – Copy.AI uses advanced AI to craft well-written, engaging content that sounds natural. Many users report that the quality is indistinguishable from human-written text.
Covers different formats – Copy.AI can generate all types of marketing and blogging content, including emails, social captions, ads, landing pages, and more. It adapts to your preferred tone and style.
The bottom line is that Copy.AI takes the effort out of content creation. It's like having your own AI writing assistant that never runs out of fresh ideas. This allows marketers and bloggers to focus on promotion and strategy instead of constantly churning out new copy.
At the time of this writing, Copy.ai has over 55 reviews with an average star rating of 4.5 out of 5.
Read all of Copy.ai's reviews here
3. Jasper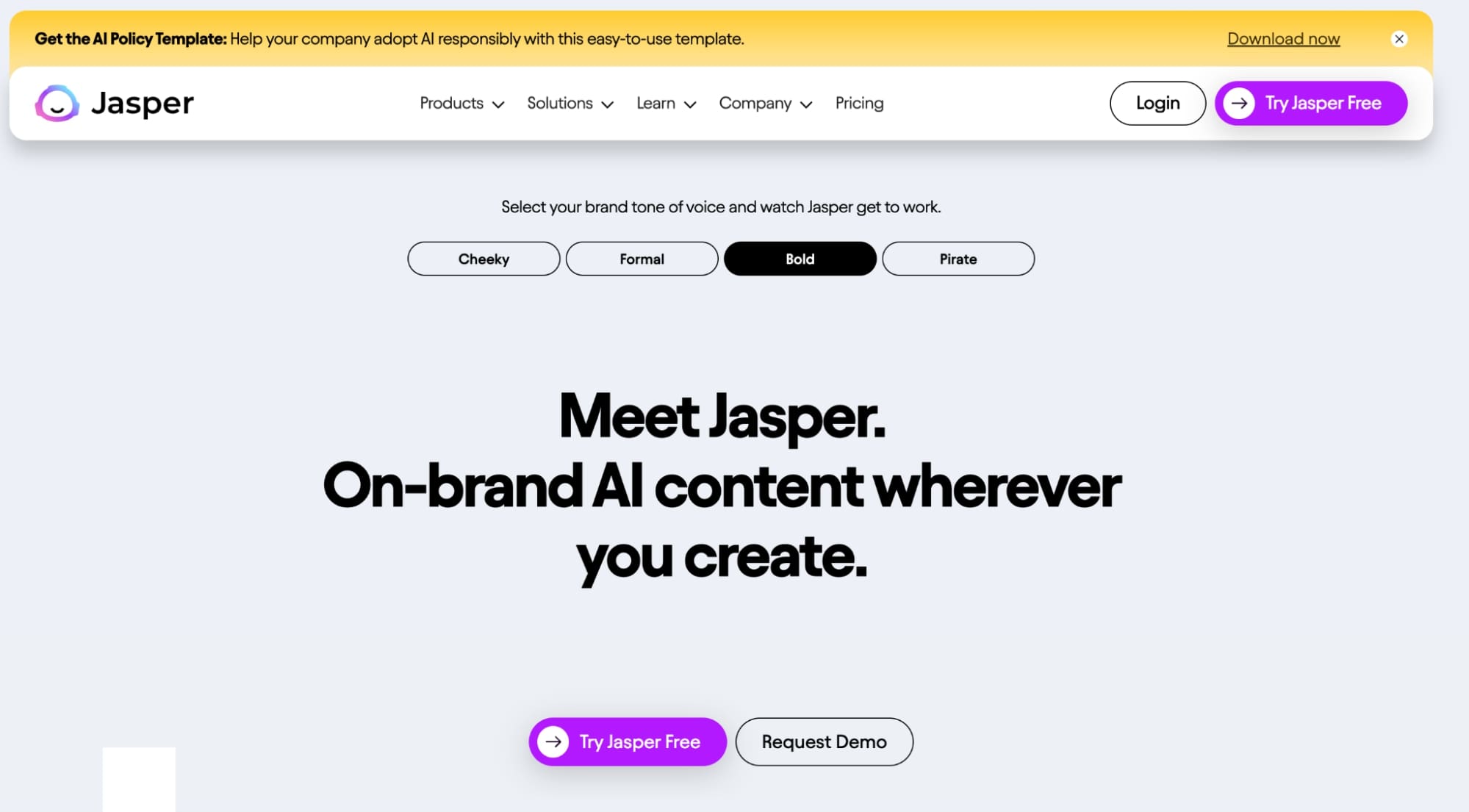 At its core, Jasper aims to simplify and speed up the process of creating marketing copy and blog content. Whether you need an email, social post, or 10 blog articles, Jasper can help generate initial drafts. This gives you more time to focus on high-value tasks.
Save Time with Templates – Jasper has a template library containing outlines and samples for blog posts, emails, social media, and more. Instead of starting from a blank page, you can choose a template and let Jasper fill in the content. This makes creating first drafts a breeze.
Optimize Blogs for SEO – The blog feature allows you to generate complete blog posts in just minutes. Provide a headline and few prompts and Jasper will return a well-written article. The AI considers SEO when generating posts, including using target keywords and formatting content.
API Access for Customization For advanced customization, Jasper offers API access. This lets you integrate Jasper directly into your existing workflows and content management systems. You can build custom templates, analyze tone/style, and create specialized AI models.
4. Rytr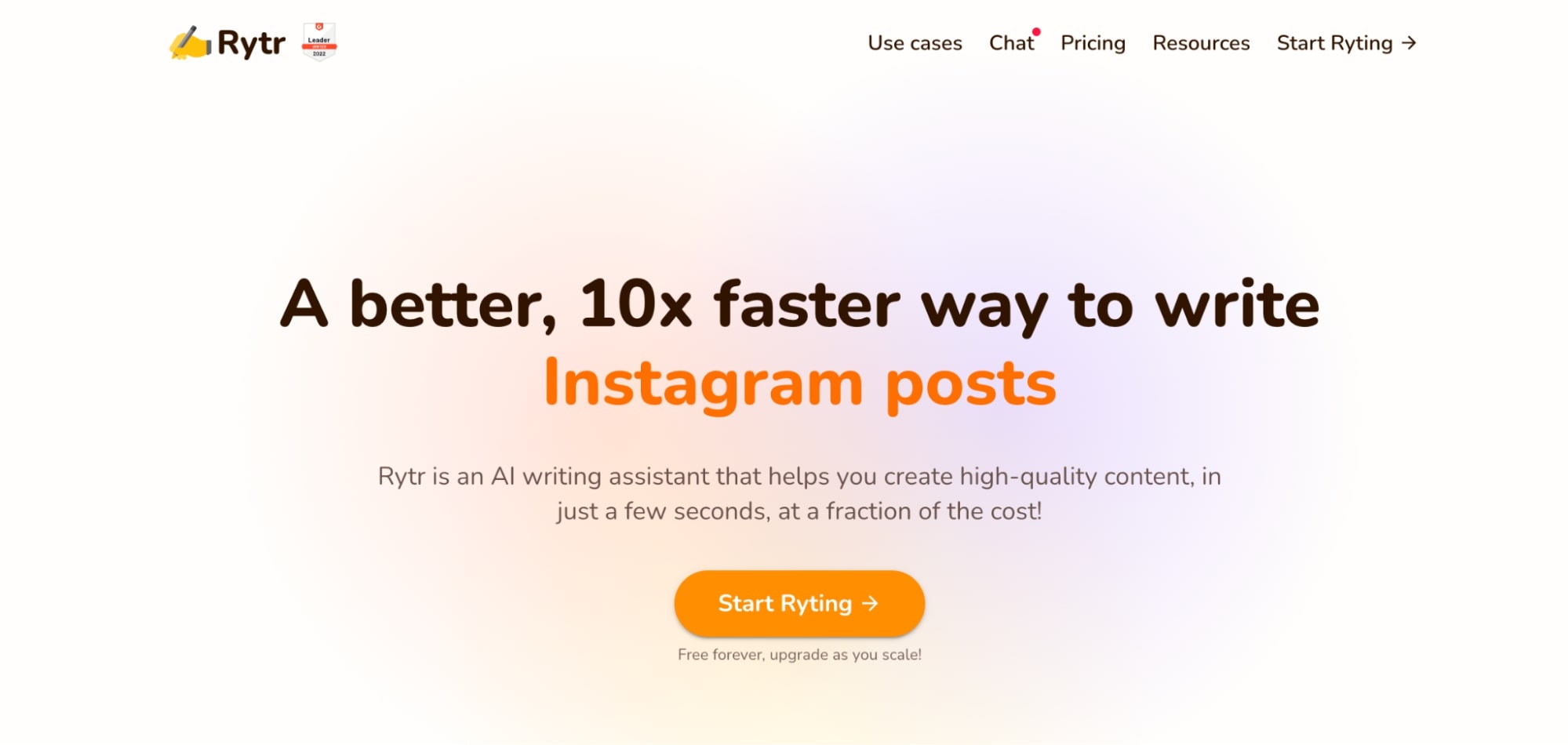 Rytr is an AI writing platform designed to help copywriters and marketers generate high-quality content efficiently. It includes several useful features for ideation and drafting.
Blog Post Outlines – Rytr will create a complete outline for your blog article just by inputting a focus keyword. This provides a starting structure to build upon.
Section Writing – Struggling to flesh out a section? Rytr's section writing tool will generate a draft paragraph or two based on where you're at in the outline.
Brand Name Generator – Creating a unique and catchy brand name can be difficult. Rytr's built-in brand name generator will instantly provide dozens of creative name ideas for your business or product.
AIDA Format – Rytr can format any draft content in the classic marketing framework AIDA (attention, interest, desire, action). This structures copy to capture readers' attention and guide them towards a call-to-action.
PAS Format – Similar to AIDA, the PAS format (problem, agitate, solve) ensures copy addresses a reader's problem, agitates the problem, and provides a solution. Rytr will conform your draft to this framework.
Keyword Generator – For SEO-focused content, Rytr offers an intelligent keyword generator tool to identify low competition, high-volume keywords to target in your copy.
With AI-powered drafting and ideation features like these, Rytr aims to simplify and accelerate the process of creating great marketing and blogging content.
At the time of this writing, Rytr has 18 reviews with an average star rating of 4.5.
Click here to read all of Rytr's reviews
5. Writesonic

Writesonic is another Copymatic alternative and one that marketing teams should consider. It has plenty of the AI features you associate with AI writing tools, such as:
AI Article Writer – You can give Writesonic a title and some bullet points and it'll produce an entire article for you.
Paraphrasing Tool – You can use Writesonic as a re-writing tool, so you don't have to worry about having duplicate content on your site.
Text Summarizer – Writesonic can analyze any long-form text and summarize it for you in just a few sentences. Great for condensing research papers or articles.
Landing Page Generator – For marketers, the landing page generator will develop the copy, headlines, and text for entire lead capture landing pages based on your input.
Text Expander – You can have Writesonic expand on its original output, which is great for getting AI to give you more detail in your articles.
At the time of this writing, Writesonic has over 1840 reviews with an average star rating of 4.8 out of 5.
Click here to read Writesonic's reviews
6. Scalenut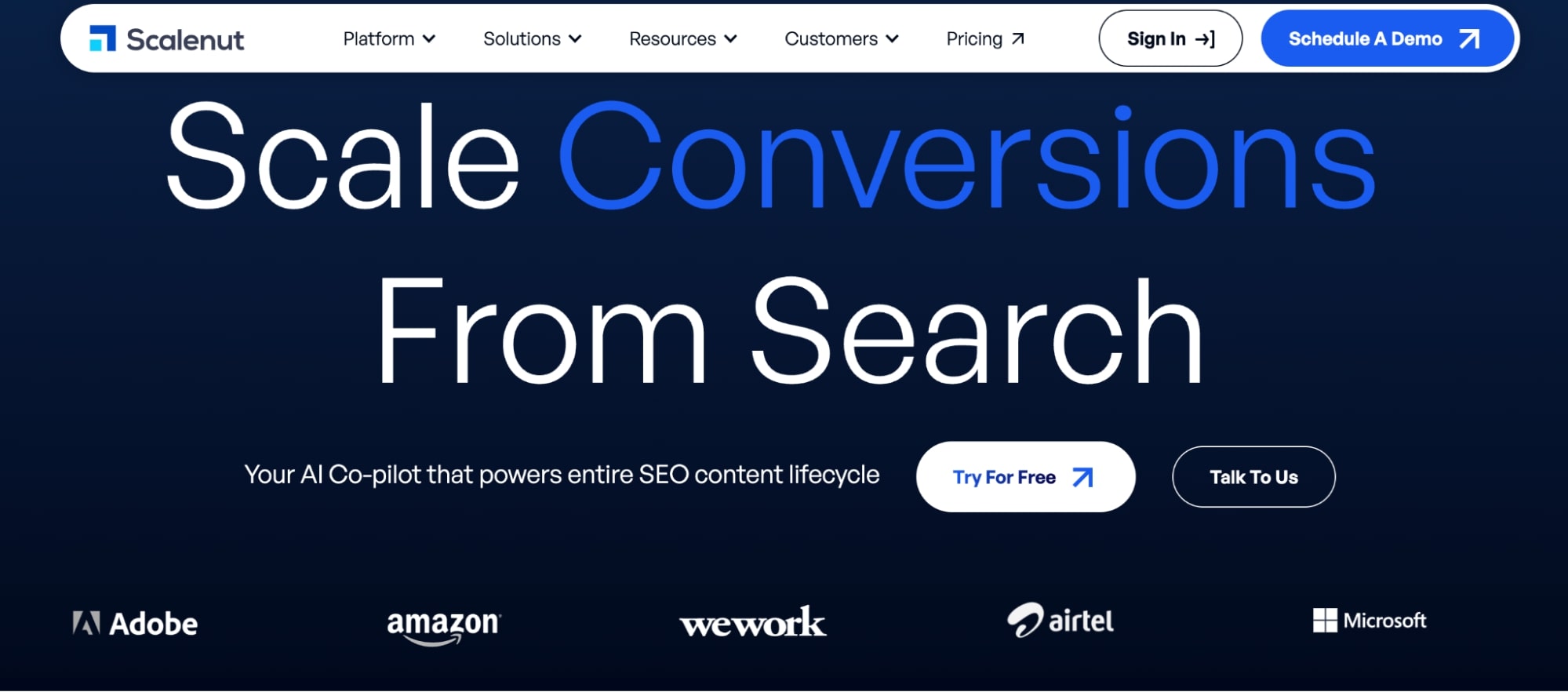 Scalenut is an AI-powered content creation platform designed for marketing teams. It includes several tools to optimize and expand your content.
Cruise Mode – This auto-writing feature allows you to provide headlines or bullets, and Scalenut will generate entire blog posts or social media captions for you.
Content Optimizer – Upload your existing copy and Scalenut will analyze and rewrite it to be more engaging and search-friendly using AI.
Keyword Planner – Discover high-potential keywords to focus your content around with the integrated keyword research tool.
Marketing Copywriter – For advertising and landing pages, Scalenut's copywriting tool will generate persuasive text tailored to your offer.
Traffic Analyzer – This tool provides data and insights on your content's current organic and social traffic levels to inform content strategy.
With this robust toolkit, Scalenut aims to simplify content creation and optimization for marketers. The AI capabilities allow you to produce more content faster while optimizing engagement and search visibility.
At the time of this writing, Scalenut has over 380 reviews with an average star rating of 4.8
Read all of Scalenut's reviews here
Next Steps: Try Smodin for Free
Above, we looked at 6 of the best Copymatic alternatives and competitors, including our all-in-one writing tool, Smodin.
We recommend that you start with SModin because Smodin has all the features you need, including:
An AI Chabot
An AI article generator
An AI essay writer
A re-writer
And more