Today's world has become a technological hub, with innovations sprouting left, right, and center. One of the spheres that have significantly evolved on this front is Artificial Intelligence as an effective content-creation tool. Can I fully trust AI writing tools to generate creatively curated, spot-on, error-free, and unique content? This is one of the leading questions that gnaw at any student or content creator's mind.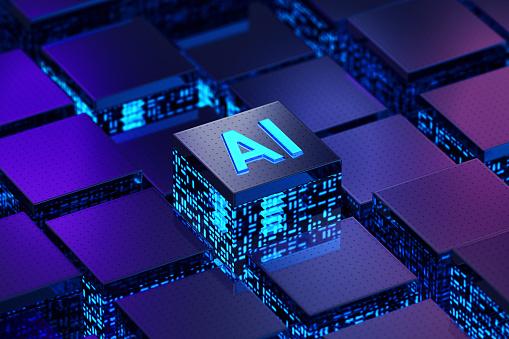 With each new day, a growing number of students are warming up to the AI Content Creation idea, easily relying on digital assistant tools to complete their article writing activities instead of manually working on these tasks. The main reason for this trend is simple; less effort and ultimately less time involved!
Besides the time and effort factor, there are many other reasons for adopting AI-generated articles and different types of student-related posts. This article will point out some of these reasons while taking you through cases where AI writing software is best applied to ensure that your work's credibility and overall quality are not compromised.  
Enjoy the read!
Ways in which AI Writing Revolutionizes Your Content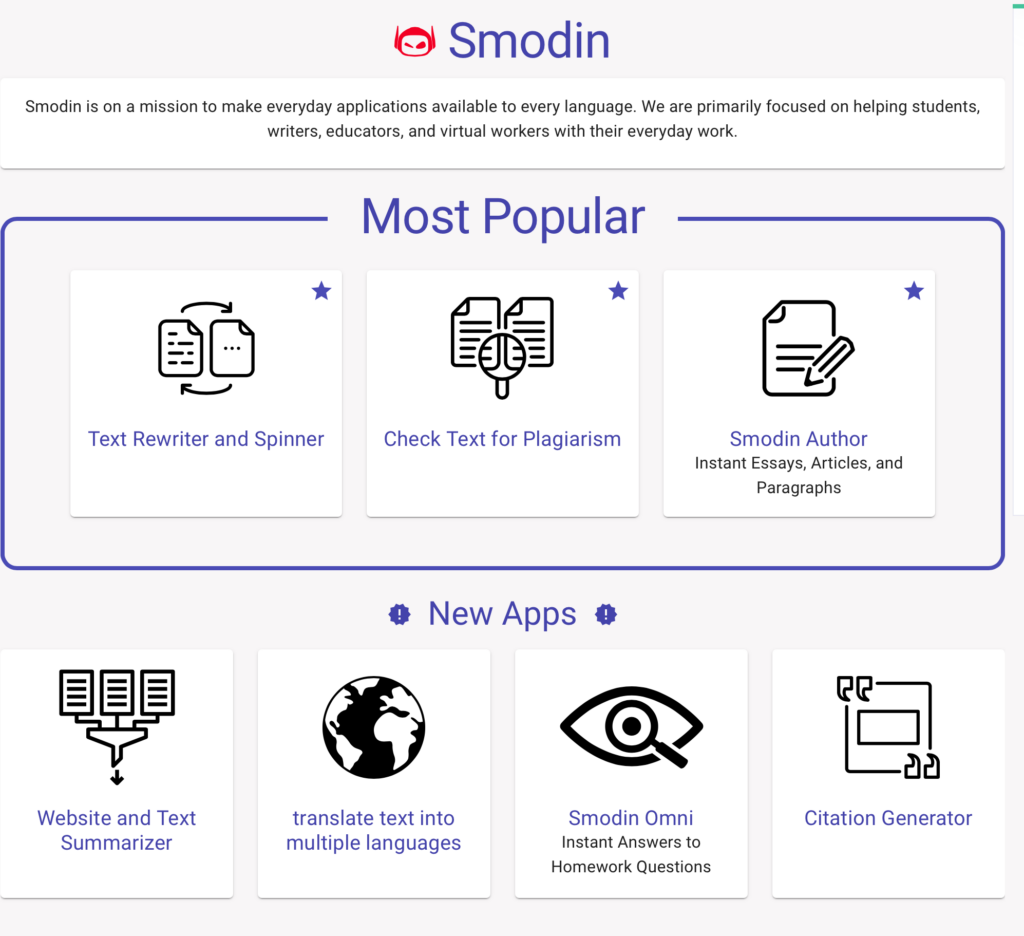 AI tools use computer-generated software applications to boost your writing experience. These 'Writing Assistants' easily and seamlessly create content using human intelligence, expert systems, and natural language processing. This way, they help students generate unique topics, essay ideas, article headlines, content ideas, and so much more in minutes instead of hours taken with manual writing.
Here are a couple of real-life examples of how students can make use of AI tools to super-charge their article and essay writing experience:  
With AI, it's easy to generate mundane content in mass quantities. However, why settle for a generic article full of humdrum qualities? Students can collaborate with AI tools to indulge in a creative process that leads to better ideas!
While it's okay to brainstorm ideas on your own, an AI tool such as Smodin Author comes in handy when you get stuck, allowing you to think beyond the perspective you initially had in mind. These tools generate tons of ideas, after which you can engage your brain in determining which ideas best fit your article's purpose and target audience.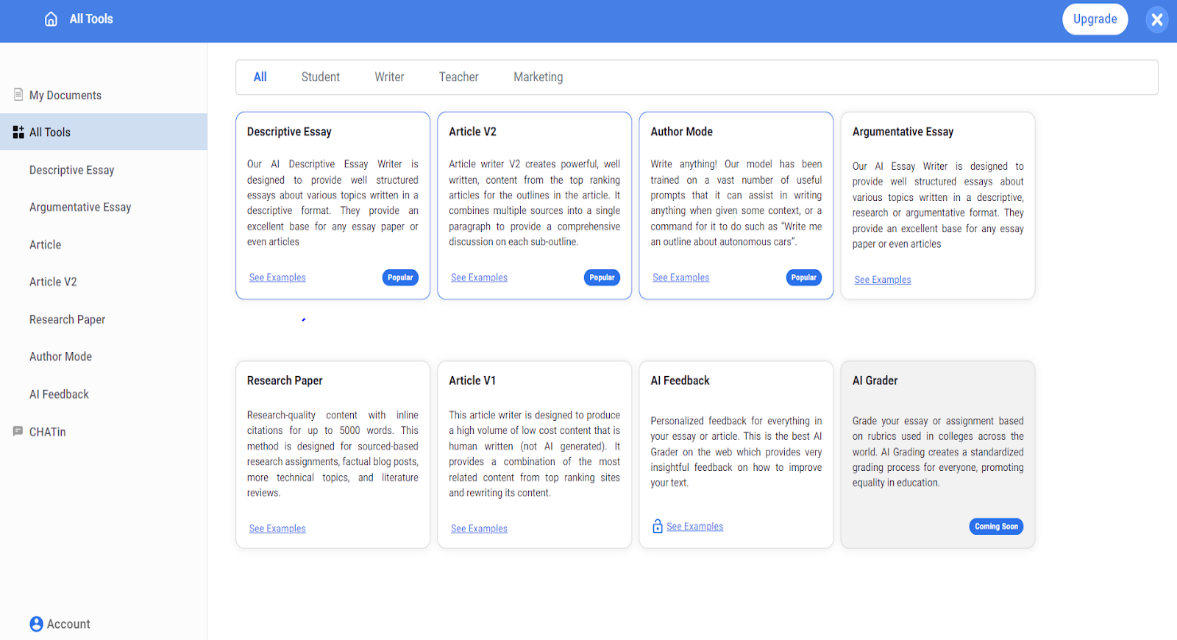 You could use AI Writing software to develop prompts related to the topic in question, ultimately saving you the time you'd have taken on the initial research process. Taking advantage of AI-charged tools makes it easier to spark your creativity and write inspiration.
Generating Creative Headlines
Out-of-the-norm headlines capture readers' attention and pique their interest in your content. After all, this is every writer's ultimate dream!
With AI, your chances of piquing the interest of your educators go through the roof. AI technology is crucial in data analysis, sifting through headlines and relevant content. Using this data, these tools help to generate unique and even better essay content with a touch on creativity. Here are some effective ways to use ai writing tools to generate content ideas.
Creating Article Outlines
A good writer is keen to outline their article structure, taking note of essential connections while jotting down the article's purpose. AI writing assistants amplify the writer's work by planning ideas, exploring the ideas' connections, and rapidly developing accurate outlines of the content structure. With tons of AI-generated outlines, deciding on the best structures is easier.
For better results, provide detailed and specific input right from the onset of the task. An advanced AI writer then fleshes out the project outline, beefing it up with examples, explanations, illustrations, quotes, and facts, to list a few.
Enhancing Article Style and Tone
Good style and tone go hand in hand with any well-written piece, and AI boosts your article's flow and overall quality. Most modern AI writing tools feature text generators that provide alternative phrasing ideas on best expressing the essential concepts in your work. This way, a student can convey their original idea with better accuracy. For instance, AI technology could suggest using a simile or metaphor in your content to add more emphasis to your point instead of plain and direct text.
With complex topics, the issue of writer's block is quite common. Students often need help figuring out what to include in their pieces or where to start. Leveraging AI in your content creation process saves you time and energy.
With this technique, you can generate more than double the content you'd have come up with on your own. This gives you more time to focus on the creative aspect of your piece alongside other finer details pertinent to the piece.
Rejuvenating Existing Content
While AI writers are best known for their expert generation of new and accurate content, these tools are also helpful when updating or repurposing previously done content. For instance, Smodin features an intuitive rewriting tool that allows students to infuse similar texts with vast creativity.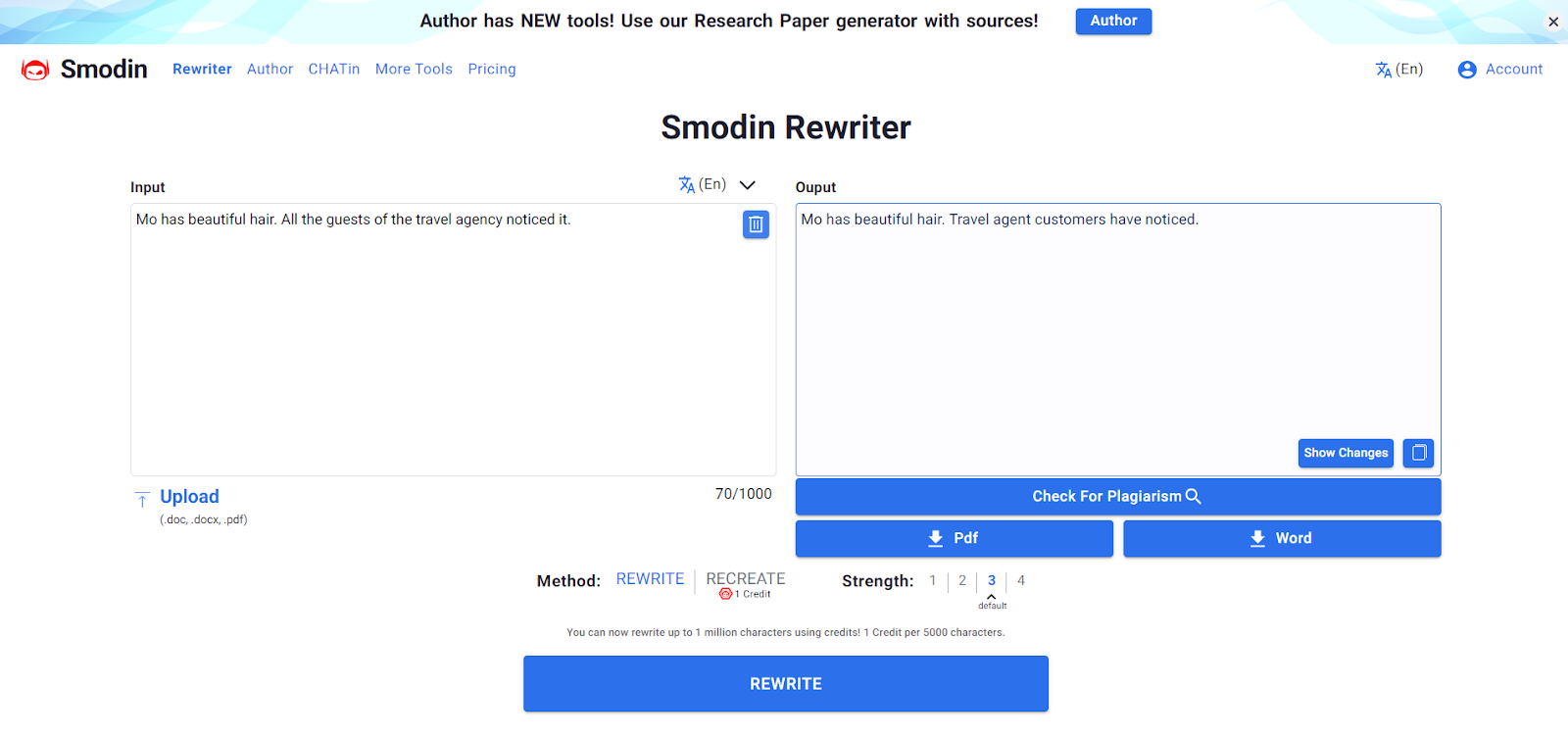 Paraphrasing and Proofreading
AI writing tools allow students to alter the original text without paraphrasing each sentence manually. These tools ensure that words are stringed together in the correct order, ensuring that your content remains engaging while staying relevant to the target audience.
Advanced AI Writing Tools effectively use synonyms or employ similar sentence structures, thus re-wording the original content while retaining readability. They apply superior algorithms to translate a text's context with utmost precision instead of a word-by-word approach.
AI-Powered proofreading tools use Machine Learning (ML) algorithms to scan written pieces for punctuation, grammatical, and spelling errors and suggest relevant corrections. This way, your content's accuracy, and overall quality are highly improved.
Translating Content Swiftly
AI language translation tools help translate original articles into several languages, making the content accessible to a broader audience. With this technology, you can tailor-make your content for a particular audience, given that you can 'instruct' your AI translator to translate the article to a specific language.
Smodin features multilingual support to enable students and writers to create relevant and culturally-correct content. The tool supports popular languages such as Spanish, German, English, Italian, Portuguese, and English.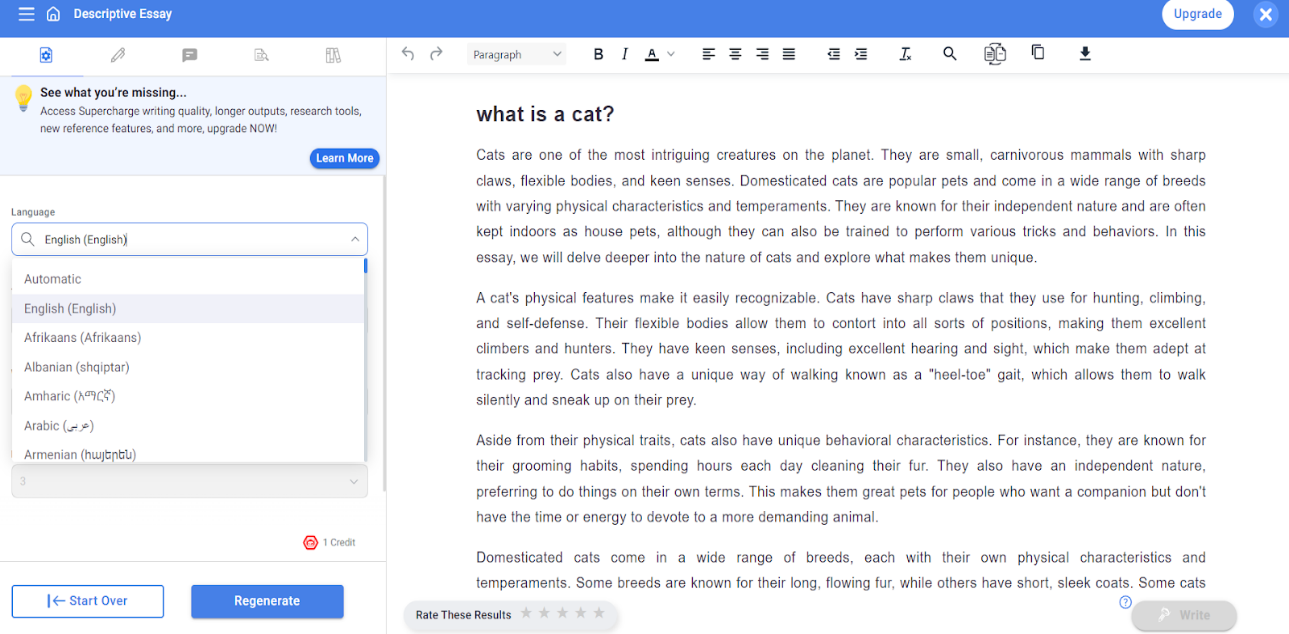 AI makes it easy to analyze individual audiences, narrowing the research down to their social media interactions and search history. This way, creating personalized content relevant to their needs and interests becomes a piece of cake!
Summarizing Long Articles
Summarizing content you have spent numerous hours putting together can be daunting, especially when you need help deciding what to include as a crucial aspect and what to leave out. With an AI tool, you can sieve out essential elements of the entire piece, creating an article relevant to a particular interest group or demographic. You can shorten specific paragraphs or highlight main points as bulleted lists, giving you a concise overview of the initial content.
Coming up with Unique Commands
AI-Powered Writing Tools come packed with endless possibilities. These include coming up with unique commands. For example, you could instruct your AI 'assistant' to convert a particular text from a speech into a poem.
Polishing Content and Editing Drafts
Creating an error-free, publishable article in one sitting is almost impossible. You will need to go over the piece with a fresh perspective over and over again to identify any typos, run-on sentences, factual errors, incoherent phrases, and other mistakes.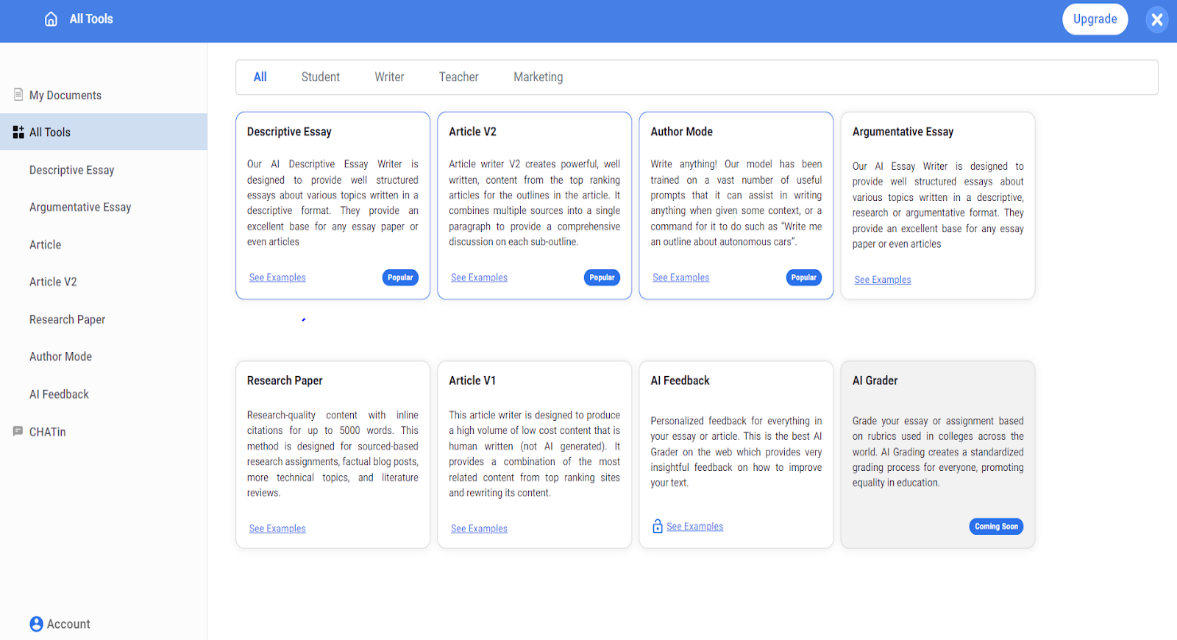 Smodin Text Editor saves you time, helping you to re-structure sentences, revise paragraphs, correct errors (grammatical, punctuation, spelling), and double-check the information provided. The only work that is left for you to do is refining the final piece.
Detecting Plagiarized Texts
Freely available plagiarism checkers could be effective. However, their scope could be more extensive, leading to inaccurate results. Often, they miss out on discrete forms of plagiarism, such as detecting duplicate article structures, AI-generated articles, and copy-pasted translated content.
The advanced Smodin Plagiarism Checker, on the other hand, is quite thorough. This tool is empowered with self-learning AI Tech, leading to in-depth analysis. Sophisticated AI-Charged chatbots can even spot AI on AI, thus flagging any AI content plagiarized from another AI tool.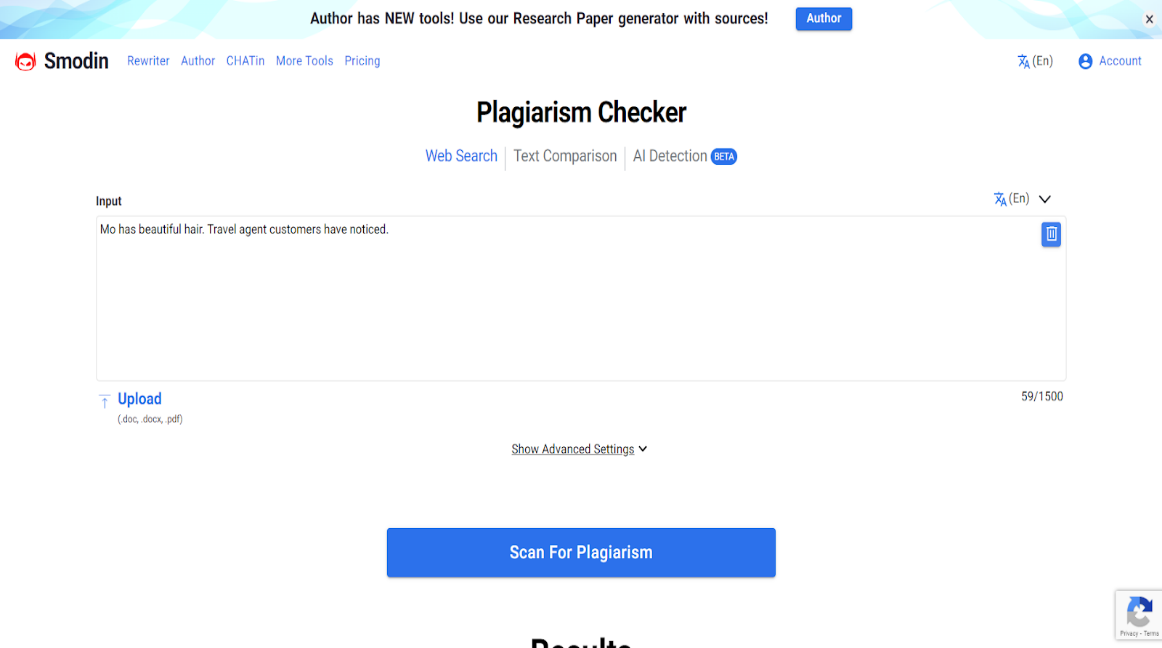 Are there Free AI Writing Tools Available?
The online space is home to an array of free AI article-generating tools. The downside is that they have several limitations, especially on monthly SEO results and word-count support. These tools are perfect for trials and other testing purposes.
However, if you are a writer who creates content frequently, you might have to upgrade your Artificial Intelligence package to Premium from Free mode.  As a student, worry not; premium is only sometimes synonymous with 'pricy and unaffordable.'
There are many pocket-friendly yet highly effective article-writing AI 'assistants out there. With these, you can generate several 100% error-free pieces as frequently as you'd wish.
Benefits of using AI Writing Software for Content Creation
AI writing tools ultimately save you time and energy, allowing you to focus on other projects and tasks. You don't have to spend long hours on research, manual data entry, content editing, article structuring, and other tasks, seeing as AI tools take care of a huge chunk of the job for you.  
AI content generators analyze individuals' data, including search history, social media content preferences, and much more, helping generate pieces that specifically meet their needs and interests.
AI helps create content by speeding up the generation of high-quality articles without compromising authenticity and accuracy.
With AI tools, it is easier to scan content for errors, plagiarism, and other anomalies, making article editing faster, more seamless, and more accurate. These tools ensure that your article's tone, style, and language usage are consistent for better readability.
What to Keep in Mind When Using AI Writing Tools
AI writing tools have taken the industry by storm. However, as much as they are efficient and impressive in performance, you need to be well-versed in a couple of issues about them.
Pay attention to the following facts:
●      According to Google, any article that is fully AI-generated is spam. This would mean the human touch is still necessary during content creation.
●      Most AI tools draw on information from articles found online. Most of this data is not always style-consistent. As such, it is not advisable to trust your AI 'assistant' completely; instead, use the tool as a guide or source of ideas when you get stuck.
●      Sometimes, AI-powered writers quote figures and facts that are not precisely accurate just to suit the narrative. Be sure to confirm the figures provided before article publication.
●      While AI comes in handy in the augmentation of facts already known to you, do note that they cannot entirely replace the human skills and creativity that come with experience and training.
●      AI checkers are not always 100% accurate. Don't follow the AI editor's suggestions blindly; always use your best human judgment.
●      AI tools are not precisely subject-matter experts. As such, limit their use to topics you are well-versed with and areas you have expertise in to make the required corrections accurately.
Conclusion
AI writing tools provide practical ways to generate unique and accurate content ideas. Thanks to their advanced technology, they can help students and writers improve their content creation process while enhancing their writing skills. 
Smodin is the ideal writing assistance for students seeking help writing essays, assignments, or articles. It features a user-friendly website interface, an effective rewriting tool, a plagiarism checker, natural language generation technology, and Smodin.io Author features that customizes your writing experience to suit your needs. Smodin.io can help students of all levels create original and high-quality pieces, perfect for scoring the best grades. 
FAQs
Are AI Writers a Replacement for Professional Content Writers?
Not exactly. Human touch is still needed to create authentic content with some level of human quality.
Is AI Generated Content 100% Accurately Edited?
While AI tools have editing features, you must review the content to ensure it is up to standard. 
Does AI Software Have Free Trials?
Yes. There are a lot of AI Writing Tools that are freely available online. 
Why are AI Writing Tools a Good Thing for the Students' Content Creation Process?
With AI, students save time, enhance their productivity, and boost their work quality. AI tools provide valuable suggestions and insights, automate tasks, and make writing effective and efficient.   
Should I Let AI Do All the Work for Me?
No. The overall quality of AI-generated ideas is directly proportional to a writer's initial input and attention to the details provided. Artificial Intelligence, used in collaboration with human effort, is bound to give higher-quality output.  
Can I use AI-Powered Tools as A Student in the Creative Industry?
Yes! Advanced AI story generators such as Smodin give you brilliant ideas to pump up your creativity and generate content that evokes emotions suitable to your target audience. 
Is AI-Related Disruption a Good Thing?
When it comes to content creation, disruption is undoubtedly the future! This is especially true with repetitive tasks such as article editing and proofreading. Instead of handling these tasks manually, students can have the AI tool assist, as they use the time spared to focus on more productive tasks.