From generating thought-provoking articles to crafting long-form blogs and curating social media posts, AI tools are proving to be the quintessential element of content creation. 
Popularly known as one of the first AI solutions, Jasper, previously named Jarvis, is one of the renowned AI tools due to its early attainment of startups with exclusive GPT-3 access. However, many have realized the shortcomings of Jasper, leading them to search for better Jasper alternatives.
This guide provides comprehensive information on some of the leading 2023 alternatives to Jasper to make your search 'journey' easier.
Why Opt for Jasper Alternatives?
While Jasper is a legit option, it is the priciest AI content creation assistant in the market. In addition, users must submit their credit card info even for signup free trials!
Despite its social media post and article-generation prowess, Jasper lacks significant features such as bulk content generation, an API, and automatic image insertion. Moreover, Jasper does not integrate with platforms such as Zapier, Wix, and WordPress, which would be essential to users' instantaneous content publishing. 
Let us look at some of Jasper's shortcomings in detail:
Costly Package
Allowing only 50,000 words, Jasper's basic plan (long-form) starts at a whopping $59 cost. Many online AI writing tools will cost users $20 on average, offering over 60,000 words! Jasper, in this case, would not be your ideal cost-effective option. While Jasper features a 17% annual plan discount, other tools, such as Writesonic, offer a 33% discount.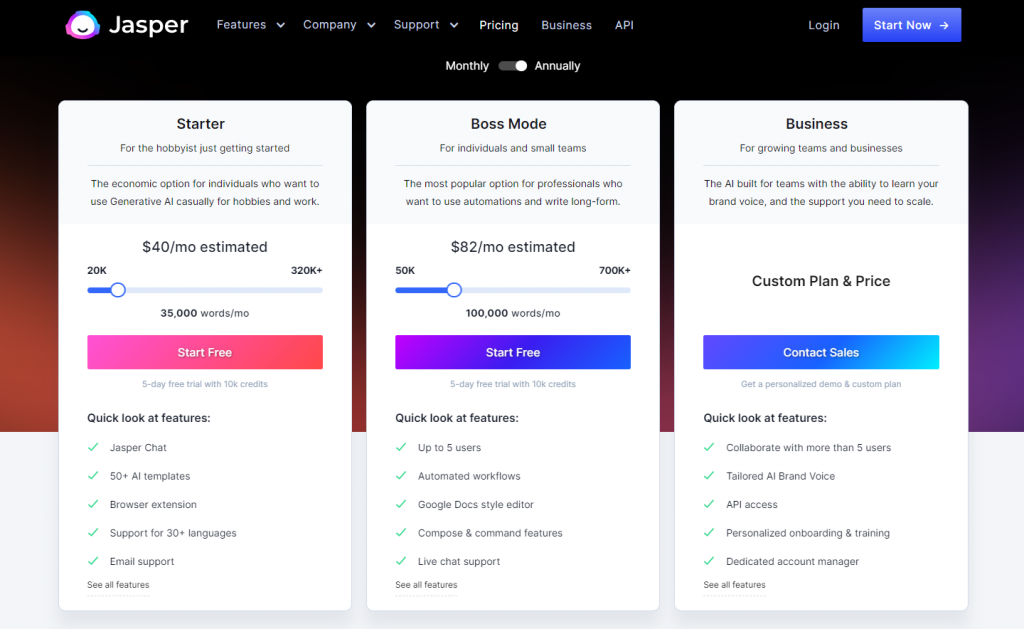 Shortage in Features
Jasper might be ideal, but it lacks crucial strengths such as full-length article generation, whole-paragraph rewrites, and batch content generation (over 3500 words).  Additionally, social media features, including LinkedIn post generation and Twitter tweets, are not possible with Jasper, features that an array of its competitors come with.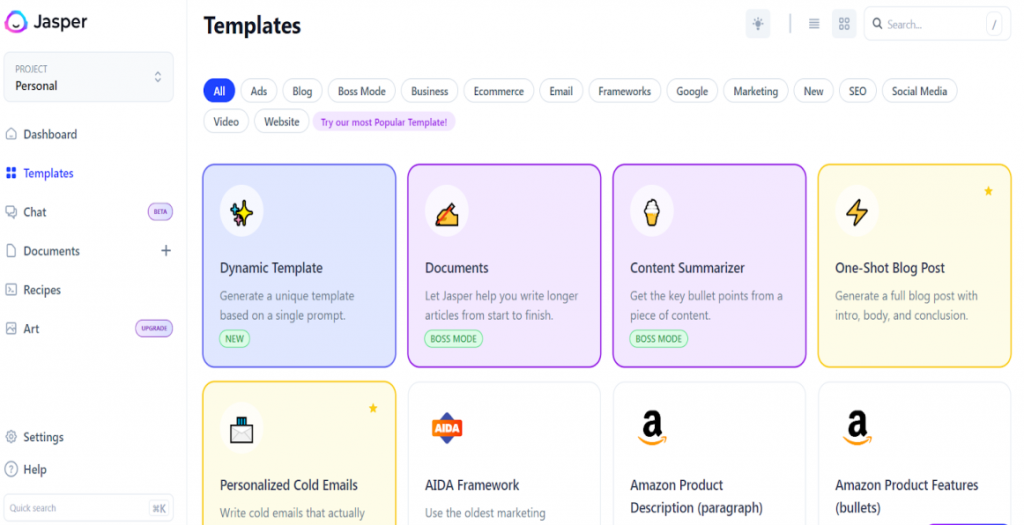 Missing Integrations
Jasper does not integrate with leading blogging platforms such as WordPress and Zapier, which makes it less of a 'better' option. 
Signup / User Registration Challenges
New users must key in their credit card info during the signup process. For most users, credit card details are not something they would prefer to give before testing any platform.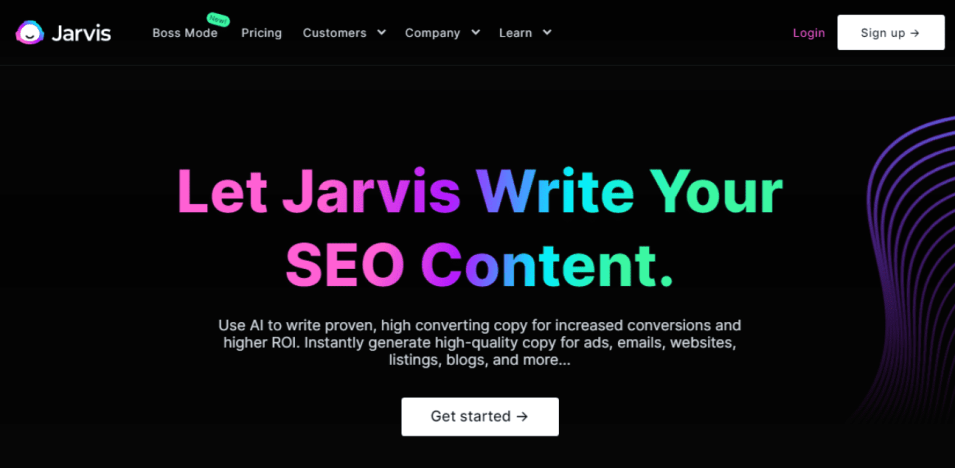 Jasper Chat Feature is not Up-to-Date
Jasper Chat, just like ChatGPT, is trained on information up until 2021. As such, it is hard for it to assist on even and trending topics. Jasper Chat is dialogue based, a feature that does not help with voice commands or text-to-image art. 
How to Choose the Best AI Tools
The online market is flooded with AI-Powered text generators. Not all tools feature equal 'powers,' and choosing the right one will be crucial to your content strategy. One way to tell if a platform is good is by checking out its testimonials and reviews online.
In addition to that, consider these other factors:
Ease of use

AI Content Detection ability

Quality of content produced

Free trial provision

Tool price

Numerous templates and features

The type of writing you do
If you are ambitious, you must choose an AI tool that can accommodate several users simultaneously, like Smodin. 
Top 2023 Jasper Alternatives
Below is a comprehensive look at some of these top Jasper alternatives in 2023.
Writesonic
Writesonic is an ideal choice for social media managers, email marketers, and blog writers, given its affordability. In fact, it is almost five times cheaper and does not need credit card data for user registration.
This fantastic Jasper alternative comes in quite handy for long-form content. It integrates seamlessly with WordPress and Zapier, allowing users to publish content directly on CMS platforms with just one click. Writesonic also integrates well with SurferSEO for easier keyword research and content creation that ranks well on search engines.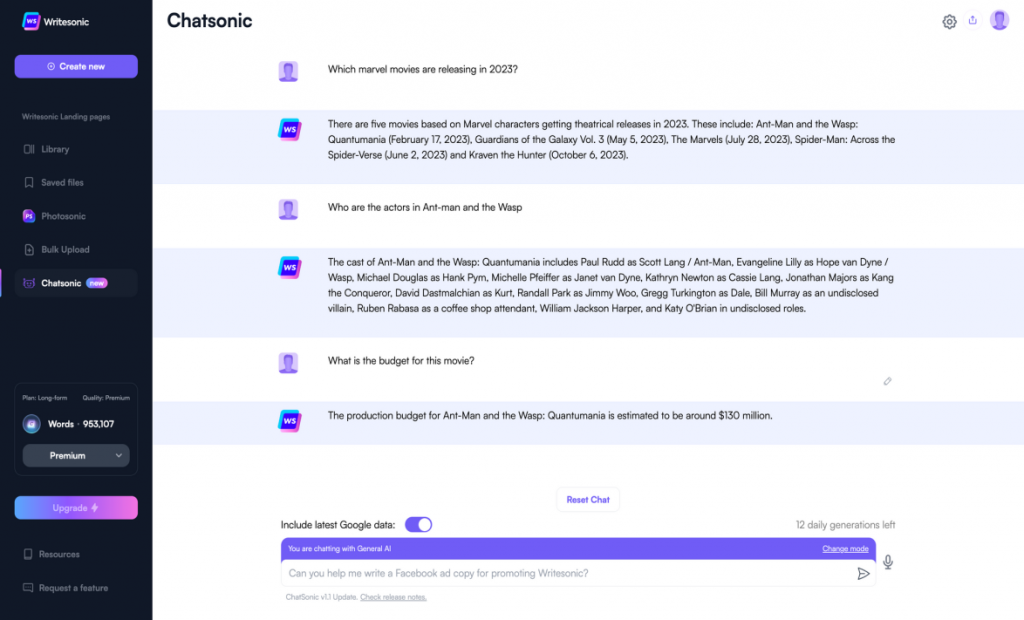 In addition, this tool is easy to use and comes fitted with features such as bulk content generation, API, and automatic image insertion, among others. With the help of Chatsonic, its ChatGPT- conversational AI robot equivalent, users can get assistance in creating accurate content on trendy topics and current events. Chatsonic can also generate relevant content in real time with a simple voice command. This AI conversational assistant can also generate digital artwork from text input.
Pros
Cost-effective pricing models from as low as $0 for 10,000 words to $19 for 75,000 words

Its instant article writer feature can generate up to 1500 words in real-time

Efficient paraphrase tool that works with one click

Ideal for bulk content generation and API

AI image generation and automatic image insertion in blog posts

Easy signup process

Smooth integrations with WordPress, Zapier, and Surfer SEO

Its Chrome extension enables easy generation of Twitter threads, LinkedIn posts, and emails.
Cons
Few customization options

No advanced editing features

Occasional glitches or bugs
| | | |
| --- | --- | --- |
| Features | Writesonic | Jarvis |
| Rewriter tool | Yes | Can rewrite one short phrase at a time |
| Generation of bulk content | Yes | No |
| Post generator for Twitter threads and LinkedIn | Yes | No |
| Integrations | Seamless integrations with WordPress, Zapier, and SurferSEO | Supports SurferSEO |
| Prices | The cheapest monthly plan starts at $19 for 75,00 words | The most affordable monthly plan starts at $29 for 20,000 words |
| Signup process | Simple signup process with no credit card info required | Requires credit card info to complete the registration process |
Copy.ai
Copy.ai is a free Jasper alternative popular among those writing blog posts, short-form social media posts, emails, sales and e-commerce copies, digital ad copy, and more. Thanks to its advanced AI technology, users can generate up to 2000 words per month and over 90 awesome copywriting templates for free.
Furthermore, it is effortless to use this AI tool since it only requires you to enter your preferred topic and general guidelines on the type of content you want. Its robust set of innovative tools and unique GPT-3-powered content generation ability will inspire you in a few seconds.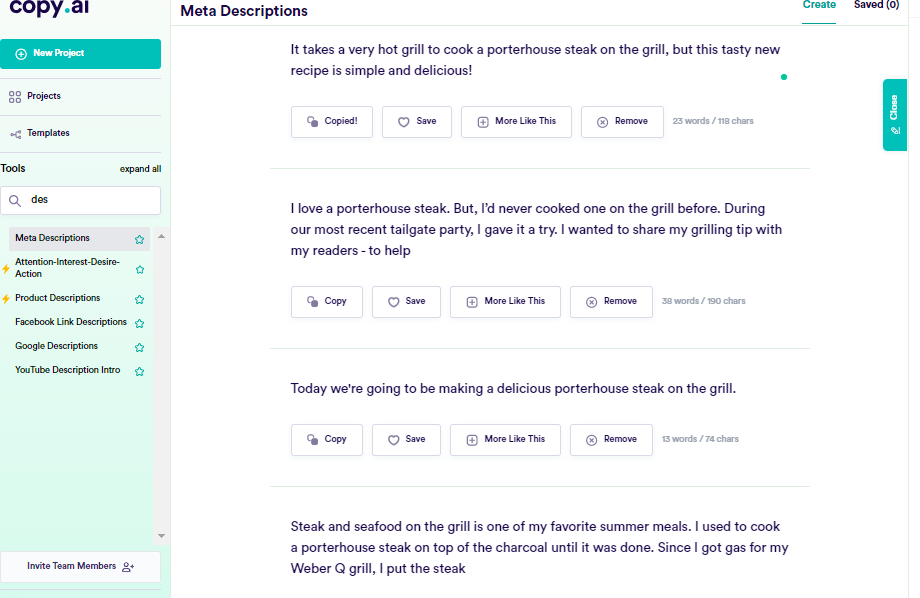 Some unique features of Copy.ai include a grammar checker, sentence rephraser, autocorrect, tone checker, and sentence checker formatting. The software can also tailor your writing style and tone to fit standard conventions like MLA, Chicago, and ALA.
Pros
Excellent tools for content generation

Attractive features under the free plan

Cost-efficient premium plan with access to all its features
Cons
No third-party integrations

Does not generate long-form content

Lack of export features
| | | |
| --- | --- | --- |
| Features | Copy.ai | Jarvis |
| Generation of long-form content | No | Available only on boss mode |
| Integrations | No | Supports SurferSEO |
| Plagiarism checker tool | No | Available as an add-on |
| Free trial plan | Available forever | Available for 7 days |
| Style editor and sentence formatting | No | Available |
Frase
Frase uses a unique ideology; questions instead of keywords. This shift in data requirements obligates creatives to adapt their content as required. Frase seemingly 'understands' the task at hand, enabling it to create content accordingly. It is an expert choice for SEO-based content as it uses advanced AI tech to grasp traction on users' websites.
This software utilizes dozens of AI tools to instantly create relevant content with minimal input. In addition, users can also create custom templates that suit their needs. Frase also provides smooth integrations, unlimited concept maps, endless question research queries, effective creation of content briefs, access to an answer engine, and beta access to its voice search tool.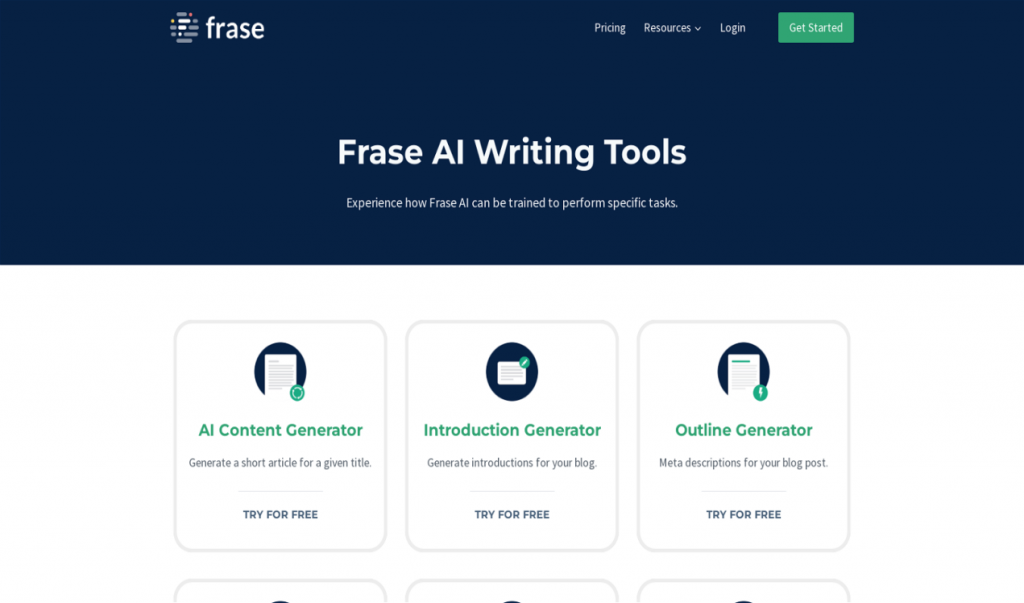 It is worth noting that Frase is among the more pricy Jasper alternatives on this list. It does not offer a free plan or a money-back guarantee. It has three plans, with the solo being $14.99 per month for 1 article per week, up to 4 optimized articles, and a maximum of 20,000 AI-generated characters every month. On the other hand, the team plan is the most expensive ($114.99 per month) and gives you access to unlimited articles and more than 3 user seats per month.
Pros
Ideal for SEO content generation

Amazing AI tools

Seamless integrations

Excellent tool for structuring and restructuring content
Cons
Does not generate long-form content

It can be costly compared to other Jasper alternatives
| | | |
| --- | --- | --- |
| Features | Frase.io | Jarvis |
| Generates long-form and short-form content | Yes | Yes |
| Integrations | No | Supports SurferSEO |
| Plagiarism checker tool | No | Available as an add-on |
| Pricing | The cheapest monthly plan starts at $19.99 with 7 document credits | The most affordable monthly plan begins at $29 for 20,000 words |
| Style editor and sentence formatting | No | Yes |
AI Writer
With AI Writer, users can enjoy state-of-the-art content writing models from a mere headline! The articles delivered are accurate and high quality, and they all come with verifiable source lists. Thanks to its SEO performance features, AI Writer creates SEO-focused texts, palatable to the intended audience. 
Some of the features of this AI tool include an SEO-focused text editor, long-form article generation, an efficient sub-topic discoverer, content kits, a paraphrasing tool, and a free trial plan.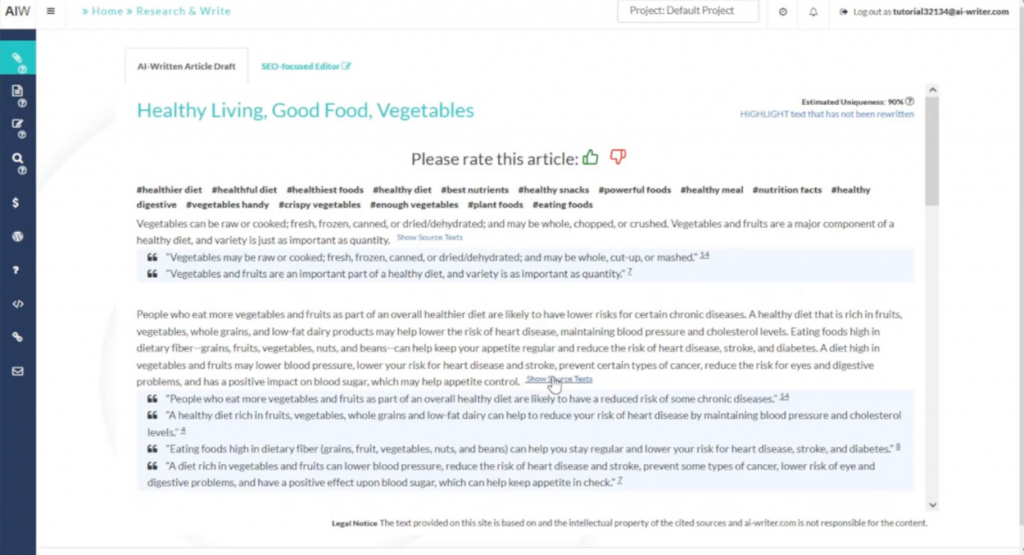 In terms of pricing, AI-Writer is much cheaper than Jasper. While Jasper's basic plan is $29 for 20,000 words, AI-Writer also offers a monthly basic plan of $29 for 40 fresh and unique articles. Other plans cost $59 (standard plan) for 150 articles and $375 (power plan) for 1000 full-length articles.
Pros
Efficient SEO optimization

Offers verifiable sources

Generates long-form content

Cost-effective plans

Effective text rewording tool
Cons
| | | |
| --- | --- | --- |
| Features | AI-Writer | Jarvis |
| Generates full-length articles | Yes | Yes |
| Integrations | No | Supports SurferSEO |
| Provides verifiable sources | Yes | No |
| Pricing | The cheapest monthly plan starts at $29 for 40 full-length articles | The most affordable monthly plan begins at $29 for 20,000 words |
| Text reworder | Yes | No |
Longshot AI
Longshot AI is well-reputed for its long-form SEO-focused content. The content delivered is not only fresh but also fact-approved and SEO-friendly. Longshot AI features advanced tech with a smart understanding of semantics, concepts, and context. Thanks to its advanced capabilities and easy-to-use functionality, it is much more than a regular writing assistant.
Popular among marketers and writers, Longshot AI assists users in finding ideas, researching keywords, and generating headlines, FAQs, metadata, blog insights, and blog ideas within minutes. This tool also has a fact checker, text extender, and content rephrase tool.

Longshot AI also offers customized templates to cater to specific content creation needs. Simply enter appropriate prompts or provide relevant examples for the tool to generate content applicable to your particular use case. Note that this AI tool integrates with several well-known platforms, including Copyscape, SEMrush, Medium, Ghost org, WordPress, Hub Spot, and many more.
Pros
Offers a forever free pricing plan

Features team mode and effective project management

It has an easy-to-use export feature

Unlimited word count

Long-form content rephrase tool

Users can choose from 14 unique niche categories
Cons
Lacks an art generation tool
| | | |
| --- | --- | --- |
| Features | Longshot AI | Jarvis |
| Niche selection | Yes, up to 14 distinct niche categories | No |
| Fact checker and research tool feature | Yes | No |
| Long article rephraser tool | Yes | Yes |
| Word limit | Unlimited | Limited |
| Free trial plan | Forever free | 7-day free trial plan |
Smodin is a cutting-edge writing tool that stands out from Jasper due to its integration with advanced AI features such as Smodin Chat. It is developed by SEO experts and experienced copywriters, tailor-made to meet your writing needs. Smodin is budget-friendly and offers users a free trial version. Its list of customizable options and range of templates enables users to create unique content that aligns with their tone and voice seamlessly. Smodin content bypasses AI detection.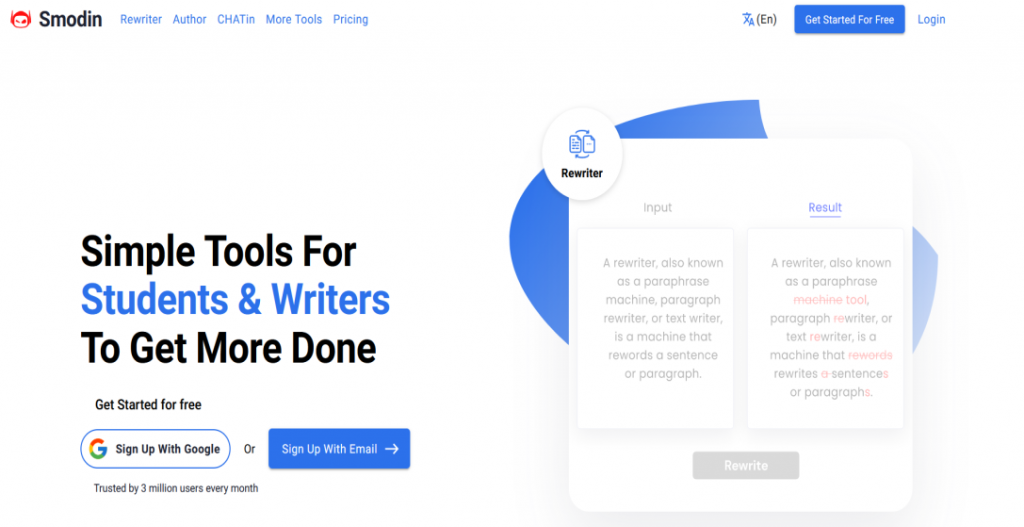 Smodin.io Key Features
Boasting an array of features, Smodin.io helps its users to elevate their writing skills to a whole new level. Key among them are:
Punctuation and Grammar Checking
Using advanced NLP technology models, Smodin.io can analyze text, easily identifying punctuation and grammatical errors. It goes ahead to make suggestions on fixing the errors. 
Smodin.io has a plag-checker tool that helps writers to create original content that is not copied from various sources.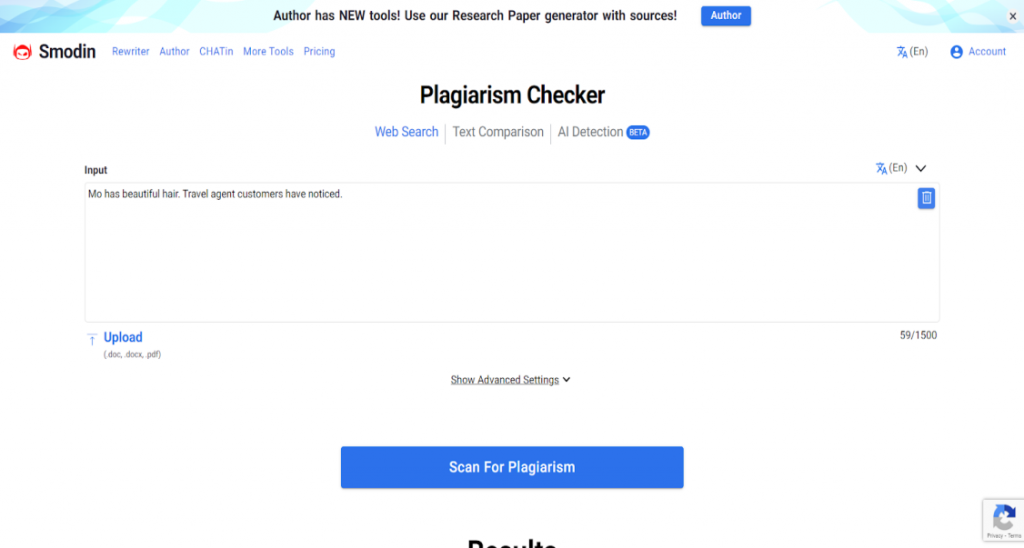 With Smodin, you get suggestions for sentence structure, word choice, and so much more. This improves your writing style and also makes your content more effective and engaging.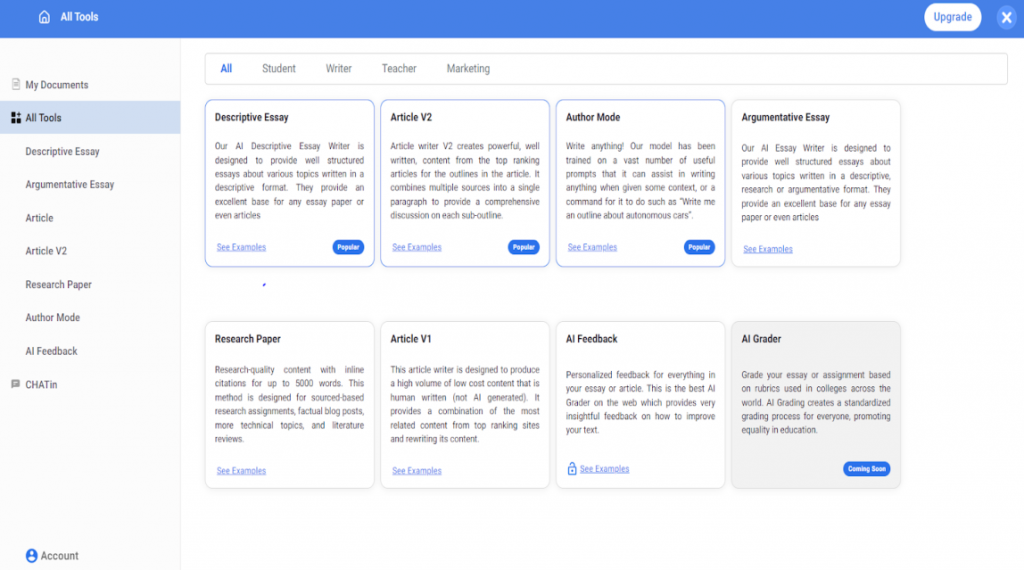 Smodin's paraphraser makes use of machine-learning technology to rewrite content. There are various modes to help you choose how simple or complex you'd like your article to be.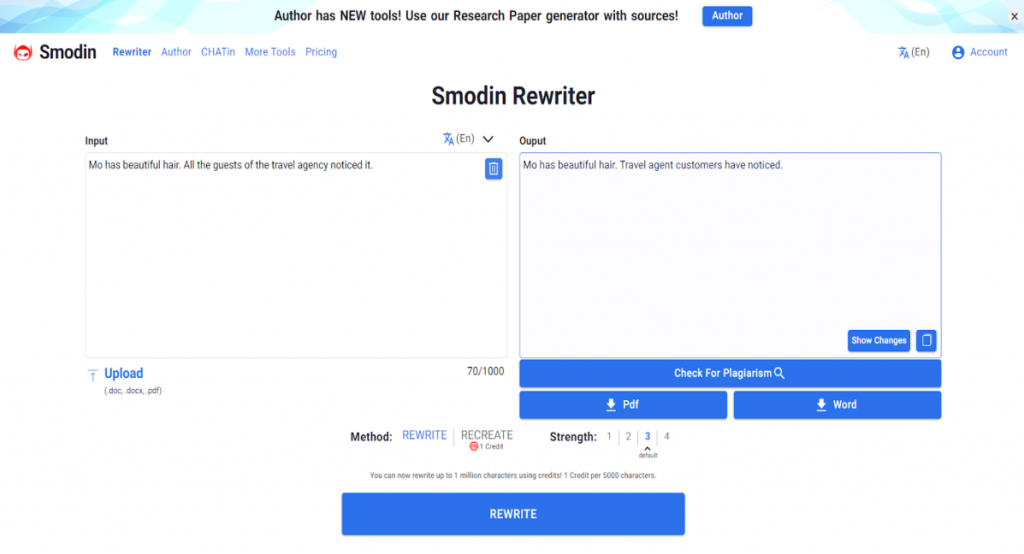 Smodin Pricing
Smodin is ideal for people on a budget, as it features an impressive range of pricing options. The limited starter plan is freely available, allowing users 5 rewrite entries, 3 daily credits, a translator, and a plagiarism checker at a 1000-words cap. The 'Essentials' subscription is Smodin's more popular option, costing $10 monthly and including 100 credits for approximately 15,000 words. This plan unlocks unlimited tools such as plagiarism checks, rewrites, and translations.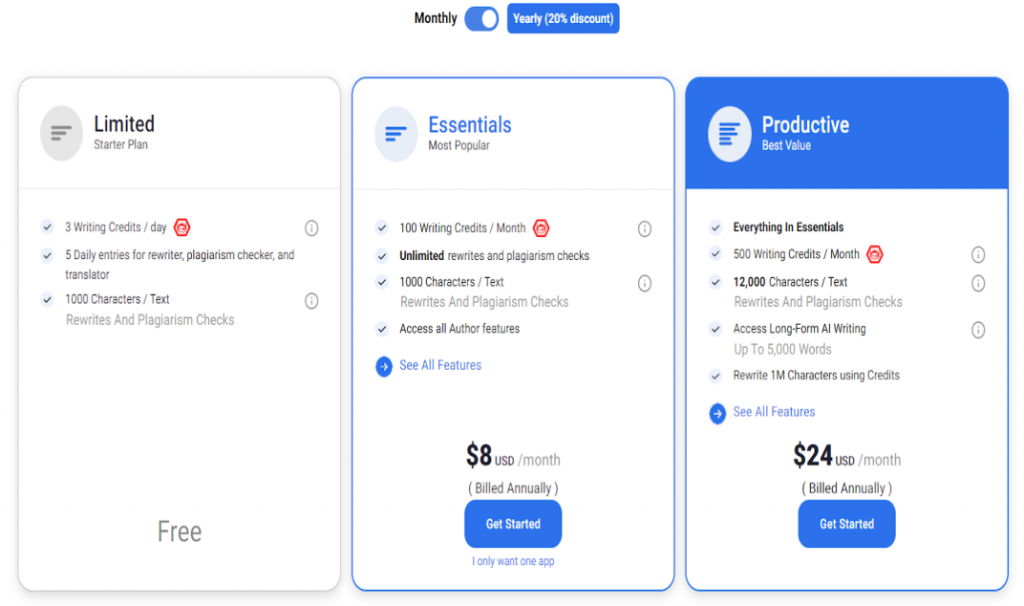 The 'Productive' plan is the highest-valued pack, priced at $29 monthly. This offers everything in the 'Essentials' package plus the Google Scholar Search feature, allowing users to check for plagiarism using Google Scholar. 
Smodin Pros and Cons
Pros
Free trial

User-friendly

100% unique content generation

No programming or software development skills required

Advanced NLP for accurate grammatical and punctuation suggestions

Multiple languages (multi-lingual translator and multi-lingual grammar correction)

Integration with several tools

Cost-effective
Cons
The free plan is quite limited

You might need to re-read and edit the article 
| | | |
| --- | --- | --- |
| Features | Smodin | Jarvis |
| Generates accurate citations | Yes | No |
| Rewrite tool | Yes | No |
| Plagiarism checker tool | Yes | Available as an add-on |
| Multilingual support | Yes | Available as an add-on |
| Free trial plan | Up to 5  writing credits per day | 7-day free trial plan |
Why is Smodin.io a Better Alternative to Jasper?
There are areas where Smodin 'out-shines' Jasper, and below are a few:
Affordability
Smodin is the better option to go for in terms of price. The standard package only costs $10 per month and has decent tools. 
Better Integrations
Users can enjoy essential integrations with Smodin.io, which helps them in their content creation journey. Bulk content generation, for instance, is a valuable tool for long-form bloggers and writers. 
Ease of Use
Registering for a user account with Smodin is easy and does not require providing credit card data. The platform is also relatively easy-to-use, with features and other tools well-labeled. 
So, Should I Go with Smodin as A Jasper.ai alternative?
Smodin makes generating error-free, fresh, and precise content so much easier. If you are searching for a versatile Jasper alternative, then Smodin is the right choice for you. Smodin is a perfect companion for the generation of engaging content that is relevant to your target audience. 
Smodin does the heavy lifting for your content creation requirements. It comes fitted with essential tools such as a state-of-the-art AI writer, plagiarism checker, article rewriter, citation generator, speech-to-text writer, AI editor, Smodin Omni, text & website summarizer, multi-lingual grammar correction, subtitle translation, and more. 
These tools use Machine Learning and Deep-Search technology, supporting over 50 languages and their variants. Smodin can develop a better essay version each time if you write in several languages. Smodin tools enhance your article's quality in terms of authenticity, style, grammar, and format. 
In addition, Smodin is a very affordable AI tool as it features three flexible pricing plans to suit the budget and needs of anyone in need of content, including students. In fact, the basic plan, also known as the Limited plan on Smodin, is free and offers users up to five credits of 1000 characters per text.
Using Smodin is super easy for students, especially since it is designed to assist them with their homework, assignments, and essays. All you have to do is visit the official website and open Smodin Author (free Text Generator and AI Writer). Enter some text, choose the essay type, then hit the 'write' button. Sit back as Smodin generates a high-quality, plagiarism-free, and relevant piece. You can then edit, review or use parts of the article as you like. 
FAQs
Who are AI Content Generators meant for?
Any content creator who finds it hard to come up with fresh ideas all the time or anyone who does not have much time to create an entire article can use AI Writing tools. These tools are helpful across various fields, including education and academia.
What are some benefits of using AI Content Generators?
They save you time, allowing you to generate more content in less time. If you have bulk content to create, you can save on cost, as you don't have to hire a professional copywriter. With AI-generated texts, you can get relevant content for your audience.
What are the best Jasper.ai alternatives?
Our list above highlights Writesonic, Copy.ai, Longshot AI, Frase, and Smodin as some alternatives to Jasper. 
What tool should I go for in terms of price?
Smodin has proven to be a better Jasper alternative because it is pretty budget friendly and does not require users to provide their credit card information. 
Can I try Smodin for free?
Yes. Smodin comes with a unique free trial for a good number of words.
How much does Smodin Cost?
Smodin has different pricing plans, which include the Starter(free), Essentials Subscription ($10 per month), and Productive Subscription ($29 per month)
How do I subscribe to Smodin?
Visit the Smodin website, select Smodin's pricing page, sign up or create an account, choose your preferred plan, finish the payment process, and get started!