There could be several reasons that you're looking for an alternative to Scalenut, including:
Usability problems – Perhaps you and your team don't enjoy working with Scalenut, or it doesn't fit your content writing goals and processes. Different writers need different tools – from AI chatbots to rewriters to headline generators.
Content Quality – It's possible you're not happy with the quality of content Scalenut produces. Different AI engines produce different types of content. Some may be more casual or informal in tone.
Pricing – Depending on your use case – and which features you use the most – Scalenut's pricing might be a detractor. You may want something more affordable, especially if you're adding more than one user/seat to your profile.
And more. There are other potential reasons, such as not needing all the features Scalenut offers. For example, maybe you focus more on blog articles and long-form content. Or maybe you need something more suited for academia (like essay writing and essay grading).
Whatever your reasons, we have you covered.
In this post, we look at 6 Scalenut alternatives and competitors, including:
Smodin
Jasper
Writesonic
Frase
Copymatic
GrowthBar
Ready to start using an AI writing tool for free? Try Smodin today.
1. Smodin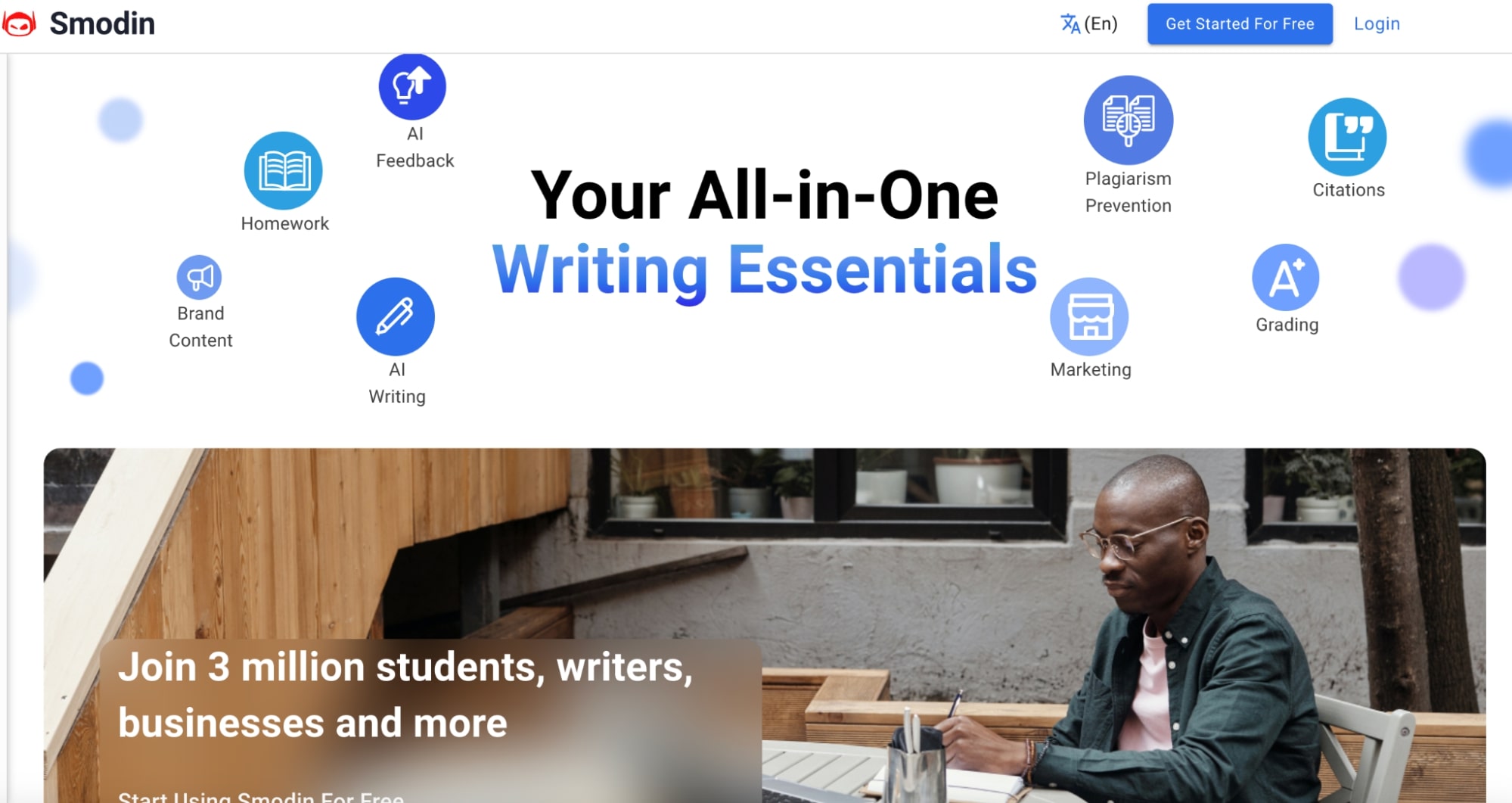 We made Smodin to be an all-in-one writing tool and assistant. Smodin's features can be used by bloggers, SEOs, copywriters, students, teachers, and more.
Here are some of its features:
Article Writer
Headline writer
Essay Writer
Homework Tutor
Copywriter
Plagiarism Detector
And more.
To see how Smodin works for you – and if it's the right Scalenut alternative for you – start writing with Smodin for free.
Or you can keep reading to learn about the key features that make Smodin the best alternative to Scalenut:
When marketers use Smodin, they often use ChatIn (our own chatbot) and our AI article generator, in combination with one another.
The chatbot is simple to use. Just ask questions and ChatIn will provide detailed answers. You can ask it to write blog intros, tell you about a product/service, provide an online, and more.
You can use the AI article generator to generate a complete article. You control the topic/keyword, outline, length, and other key features. This generator is great for helping writers bust through writer's block and deliver their content on time.
Here's how it works.
Enter the title or keyword for your article. If you're trying to rank in the organic search results for a specific keyword, then use that keyword.
Choose article length. You pick how many sections your article should have.
Image/conclusion. You also pick whether or not your article needs an image or conclusion.
When this is done, Smodin outlines what will be covered in the article. You can re-arrange the outline, as well as add your own sections.
When the outline is ready, Smodin will generate a complete article. You can ask for requests, write your copy, and export the article out of Smodin.
Our AI article writer saves content writers and bloggers a lot of time when producing articles.
In addition to the AI article generator – and other features that make Smodin a great Scalenut alternative for marketers and bloggers – Scalenut also has an AI essay writer, perfect for students of all levels and grades.
It works similarly to the AI article generator. You provide some info on your essay topic.
To give you an example, we chose the topic of "France's Role in the American Revolution."
Immediately, Smodin recommended that we change the title to: "France's Crucial Role in the American Revolution."
This simple change makes a big difference, as now the essay will be shaped to describe and educate on how France played a critical role in the American Revolution.
Then, like writing an article with Smodin, you're given an outline. You can review, edit, and swap around the proposed sections.
Once you've approved the outline, Smodin writes the essay for you.
Next, we look at how you can use Smodin to grade your essays, which will help you improve your writing.
AI Grader – Perfect for Teachers and Students
A major difference between Smodin and Scalenut is Smodin has extensive writing tools for academics, researchers, students, and teachers. One of those is Smodin's AI grader.
With our AI Grader,
Teachers can quickly grade essays. By spending less time grading essays, they can spend more of their time teaching and mentoring their students.
Students can see what grade they're likely to get. Smodin's essay grader assigns a letter grade to the essay (based on custom custom-picked rubric) and then gives a rationale behind the letter grade.
Use AI to grade your writing today
Other Key Smodin Features
Above, we discussed some of what makes Smodin a good alternative to Scalenut – Smodin's AI article generator, along with its features aimed more at academia.
But that's just the beginning – there are plenty of other use cases for Smodin.
For example:
Start using Smodin to elevate your writing.
2. Jasper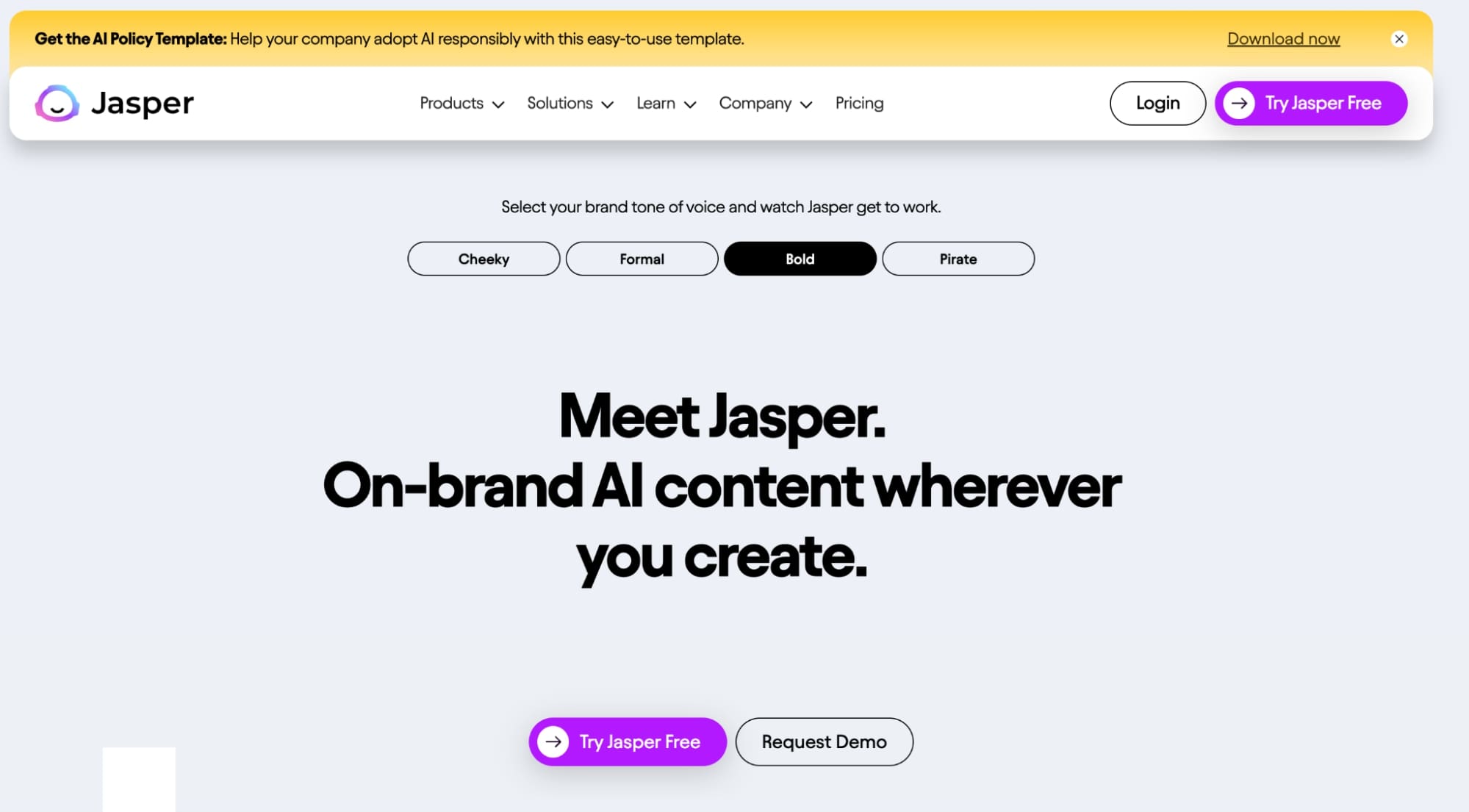 Jasper is an AI-powered writing assistant that can help create marketing copy through natural conversations with its chatbot. You describe what you want to write, and Jasper asks thoughtful questions to understand your goals, target your audience, and deliver the best content.
Jasper can compose copy for:
Social media posts
Landing pages
Emails,
Ads
And more.
A key difference from Scalenut is that Jasper focuses more on short-form copywriting, like writing taglines and social media captions. So, if this is your primary use case, Jasper is an alternative worth considering.
Overall, Jasper emphasizes its conversational co-writing process. Rather than a set-it-and-forget-it content generation, Jasper aims to collaborate interactively on each piece of copy. In this way, it's very good for creating the same atmosphere found in the best marketing teams. This creative back-and-forth could allow for "ah-ha" moments and lightning-strike ideas that fully AI-automated solutions might miss.
Here's an incomplete list of what you can get from Jasper:
AI-powered copywriting
AI-led content strategy
AI blog writing
AI-powered SEO
But JasperAI can be too expensive for some writers, especially when you factor in teams. Pricing plans start at $39 per month (when paying month to month). But that price is only for an individual writer – it'll get more pricey as you add members from your team.
At the time of this writing, Jasper has over 1800 reviews with an average star rating of 4.8/5.
3. Writesonic

While Writesonic offers writers a wide variety of AI writing and content generation tools, its specialty is long-form content.
Writer can use Writesonic to create blog posts, articles, and essays from scratch.
To use Writesonic, simply describe your topic, keywords, and tone. Writesonic's AI will create an outline and then, once approved, draft it for you.
Plus, Writesonic's AI can digest research to synthesize key ideas in the draft, saving you a lot of time in the writing process.
Where Writesconic stands apart from Scalenut when it comes to re-writing/optimizing content. You can Writesonic a blog post, and the AI will refine the language, structure and flow to boost engagement. This allows for improving existing content instead of always creating from scratch.
Here are some of Writesonic's core features:
AI writing: Writesonic lets you use an AI article writer, a paraphrasing tool, a summarizing tool, plus more.
Chatsonic: Writesonic has a chatbot. Its chatbot integrates with Google Search, can chat with PDF files, and create AI images.
Botsonic: You can use Botsonic to create a chatbot specific to your use case. This is great for programmers or business owners who want to make a chatbot for their site.
AI Art Generator: Writesonic can make AI-generated art/images. These royalty-free images can be used across all your marketing strategies (from your website to social media posts).
Audiosonic: Writesonic can give a professional voice to your text, making it perfect for recording voiceovers, narrations, and podcasts.
At this time, Writesonic has over 1800 reviews with an average star rating of 4.8/5.
4. Frase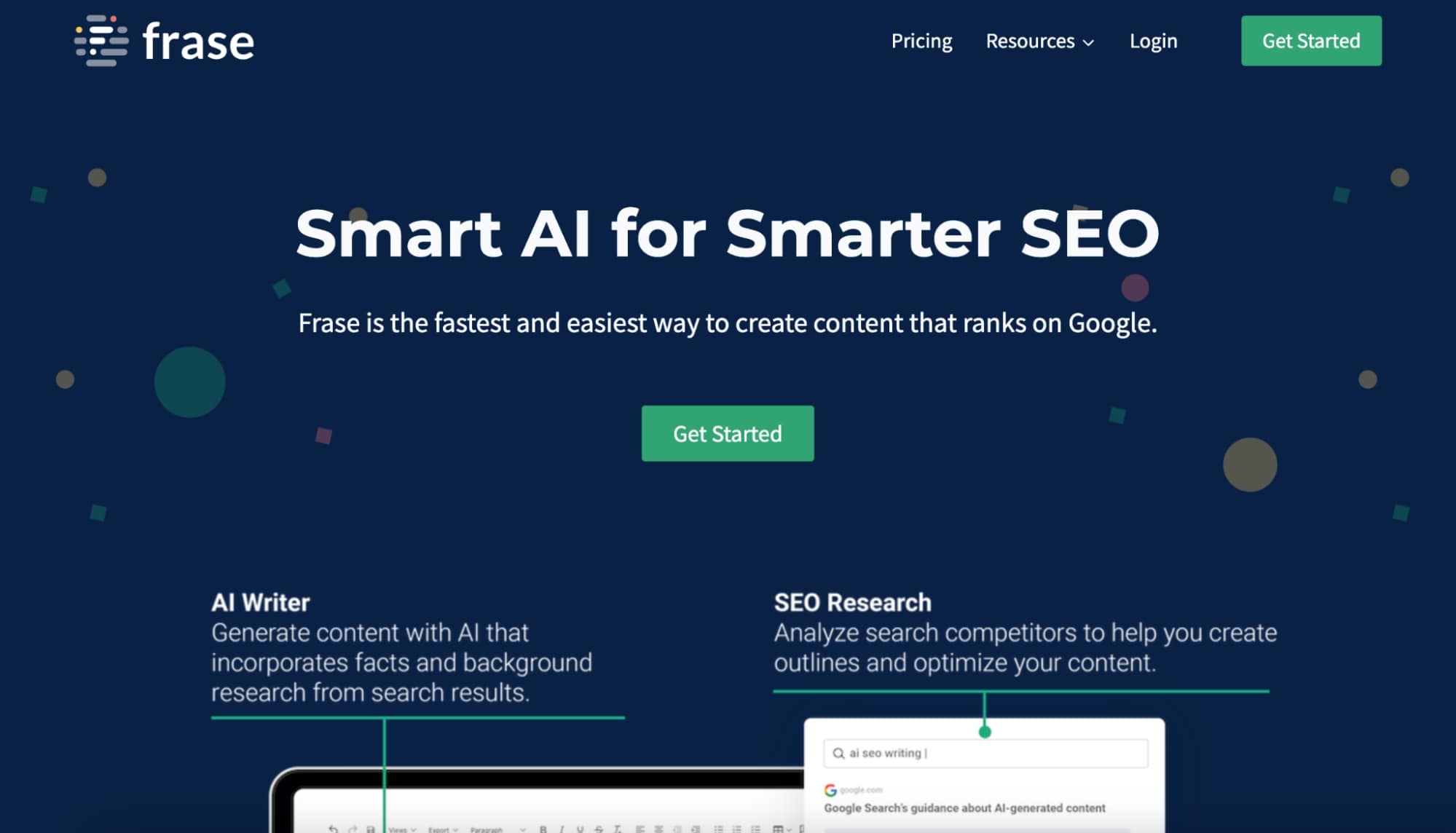 Frase's AI can generate catchy headlines, subject lines, meta descriptions, and other copy elements to jumpstart your writing process. Think of Frase as more of a tool that you can use to break through writer's block.
Frase also comes with useful AI research capabilities. To inform your copy, you can get AI-generated reports on trending topics, relevant keywords, and competitor analysis. This marketing intel could give an edge over Scalenut.
Frase also provides writing assistance, like expanding outlines and rephrasing existing text.
Here are some of Frase's main features:
AI Content Generator
Blog Introduction Generator
Blog Outline Generator
A Paraphrasing Tool
A Paragraph Re-Writer
Blog Title Generator
And more!
At the time of this writing, Frase has no third-party verified reviews.
5. Copymatic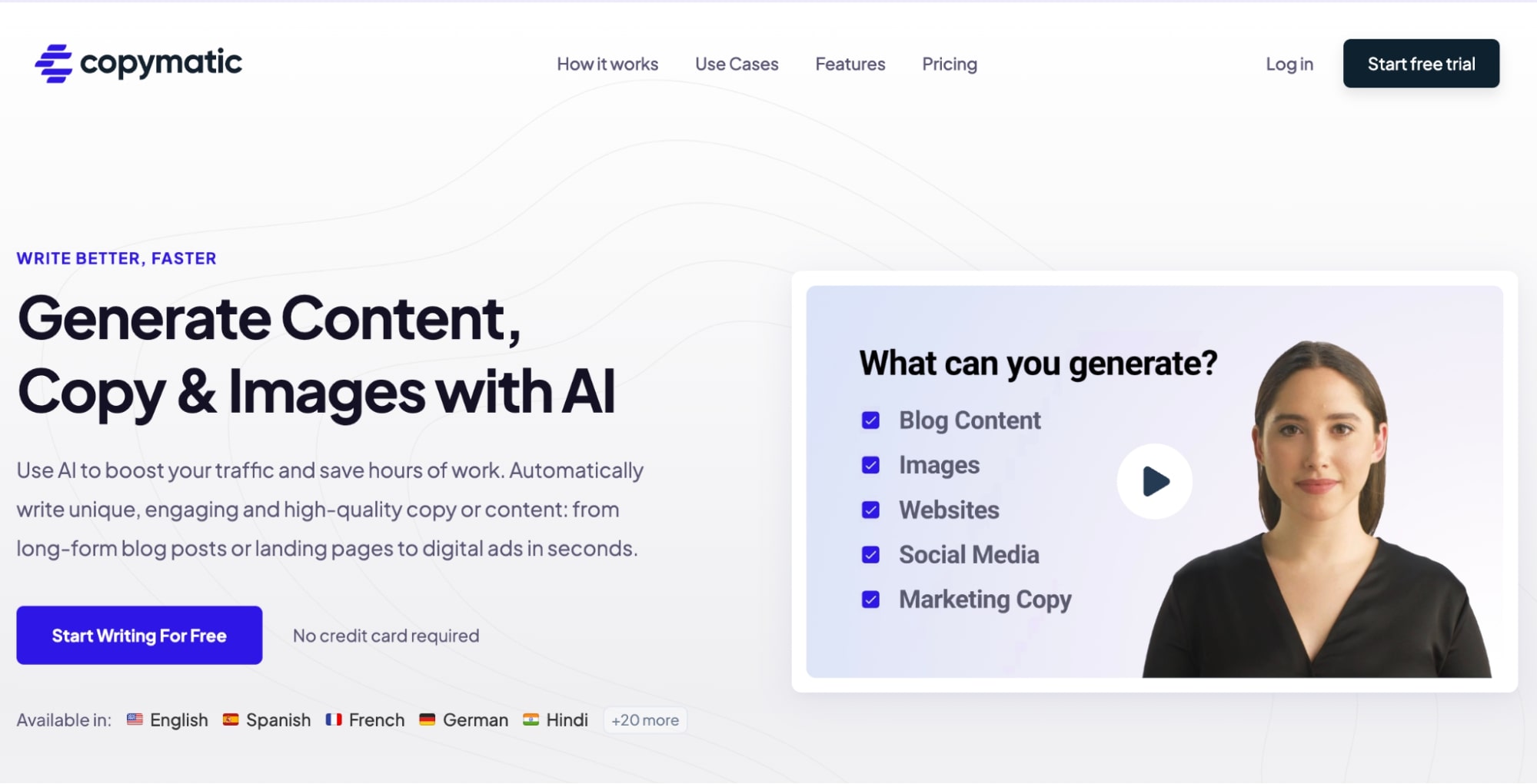 Copymatic provides a wide range of AI copywriting models optimized for different content types – think website pages, ads, emails, social posts, and more.
This type of content specialization contrasts with Scalenut's singular AI engine. So, if you need copy tailored to specific use cases, Copymatic has you covered. There's an AI model just for Facebook ads, one for landing pages, another for cold emails, and so on.
The AI models are designed to generate highly relevant copy for each medium. So you get outputs customized for the platform rather than generic text. Copymatic's adaptability could be useful for highly targeted campaigns.
Copymatic also emphasizes creativity, crafting emotionally compelling copy by analyzing language patterns in high-performing examples. So, if you want your AI-generated copy to pack an extra punch, Copymatic could provide that edge over Scalenut.
Here are some of Copymatic's key features:
Generate content
Generate copywriting
Generate Images
Content generation is available in over 20 languages
At the time of this writing, there aren't any third-party reviews available for Copymatic.
6. GrowthBar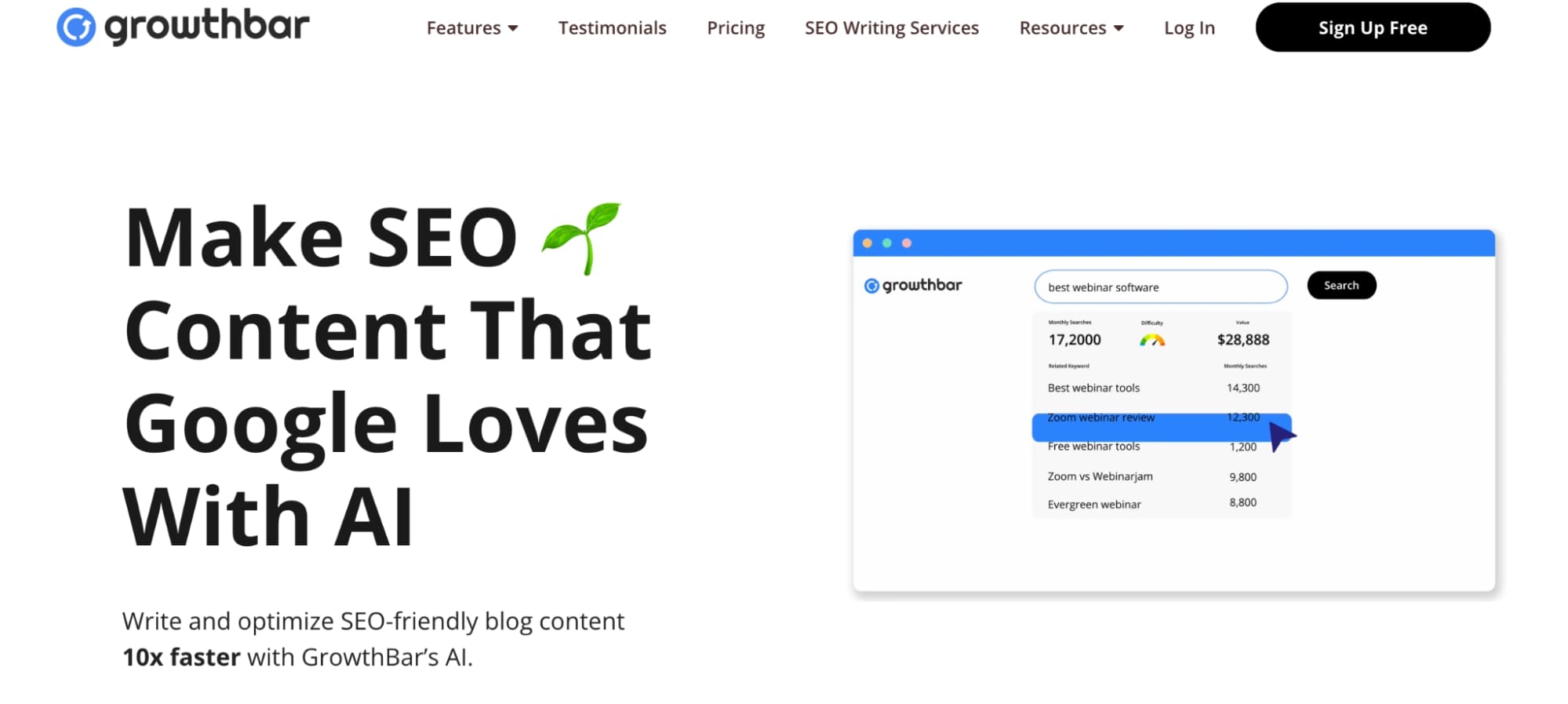 GrowthBar focuses specifically on ideating and creating compelling blog post ideas optimized for growth. So, if you're leaving/deciding against Scalenut because it doesn't have a strong enough focus on SEO writing, then GrowthBar might be a good alternative.
GrowthBar's AI asks questions to understand your target audience, brand personality and goals. Based on this, it generates catchy blog post ideas and outlines tailored to drive engagement.
This brainstorming specialty could make GrowthBar a good alternative if you just need creative direction to get blog content flowing. The AI aims to provide ideas calibrated for your brand and customers.
Once you pick an idea, GrowthBar fleshes it out into an outline and draft post. So it covers both ideation and initial content creation, though likely not at Scalenut's scale or polish level.
However, GrowthBar really shines at the crucial beginning phase of the content process by leveraging AI to overcome writer's block. Having a constant stream of novel, on-brand blog ideas could take your content marketing to the next level.
So, while more limited in scope, GrowthBar could rival Scalenut if you specifically need an AI muse for planning and inspiration to fuel blog content that resonates with your audience and drives growth.
Here are some of the main features of GrowthBar:
Keyword Research: You can use GrowthBar to research keywords and topics to cover for your blog.
Custom AI models: You can feed examples to GrowthBar, and it'll create an AI module. This is currently in beta and results are mixed.
Content optimization: You can optimize your content as you write it, so you'll me making sure you're producing comprehensive content that has a chance of ranking in the organic search results.
At the time of this writing, GrowthBar has 8 reviews with an average of 4.8 stars.
Read all GrowthBar reviews here
Next Steps: Try Smodin for Free
When looking for a Scalenut alternative, we recommend you start with Smodin.
We made our all-in-one AI-writing tool for all types of use cases – from bloggers, to ad writers, to teachers, to academics, students, and other professional writers.
This way, you can use Smodin to find exactly what you need.
We offer tools such as:
A chatbot
An article generator
An essay generator
An essay grader
A re-writer
And more