In this post, we look at 6 Simplified alternatives, including:
Smodin – Our AI writing tool is used by marketers, students, teachers, and all types of professional writers. Smodin has a chatbot, an article and essay generator, several different prompts, a content rephraser, an essay grader, a plagiarism checker, and more.
Jasper – Jasper offers a conversational AI assistant that creates marketing copy, emails, social media posts, and other content through chat.
Writesonic – Writesonic has various AI writing tools for long-form content like blog posts, product descriptions, and more. It can also rewrite existing content.
INK for All – Amplify by INK provides an AI assistant for writing, editing, and optimizing marketing content. It has robust rewriting capabilities.
Rytr – Rytr is an AI content creator and writing assistant specializing in long-form content like blogs, articles, whitepapers, etc.
Shortly – An AI writing assistant from Synthesia that provides real-time suggestions and grammar help as you write manually. Think of Shortly as a buddy who is there as you write, but if you encounter writer's block, you can ask Shortly to continue your thought. It looks at your previous text to offer suggestions.
The key differentiators from these tools and Simplified is the focus on long-form content generation, advanced rewriting capabilities, and integration of AI alongside manual writing.
Remember, most of the time, these AI writing tools are meant to augment your writing/improve your writing vs. fully automating your writing process.
Let's start looking at these Simplified alternatives one by one.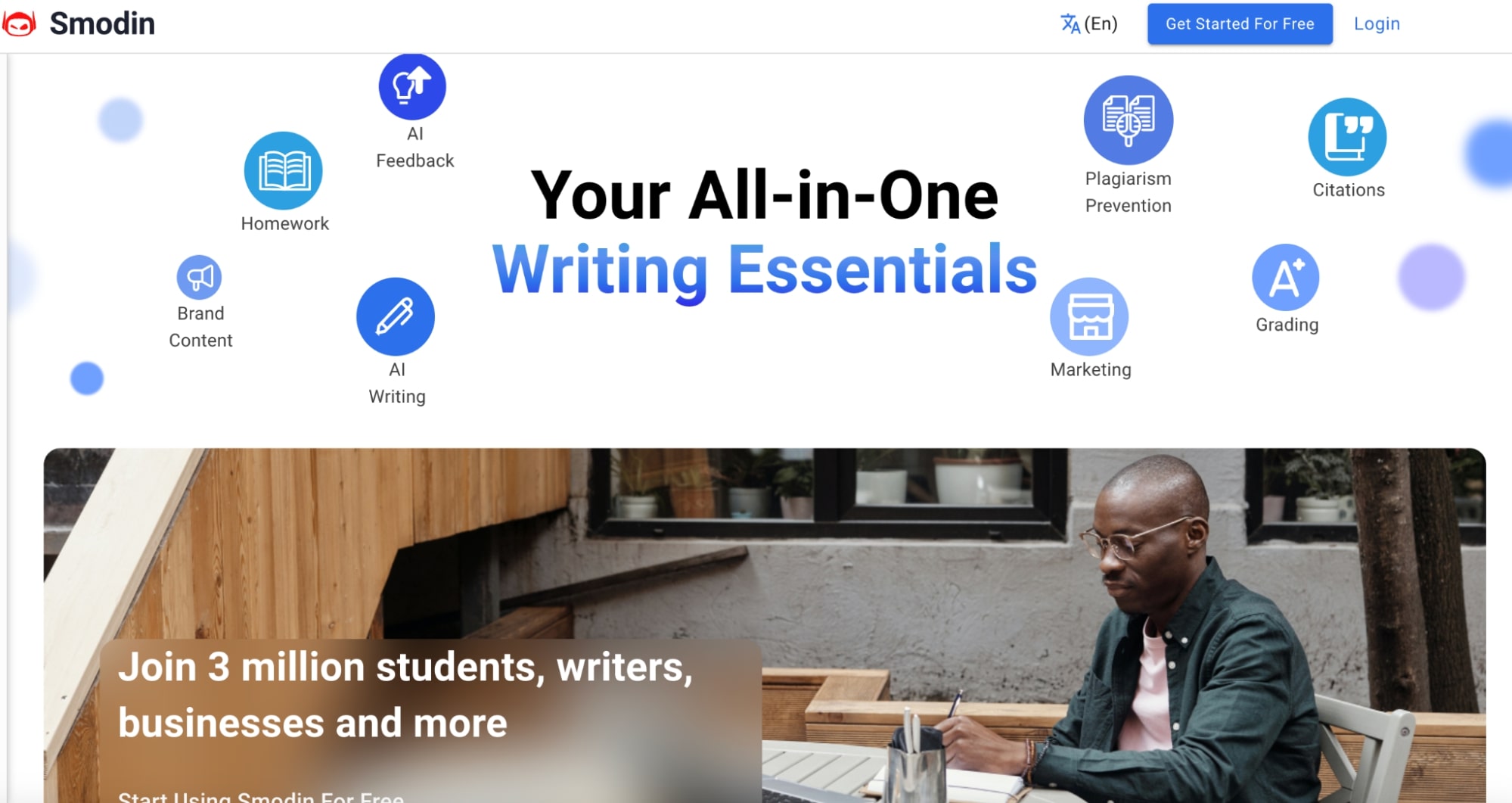 Smodin is our choice for the best Simplified alternative because you can use Smodin for all types of projects.
Writers, teachers, students, and researchers have used Smodin for:
Writing essays
Writing books
Writing blog content
Writing titles, product descriptions, and more
Writing research papers
Writing professional letters
Wrtiing legal documents
Get started with Smodin for free.
Or keep reading to learn about Smodin's key features, including:

Smodin is a great resource for marketing writers (as well as other professional writers) because you can use its AI article generator to help you draft a complete article. This is great for getting over writer's block or starting a writing project you've been avoiding.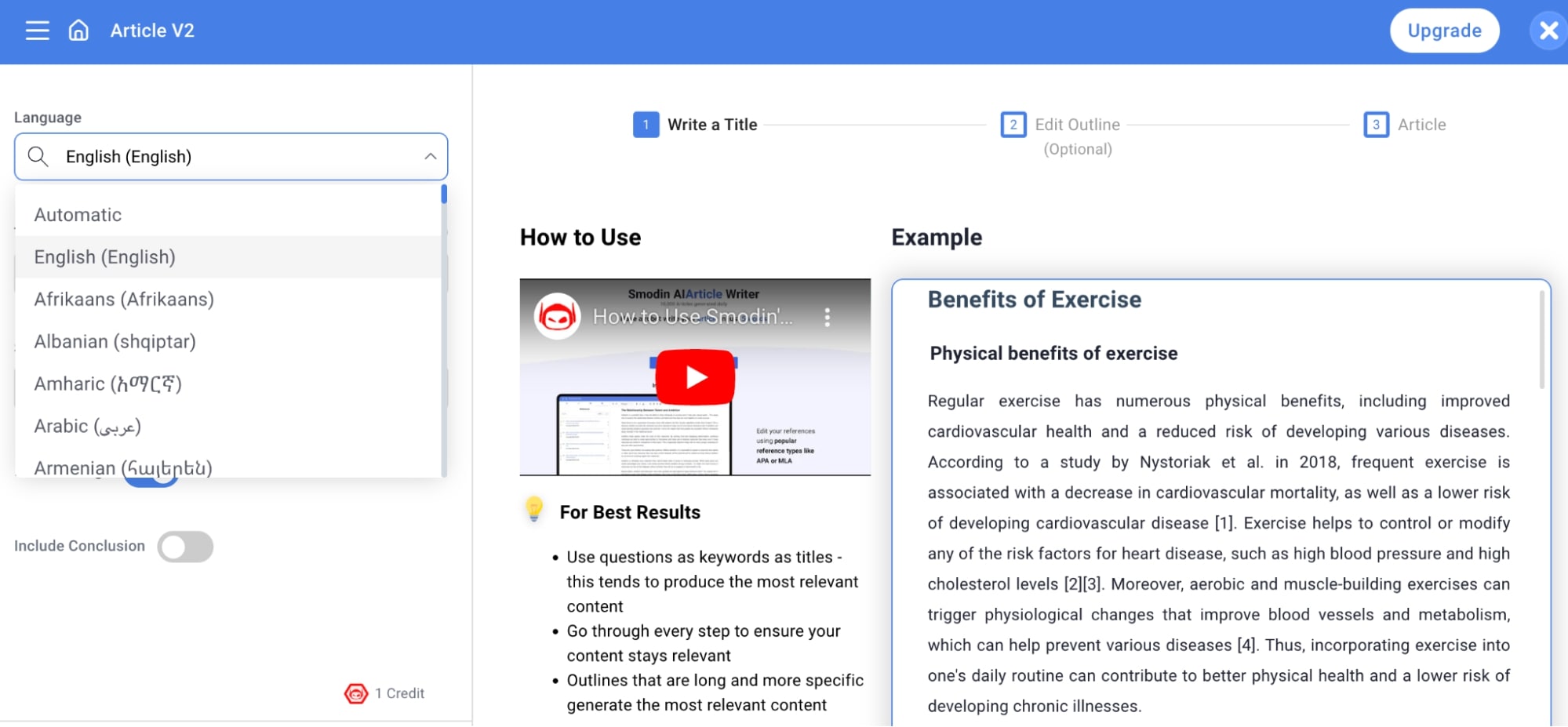 With Smodin's article generator, you just:
Pick the language you want your article written in
Choose the title or keywords (we recommend you use your SEO-specific keywords if you're using this tool for web content)
Pick how many sections you want your article to have
Decide whether or not it needs an image and whether or not it needs a conclusion.
After that's all been decided, Smodin proposes an outline. You can edit the outline so that you know the article's final draft will be what you're looking for.
Then, within moments, you're given a full draft of an article. You can make edits in Smodin, request revisions, or export the article to a different platform.

Smodin has a feature that helps students write their essays. This is a great tool to improve your writing and help think more critically about your project.
Let's take a look at how this works. Below, we have Smodin help us write an essay about France's part in the American Revolution.
First, you suggest a title. The title we chose was "France's Role in the American Revolution."
But Smodin improved this title for us, recommending that we re-write the title to read: "France's Crucial Role in the American Revolution."
The addition of "crucial" helps make the title more engaging, and it also helps shape the argument of the essay.
Next comes the outline, where you can edit the outline, and customize the essay type. You can also tell Smodin to include facts and sources to make your essay more credible.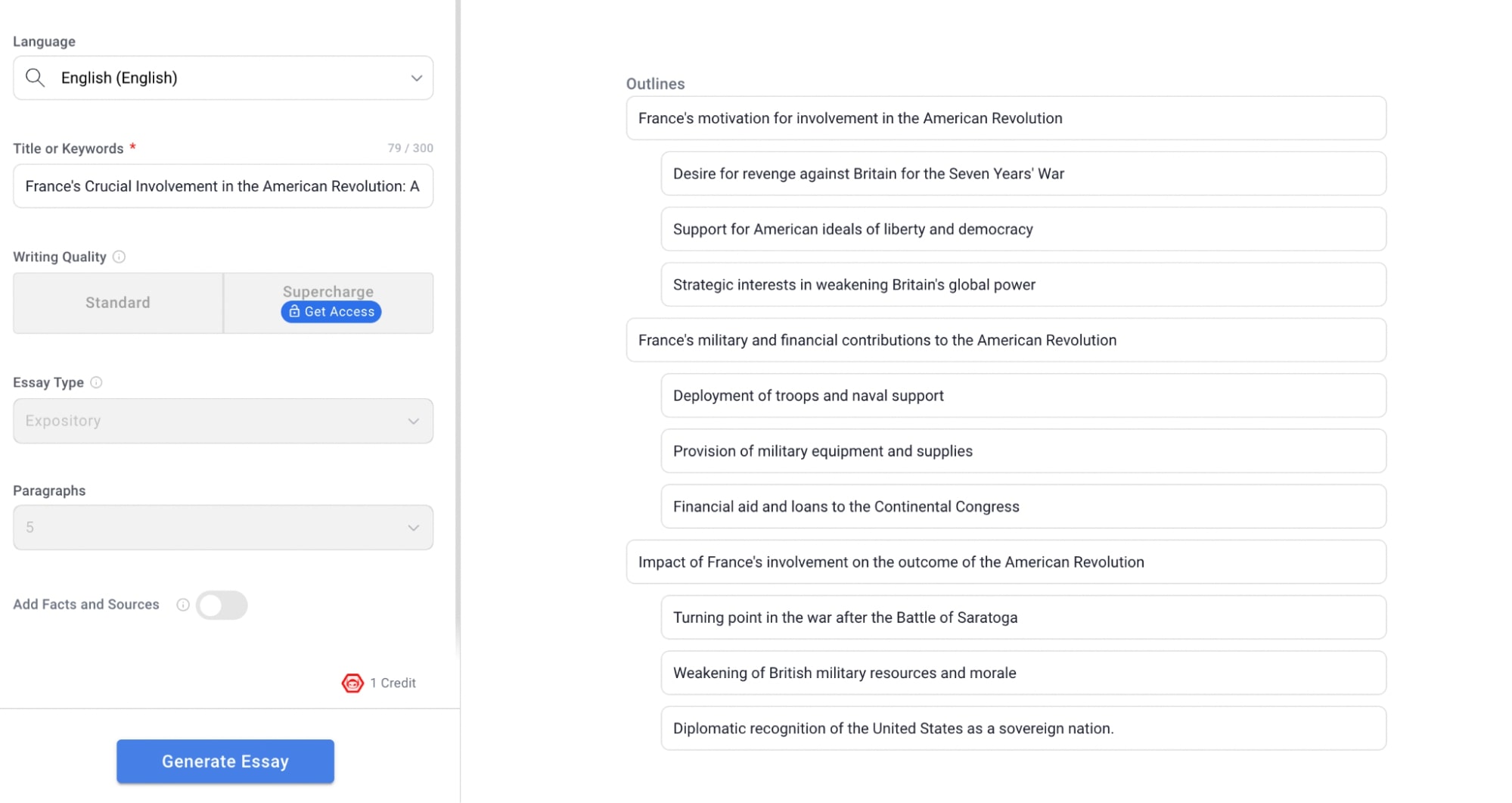 After that's done, Smodin will write the essay for you.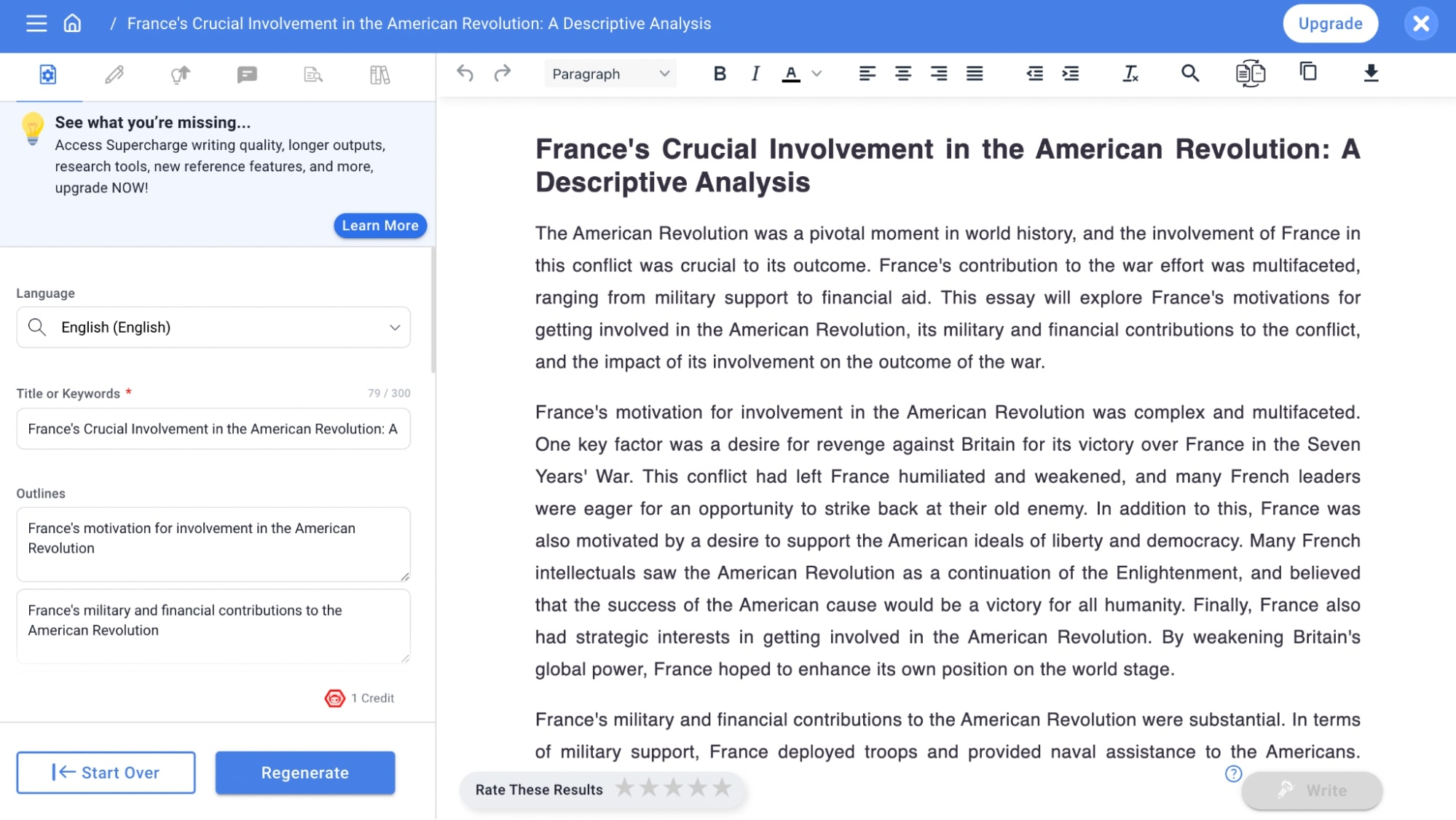 Note: What we did above is part of our free plan. You can get longer, more detailed essays with cited sources when upgrading your Smodin account.
AI Grader – Perfect for Teachers and Students

Teachers and students will both benefit from Smodin's AI grader.
Teachers can use it to quickly grade essays, which gives them more time to work with their students.
Students can use it to evaluate their work in progress, learn from their current mistakes, and improve their essay writing.
To use it, just assign a rubric. You can choose from default criteria in Smodin, such as "clarity" and "critical thinking." You can also upload a custom rubric so Smodin's essay grader can help you across several courses and assignments.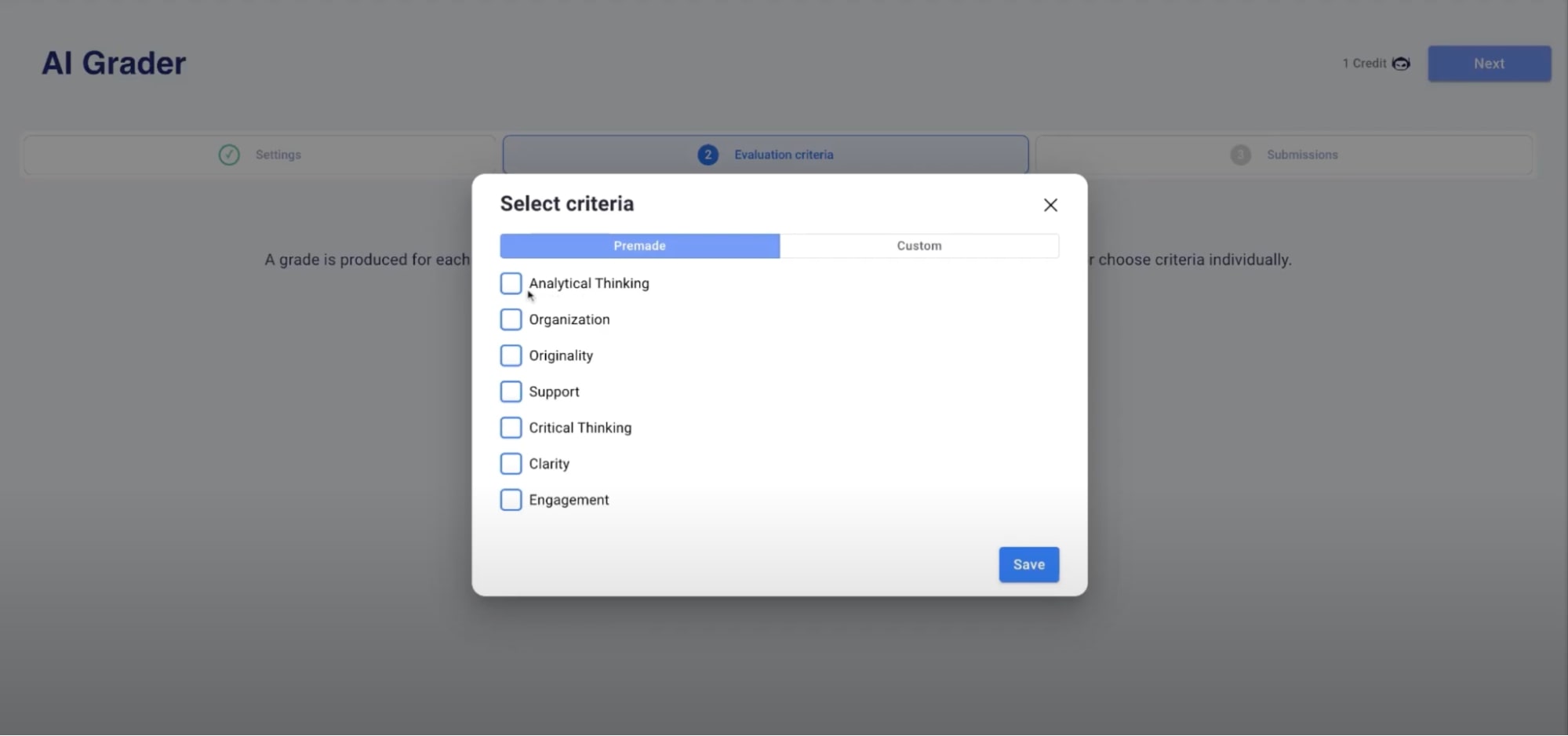 Once you pick your rubric, Smodin will grade your essay and provide you with a letter grade, along with some rationales behind each score and suggestions on how to improve your essay.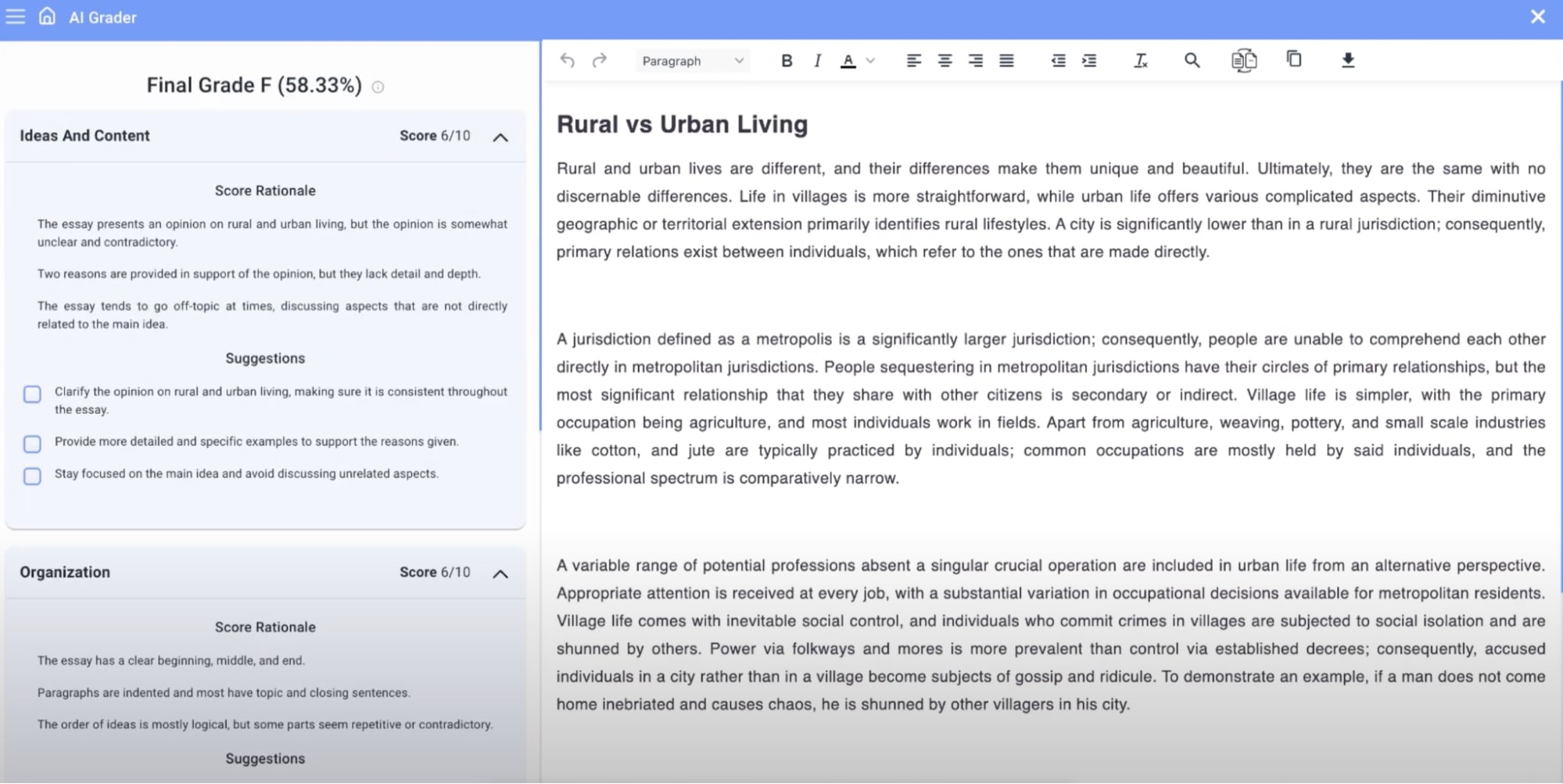 Use AI to grade your writing today
Other Key Smodin Features
Above, we looked at some of Smodin's key features that make it a great alternative for Simplified, including how Smodin can help you write blog articles, write essays, and grade essays.
But there are other features that you will find helpful, such as:
Start using Smodin to elevate your writing. Or keep reading to learn about the other alternatives to Simplified.
2. Jasper AI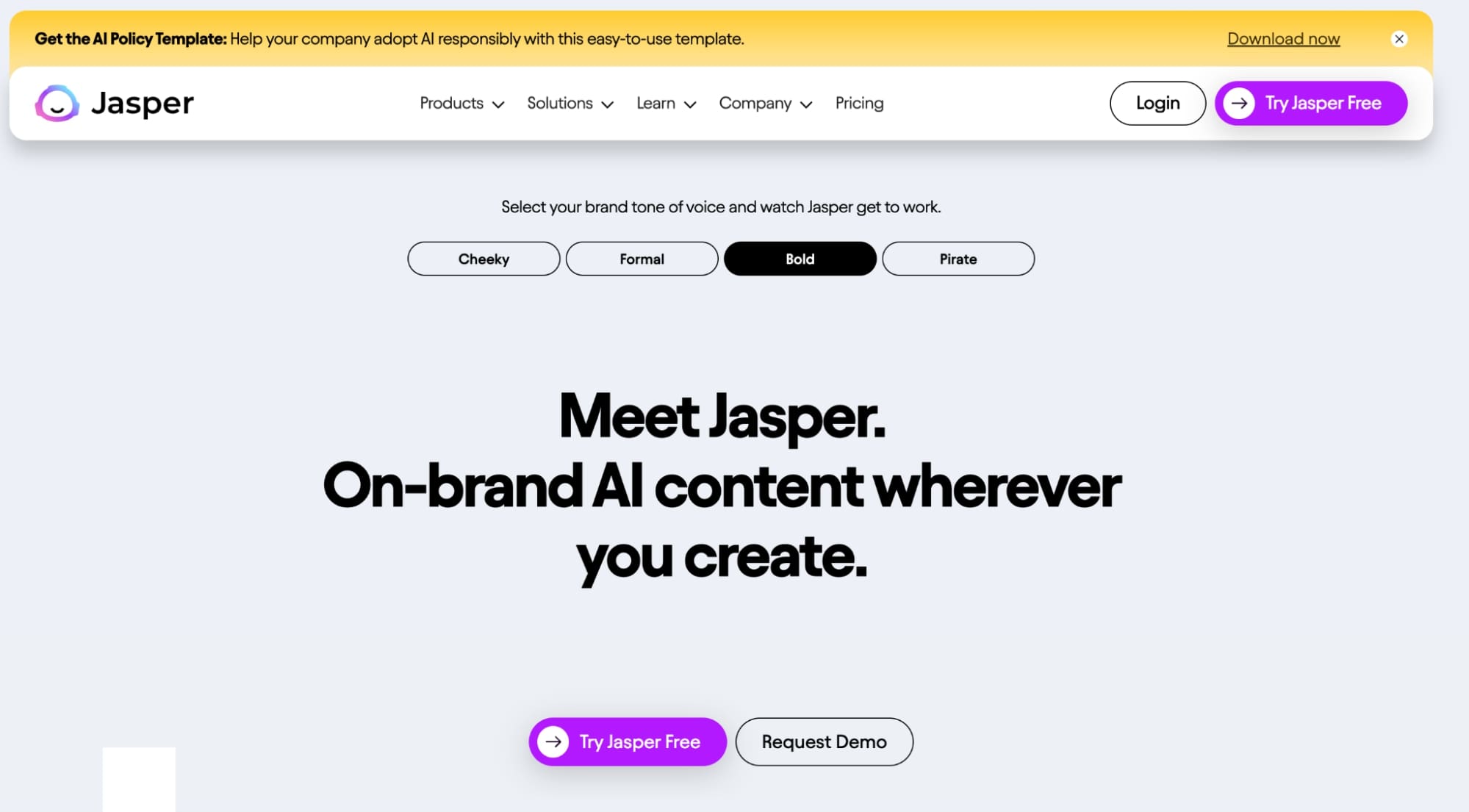 Jasper AI is a virtual assistant that is powered by artificial intelligence. Here is a breakdown of the important details. You can personalize its artificial intelligence for different industries and combine it with different CRM tools and other platforms.
Jasper is also a big help for all types of ad writing. Jasper has pre-designed marketing tools and templates that can be used to create quality content.
Jasper can facilitate writing blog posts, professional emails, newsletters, case studies, product descriptions, social media posts, and blog posts.
Here's an incomplete list of what you can get from Jasper:
AI-powered copywriting
AI-led content strategy
AI blog writing
AI-powered SEO
ChatGPT-3 integration
One downside is cost. At the time of this writing, the cheapest option is $39 per month (when paid monthly), and that's only for individuals. Plus, Jasper is only for marketing writing and may not fit within other use cases (students, academia, research).
At the time of this writing, Jasper has over 1800 reviews with an average star rating of 4.8/5.
3. Writesonic

Writesonic is another good Simplified alternative for marketers. It uses AI to help you write ad copy, blog posts, and more. It comes with a chatbot and also an AI image-generation tool – so you can quit using stock photos or paying royalty fees.
The main feature is an AI assistant that lets you describe what you want to write about at a high level, like topic, tone, keywords, etc. Based on your prompts, Writesonic's assistant will formulate an outline and expand it into paragraphs, articles, or blog posts.
Writesonic is tailored for producing all types of long-form content – think blog articles, product descriptions, guides, essays, and more. The key advantage is that it can handle creating fully original drafts and intelligently rewriting existing text.
This makes it handy for content marketers, SEO professionals, and writers who must produce a consistent amount of blogs, articles, product pages, and other website copy. Writesonic aims to automate and optimize much of the grunt work involved in content creation and optimization.
Here are some key features:
AI Writing: You can use Writesonic as an AI-powered article writer, a paraphrasing tool, a summarization tool, and more.
Chatsonic: This is Writesonic's chatbot. You can ask it questions, write for you, integrate with Google Search, read through and answer questions based on PDF docs, and generate AI images.
Botsonic: You can make your own chatbot without knowing how to code.
AI Art Generator: You can generate AI art, which you then can use royalty-free across your marketing and business channels.
Audiosonic: You can use Writesonic to read your text – perfect for recording scripts for videos or podcasts.
At this time, Writesonic has over 1800 reviews with an average star rating of 4.8/5.
Read all Writesonic reviews here
4. Ink for All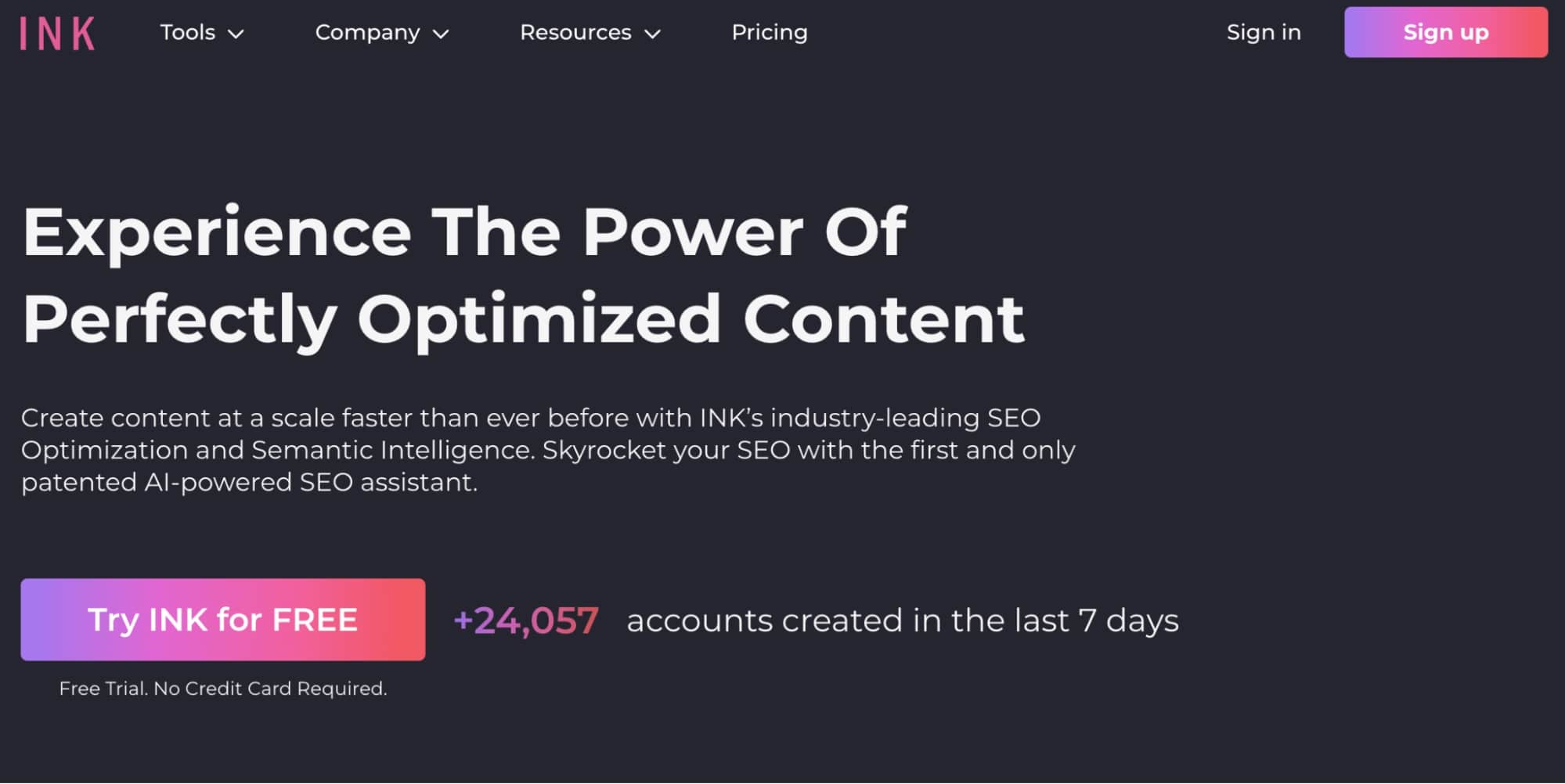 INK for All is a great AI assistant to help you and your team write, refine, and optimize your marketing content.
It mainly works through its AI writer. Think of its AI writer as your conversational writing partner. You can provide Ink with prompts, and then Ink will generate text.
Ink can either generate text from scratch or re-write existing content. It can also expand outlines into drafts.
Writers will like INK for All if they're focused on:
Social media posts
Ads
Landing pages
Emails
Blog posts
Plus, Ink for All also gives you an editorial calendar that you can use to plan and manage your content schedule.
At the time of this writing, INK has 4 reviews with an average star rating of 4.5
5. Rytr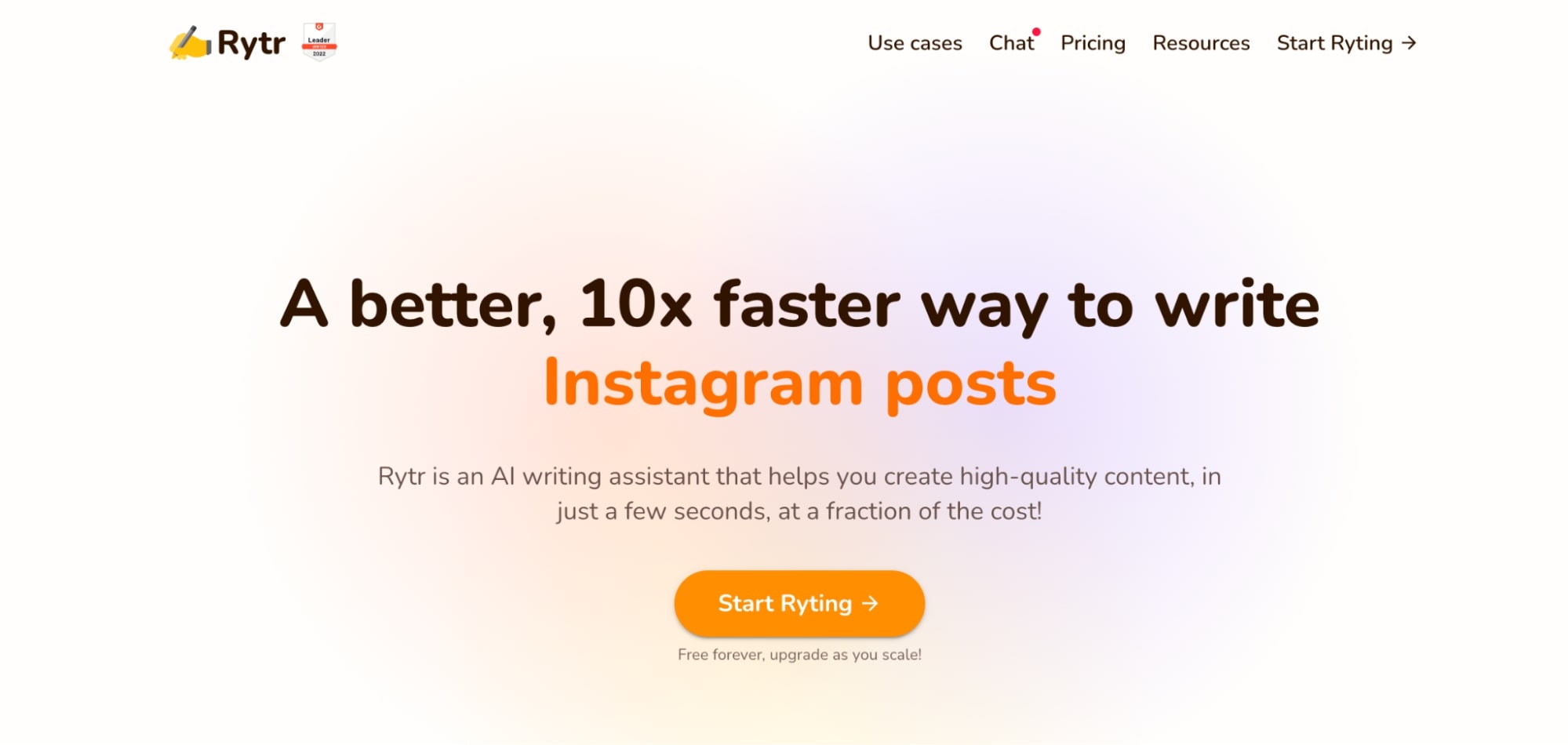 Rytr is an AI-powered writing tool that can help creators create high-quality, long-form content quickly and easily. Rytr acts as an AI co-writer that can take care of the busywork parts of writing, allowing you to focus on creativity.
When you use Rytr, you have a conversation with its AI assistant to create an outline or draft for your content piece. You can give it a topic, keywords, tone preferences, and other guidance to steer it in the right direction. Rytr's assistant will start generating thoughtful paragraphs of text that align with your prompts.
The cool thing is you can give it feedback and refine its writing as you go. So if you want a section expanded or rewritten, just let the AI know. Over a few back and forths, you can get Rytr to output solid initial drafts for things like blog posts, articles, essays, and more. It's like having an AI writer handle the first pass.
From there, you can take the draft Rytr came up with and edit or polish it up yourself before publishing. So, you still have control over the final piece, but Rytr massively accelerates the initial research and writing phase. This makes it super valuable for content marketers, bloggers, writers, and anyone who needs to crank out high volumes of content regularly.
The key advantage of Rytr over other AI writing tools is that it specializes in long-form content. So, if you need an automated way to draft blogs, guides, whitepapers, and other material consistently, Rytr aims to fill that need with its AI assistant approach.
Here are some of the more popular use cases for Rytr:
Blog idea outlines: Rytr can brainstorm possible blog posts – perfect for helping SEOs and Content Managers develop a strategy and a content calendar.
Blog writing: Rytr can save your writers a lot of time by generating a full blog article. This will usually be an initial draft that your team can refine and edit.
Creating a brand name: Rytr can suggest brand names for your business.
And more.
At the time of this writing, Rytr has over 15 reviews with a rating of 4.6 out of 5.
Read all of Ryter's reviews here
6. Shortly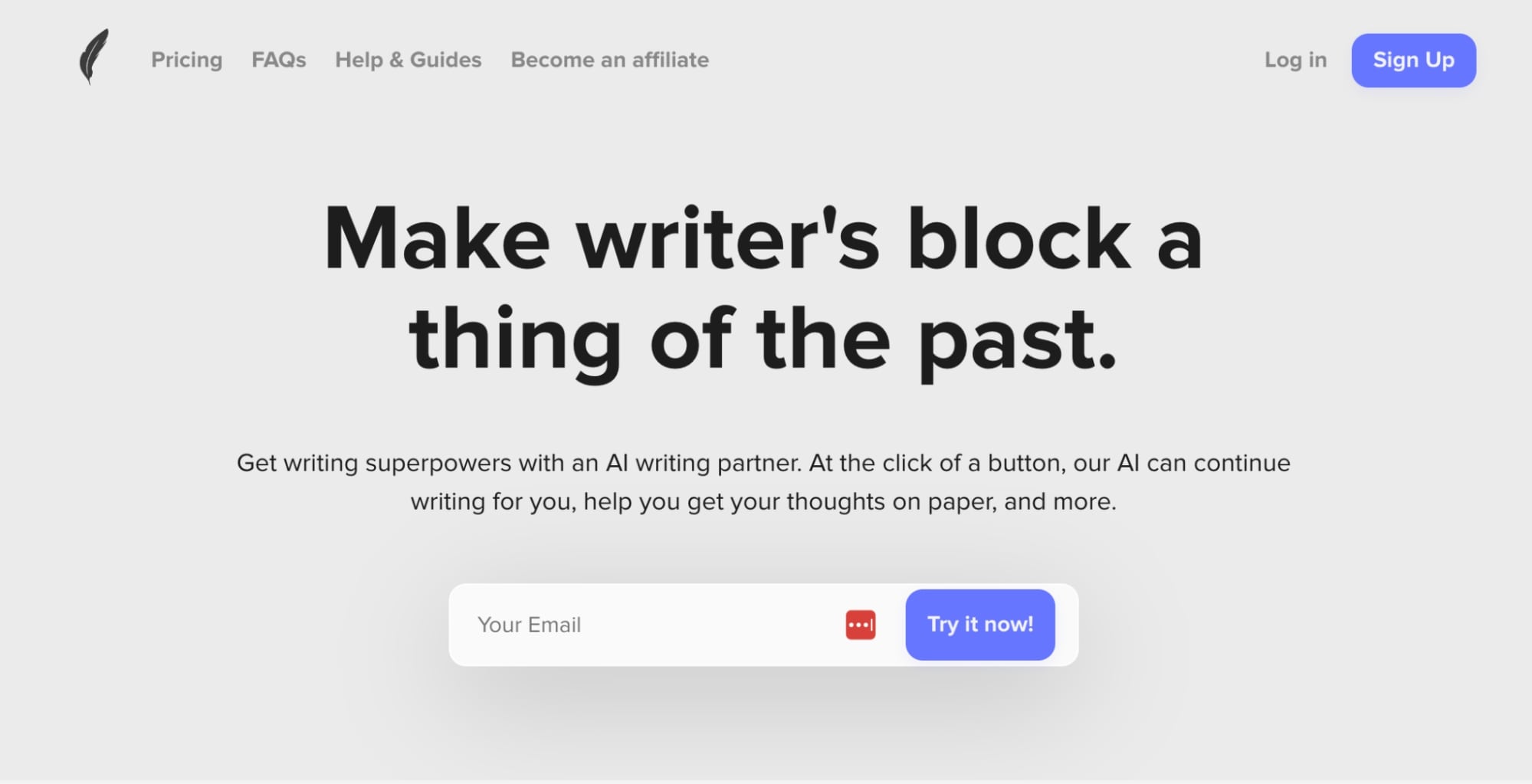 Shortly can help you write content by providing real-time suggestions and feedback. It integrates an AI system directly into your writing interface to act like an editor looking over your shoulder.
Shortly's AI will analyze each sentence as you type it. If it automatically highlights issues like grammar mistakes, wordiness, or unclear phrasing. It also provides alternative suggestions so you can improve your writing. You can swap Shortly's recommendations into your text with a click.
This allows you to catch mistakes and improve your writing style on the fly rather than going back and editing after. It's like integrating an AI-powered grammar and style checker seamlessly into your writing flow.
Shortly can also help with research. If you get stuck trying to phrase something or find the right facts, you can prompt it to provide relevant examples, data, and other contextual information to help spark your creativity.
If you're not looking for a full AI generator (like Smodin or Jasper), consider Shortly as a Simplified alternative.
Next Steps: Try Smodin for Free
Above, we looked at 6 of the best Simplified alternatives. These AI-powered tools help you improve your content writing process and overall content. Some tools were just for marketers, some were for students and other professional writers, while others helped edit and others help write new content from scratch.
To get started, we recommend you try Smodin for free. It's the most versatile alternative on the list.
Here are some of our most popular features: