Ryter is a popular AI writing assistant for writers, bloggers, and marketers. It's often used to create long-form content (like blog posts), along with short-form content, such as product descriptions, headlines, and calls-to-action (CTAs).
But Rytr may not be the best option for you, whether it comes down to use case, price, or just the quality of content output.
In this post, we look at 7 of the best Rytr alternatives available.
Smodin
Copysmith
Anyword
Jasper AI
Longshot AI
Scalenut
GrowthBar
1. Smodin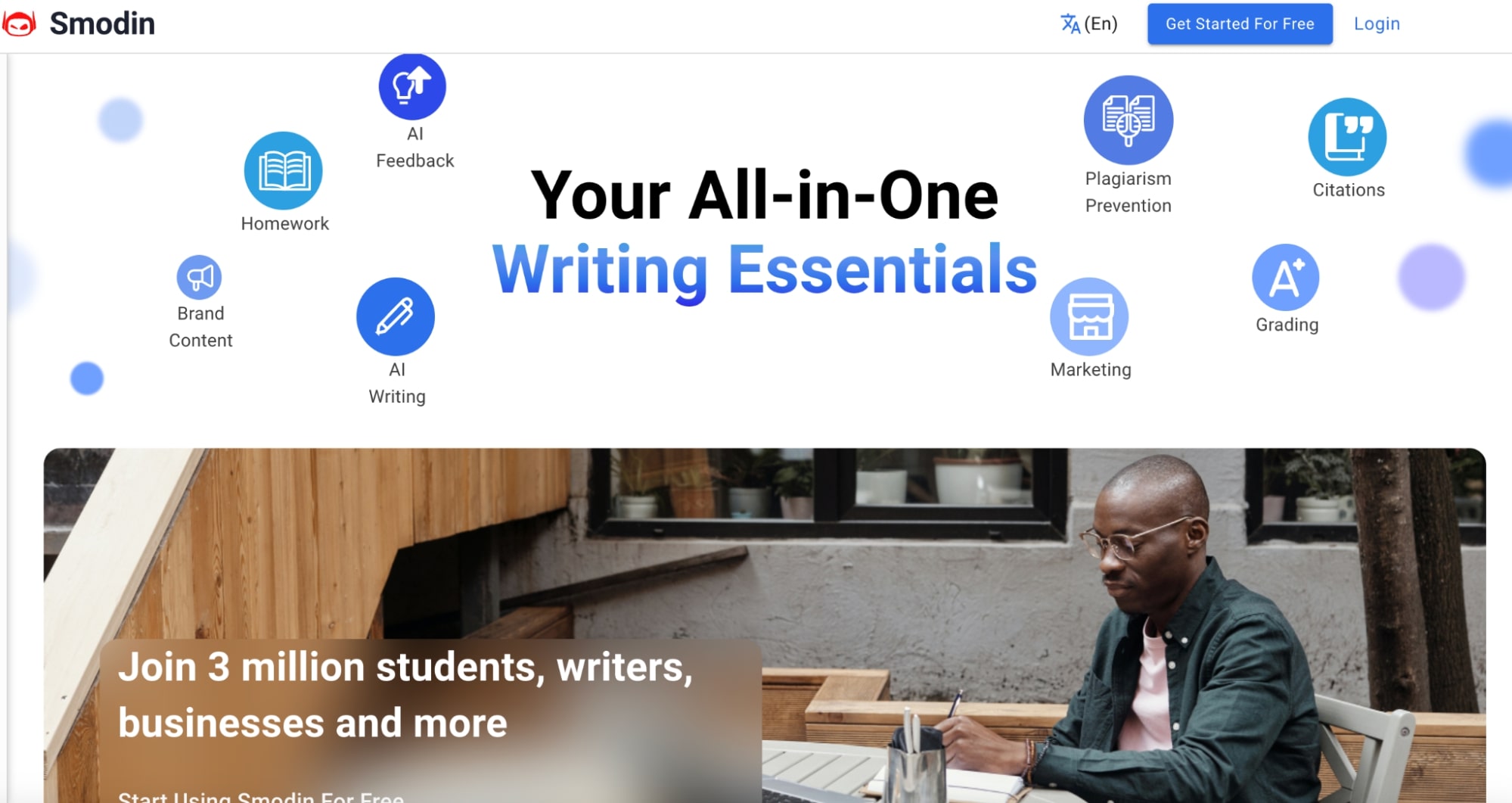 Smodin is an all-in-one writing tool and assistant. In contrast with other AI writing tools, Smodin has features for marketers, SEOs, copywriters, teachers, students, and other professional writers.
These features include an AI-powered chatbot (that you can use to answer questions and solicit content), a full-scale AI article generator, an AI essay writer, an essay grader, a homework tutor, and more.
That's why it's our choice for the best Rytr alternative – it gives you the most use cases, so you're bound to find what you're looking for.
You can try Smodin for free to see if its tools are what you need.
But you can also keep reading to learn about key Smodin features:
You can use Smodin's AI article generator to create an entire article from scratch – this is perfect for content writers and bloggers who need help getting started.
Here's how our AI article generator works.
First, type in the title or keyword for your article. If you're focusing on SEO, then make sure that the keyword you put in is the one you're trying to optimize for.
Second, designate the article length. Free plans can have an article with up to 3 sections. Choosing one of our affordable paid plans gives you longer articles.
Finally, decide whether the piece needs an image/conclusion.
Then Smodin gives you an outline based on your topic/keyword. You can edit the outline, re-arrange sections, customize sections, etc.
After the outline looks good, Smodin will generate an article for you within seconds. Now, you have a full first draft of your article. You can request revisions, make changes directly in Smodin, or move the content into another tool.
Smodin's essay writer is similar to the article generator, but the focus is on helping students write better essays. This essay writer sets Smodin apart, as not many Rytr alternatives focus on essay writing or academic writing.
Let's say you were writing about France's rule in the American Revolution. You'd type that topic and title suggestion into Smodin, and Smodin would recommend a slight – but important – change to your title.
Smodin re-wrote your topic as "France's Crucial Role in the American Revolution."
This change helps shape your essay.
Then, like writing an article with Smodin, you're given an outline.
After you approve the outline and customize the settings on the left, where you can choose the writing quality, essay type, length, and whether or not you need sources, Smodin writes the first essay draft for you.
Again, you can ask for revisions, make direct edits, or copy and paste the essay draft out of Smodin.
AI Grader – Perfect for Teachers and Students
You can have Smodin grade your essays. This is great for students and teachers.
With Smodin:
Teachers can grade essays more quickly. This way, you spend less time grading paperwork and get more face time with your students.
Students can see what grade they're likely to get before they turn in their work. As a student, you can see the grade you're likely to get. This way, you can make changes as necessary before submitting your essay.
To use our essay grader, simply assign a rubric (there are default criteria already loaded in Smodin, or you can upload your own rubric, which is perfect for grading essays from multiple classes). Once you've assigned the rubric, upload the essay. Smodin grades the essay based on the rubric, assigns a letter grade, and even breaks down the grade.
Use AI to grade your writing today
Other Key Smodin Features
Above, we looked at the key differentiating features between Smodin and Rytr, but we didn't cover all of Smodin's features that make it a great all-in-one AI writing tool.
Here are a few other key features:
Start using Smodin to elevate your writing.
2. Copysmith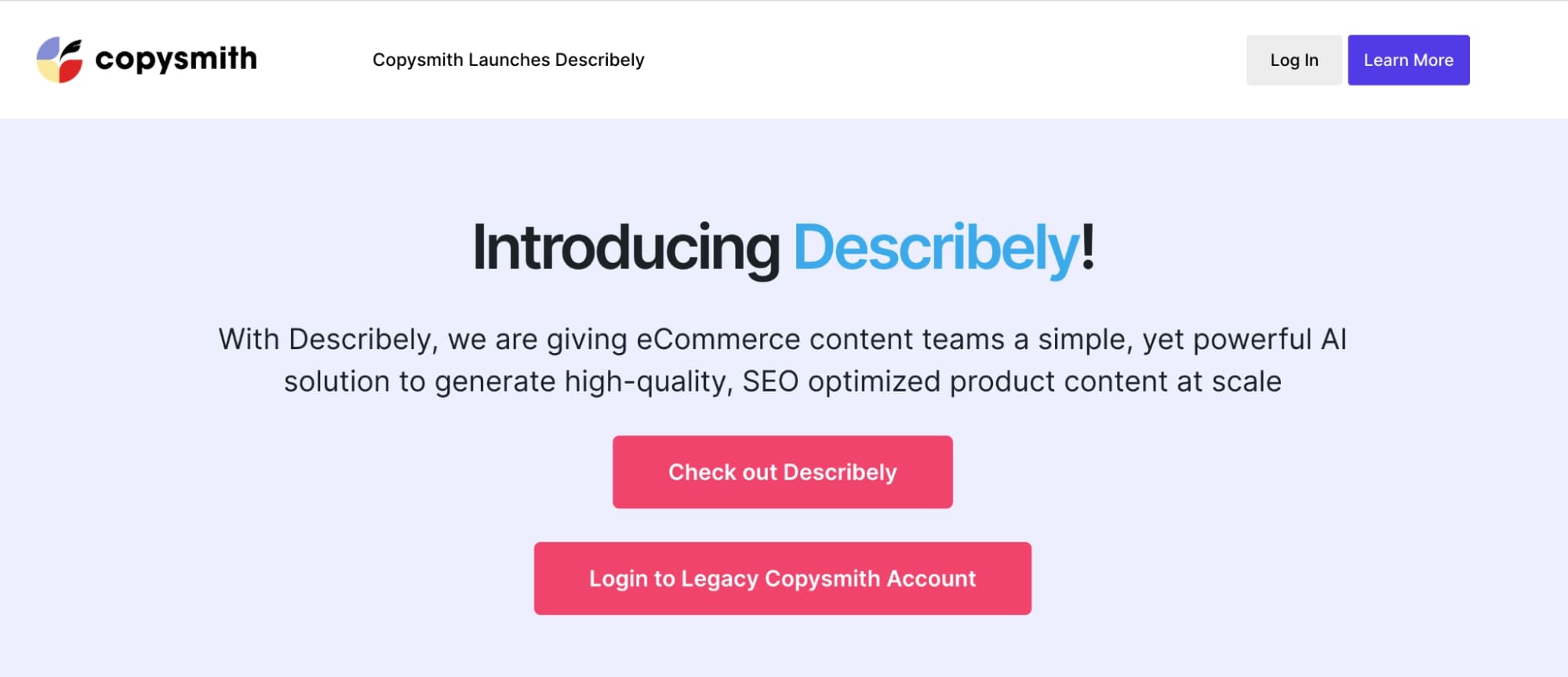 Copysmith* is an AI-powered writing assistant that can help you create high-quality content for a wide range of purposes, including:
Long-form blog posts
Product descriptions
Social media content
Sales emails
And more.
One key feature that sets Copysmith apart from Rytr is its integration with Surfer SEO. This is a perfect feature for SEOs and bloggers because you can easily optimize your content for search engines by providing data-driven suggestions on improving their content's keyword density, structure, and overall SEO performance.
Plus, Copysmith has a built-in plagiarism checker. You can use this to make sure your content won't get flagged for plagiarism. and want to avoid any potential legal issues or reputational damage.
Copysmith also provides a user-friendly interface and intuitive workflow, making it easy for users to navigate and generate content in minutes. Its language model and natural language processing capabilities ensure that the generated content is coherent, grammatically correct, and meets the highest quality standards.
Overall, Copysmith is a good Rytr alternative and a comprehensive writing tool that combines advanced AI technology with useful features like Surfer SEO integration and a built-in plagiarism checker.
At the time of this writing, Copysmith has 27 reviews with an average star rating of 4.2.
Read all of Copysmith's reviews here
*Copysmith is in the process of rebranding into Describely, so the specifics of what they offer may change.
3. Anyword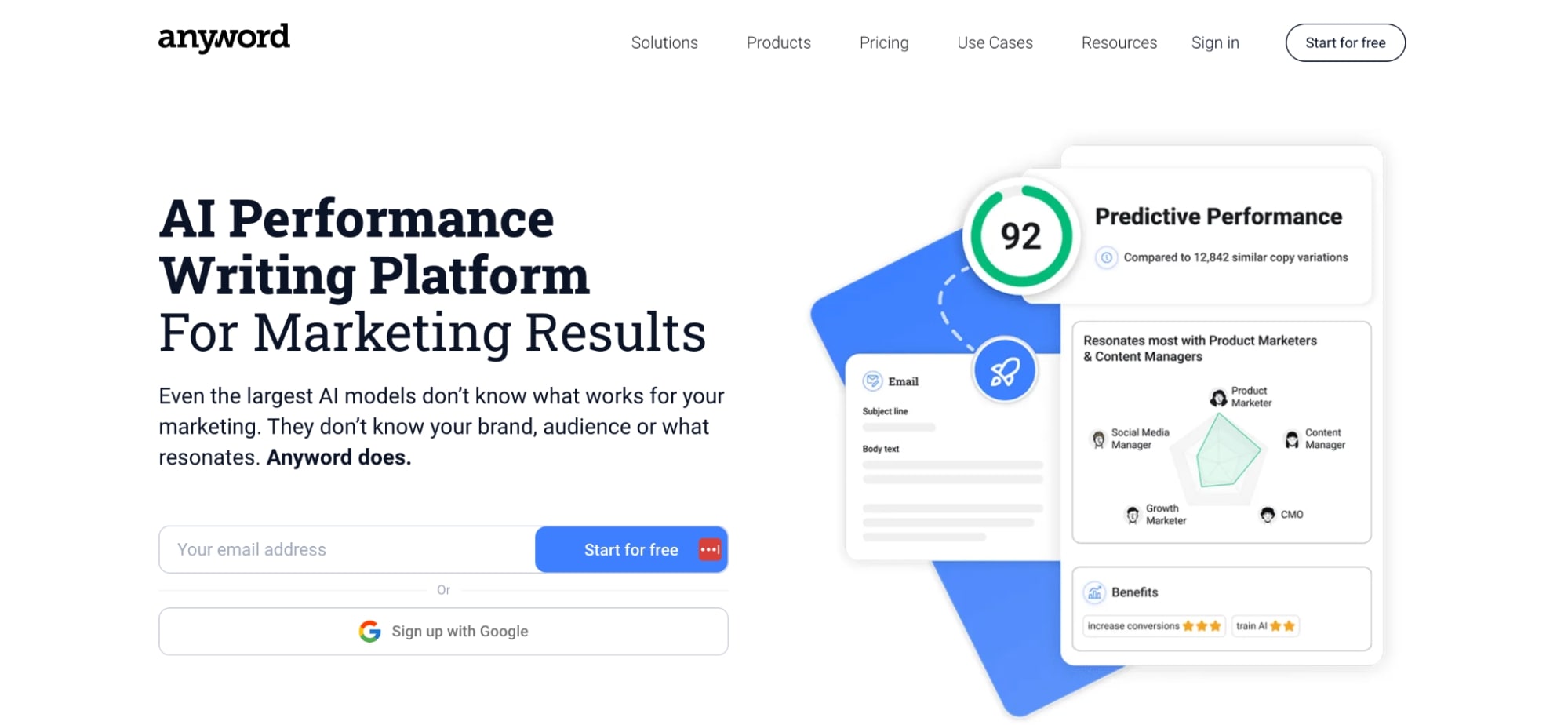 Anyword is another content generation tool that focuses mainly on helping you write long-form content, like a blog post.
One thing about Anyword that is mentioned often in reviews is its content templates. These templates help you save time, guiding your new piece of content. With Anyword's extensive template library, you can create content for social media posts, Google ads, cold emails, and more.
Plus, Anyword has a unique boss mode feature, allowing you to generate scale content. This is useful for marketing teams or businesses that need content output quickly and efficiently. You can quickly create multiple versions of a single piece of content – such as making a blog post, a social media post about the blog post, and an email newsletter about the blog post.
Finally, Anyword has a grammar checker and can integrate with Surfer SEO for improved content optimization. These two features a) keep your content professional and b) increase the chances of your long-form content ranking in Google and other search engines.
To recap, Anyword stands out from Rytr with:
Its focus on generating long-form content
Its extensive collection of content templates
Its boss mode feature for content creation at scale
Its integration with Surfer SEO for enhanced content optimization
Whether you're a content writer, marketer, or business owner, Anyword provides a versatile and efficient solution for all your content generation needs.
At the time of this writing, Anyword has over 380 reviews with an average star rating of 4.8.
Click here to read all of Anyword's reviews
4. Jasper AI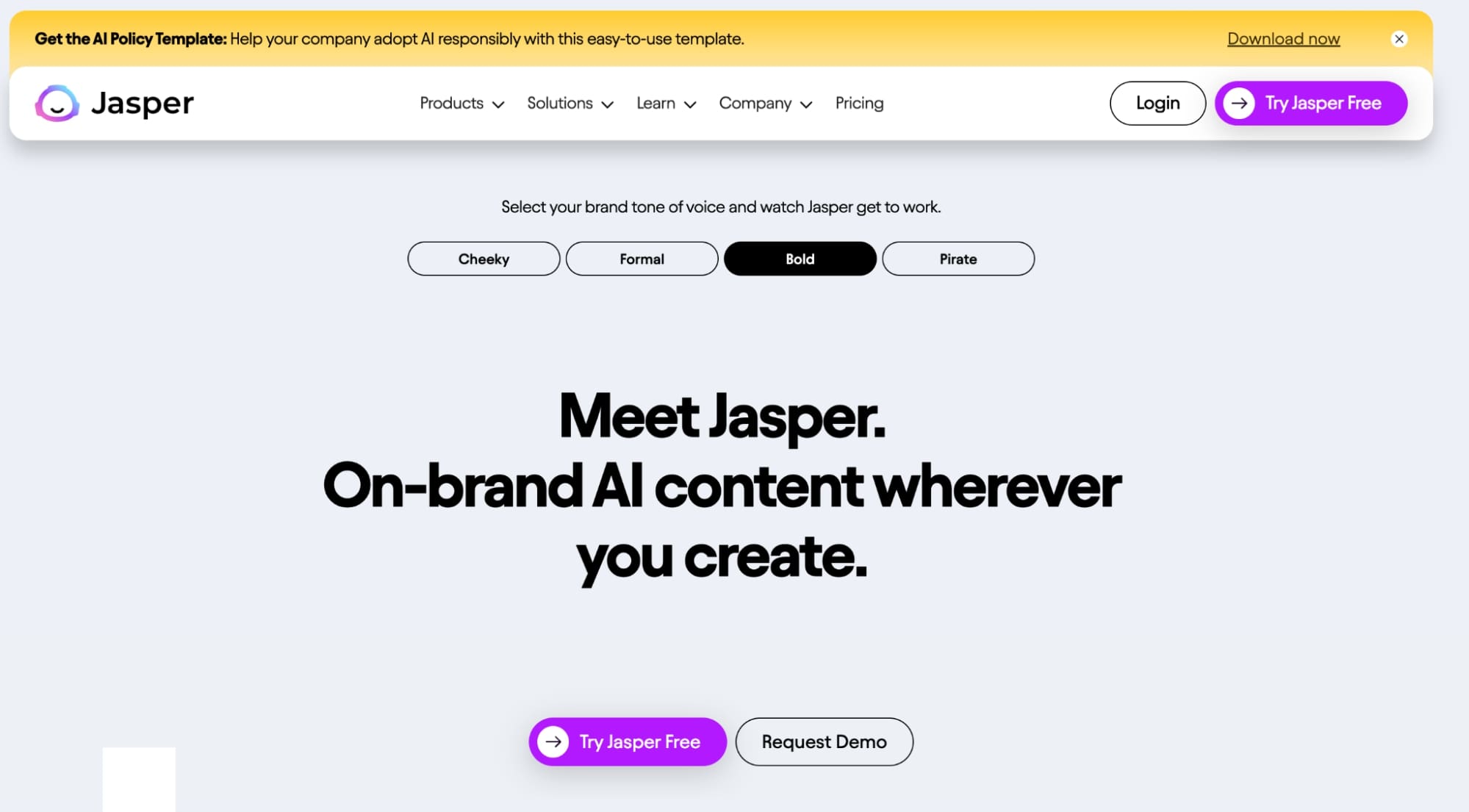 Jasper AI has a lot of similarities with Rytr.
For example, Jasper has advanced natural language processing capabilities. This allows users to generate high-quality, original content in minutes. So Jasper is a great tool for creating long-form content, product descriptions, blog posts, or social media content, and more
But like other options on this list, Jasper can integrate with Surfer SEO. Again, this helps you write content that is likely to rank high in search engines.
Jasper also has a plagiarism checker, so you can make sure you're not publishing or promoting plagiarized (accidental or incidental) content.
But a big differentiating factor is Jasper's comprehensive language model, which assists users with sentence-level suggestions and grammar checks. With Jasper, you can enhance the quality of your writing and create compelling sales emails, persuasive copy, and engaging social media posts.
When it comes to pricing, Jasper offers customizable pricing plans.This flexibility allows users to select a plan that aligns with their budget and content creation needs.
At the time of this writing, Jasper has over 1800 reviews with an average star rating of 4.8.
Click here to read all of Jasper's reviews
5. LongShot AI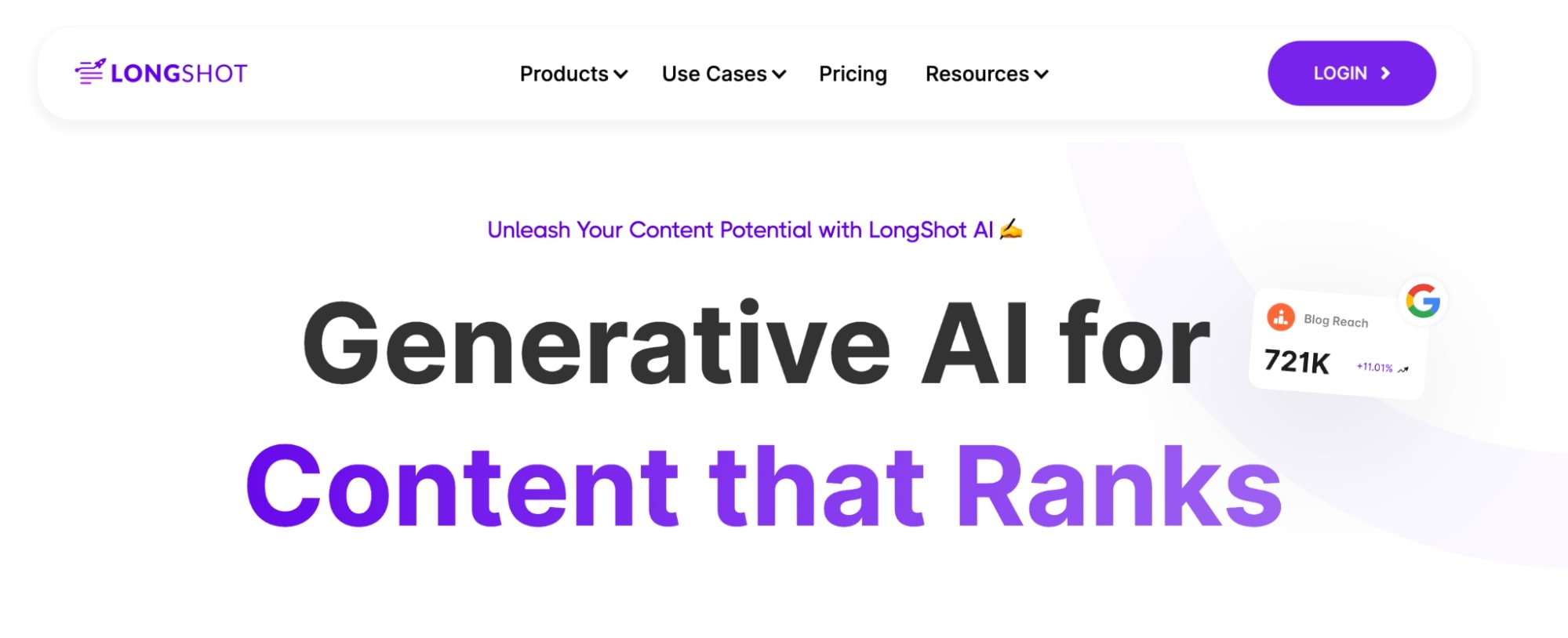 LongShot AI is a powerful content generation tool that stands out with its unique features and capabilities. Like Rytr, LongShot is designed to assist content creators in producing high-quality and original content efficiently. However, LongShot offers its own set of distinguishing features that make it a viable alternative to Rytr.
Specifically, LongShot helps you create content at scale. You can easily create a wide range of content, including blog posts, social media content, sales emails, and more. This makes LongShot a versatile tool that can cater to the needs of content marketers and businesses of all sizes.
Plus, like a lot of the other tools on our list, LongShot incorporates a built-in grammar and plagiarism checker, ensuring that the content produced is error-free and original. This feature helps content creators save time by eliminating the need for external grammar checkers or manual plagiarism checks.
At the time of this writing, Longshot has over 40 reviews with an average star rating of 4.5.
Click here to read all of LongShot's reviews
6. Scalenut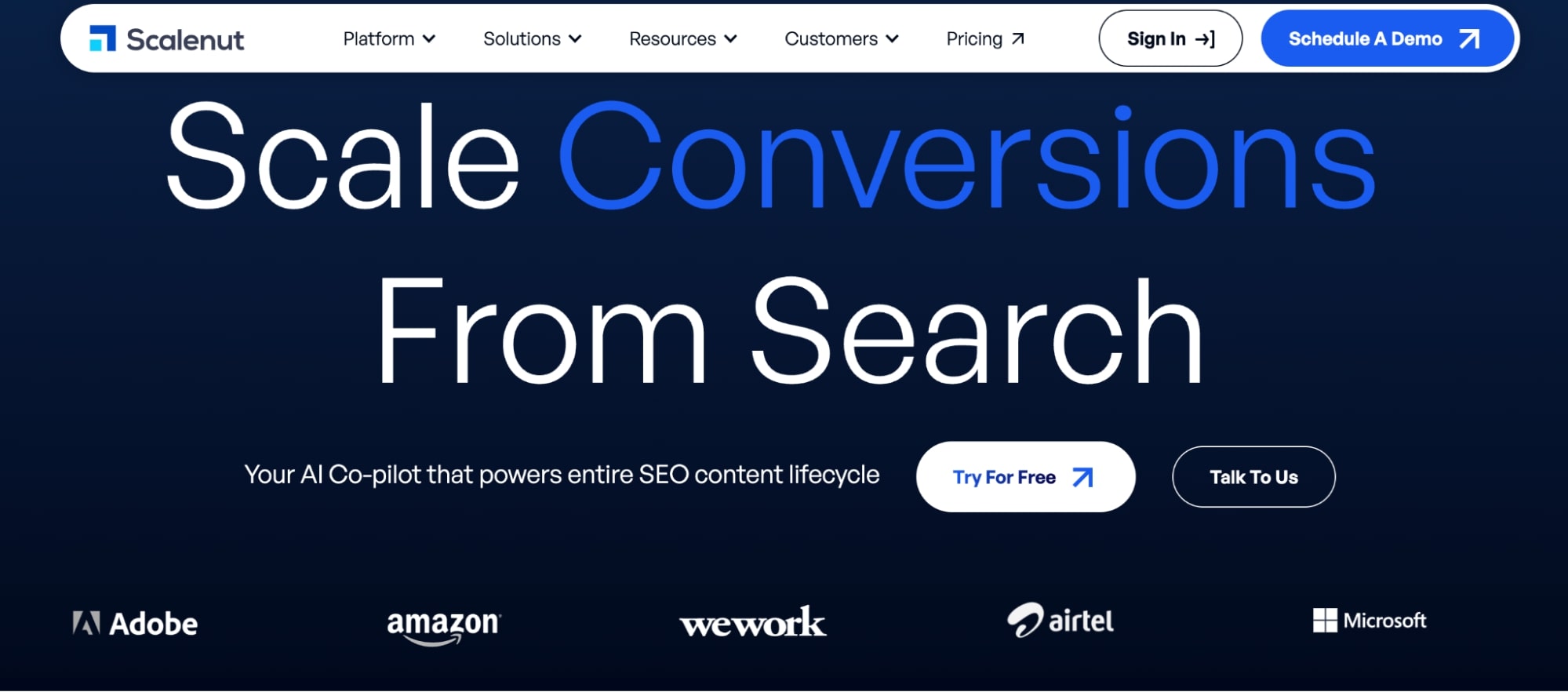 While both Scalenut and Rytr are content writing tools, Scalenut sets itself apart with a strong SEO-focus on long-form content creation. It also has a lot of unique features that make it easier to customize your content.
With Scalenut, you can choose the keyword you want to target with a long-form blog post. Then, an outline is proposed – based on the search engine result's page. You can add context to each header section, so Scalenut is better equipped to generate the kind of contenet you're looking for.
Then Scalenut creates a draft. You can ask Scalenut to expand on a section, to summarize a section, to turn it into bullet points, and more. You also get a SEO score of your content, and suggested h1 tags, meta tags, and more.
When it comes to pricing, Scalenut offers flexible plans that cater to the needs and budgets of individuals, businesses, and marketing teams. From custom plans to affordable pricing options, Scalenut ensures customer satisfaction by providing a range of choices.
At the time of this writing, Scalenut has over 380 reviews with an average star rating of 4.8
Click here to read all of Scalenut's reviews
7. GrowthBar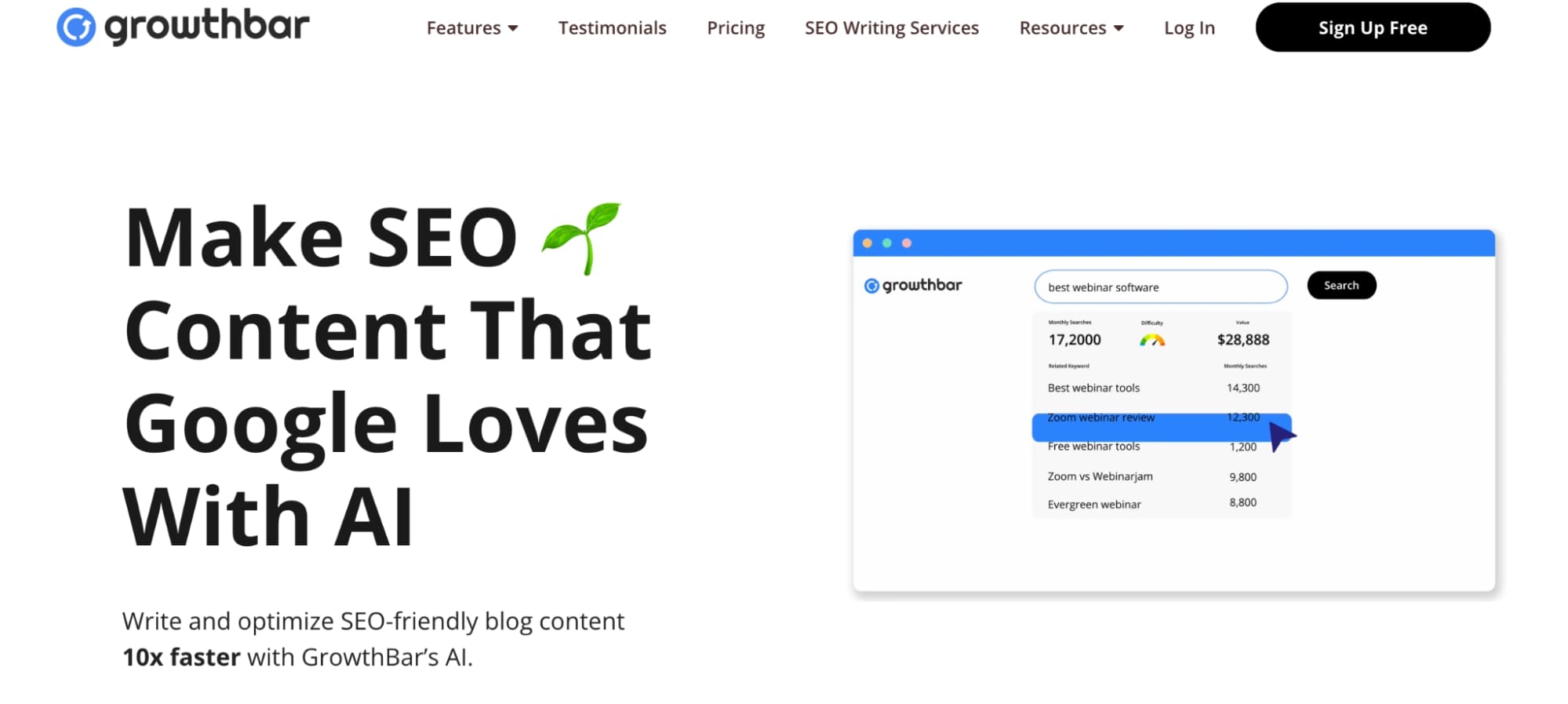 GrowthBar is an AI writer and SEO tool.
You can use its AI writer to:
Write blog articles
Chat with an AI bot
Write paragraphs
Re-write content
Write Email Newsletters
And more
But what sets GrowthBar apart is its addition of several valuable SEO tools.
With Growthbar, you can see key SEO metrics and reports, such as domain authority and a site's backlink profile. Plus, you can use its keyword research tool, which tells you about a keyword's difficulty, volume, and overall value of ranking in the #1 spot for that keyword.
At the time of this writing, GrowthBar has 8 reviews with an average star rating of 4.8
Read all of GrowthBar's reviews here
Next Steps: Trying Smodin for Free
No matter what kind of Rytr alternative you're looking for – from blog creation to article writing to plagiarism checking and essay writing, Smodin has you covered.