Often, students stay tied with a thousand academic strings. Exams, assignments, group projects, research papers, presentations, extracurricular activities, internships, part-time jobs, the pursuit of a healthy work-life balance, and whatnot.
All these demand their attention, effort, and excellence. But, believe it or not, excellence doesn't come quickly like some cool summer breeze.
What if you could have an AI-powered assistant that could sit beside you like some good guru, known to everything, ready to help you with all your questions and queries so that you could excel at your academics?
This article will reveal the internet's top 12 AI writing assistants that can help you excel in your academics.
What is an AI Writing Assistant? And Why Do Students Need One?
To understand AI writing assistants, we must first understand what AI is.
AI, or Artificial Intelligence, is a set of computer programs that can perform intelligent tasks such as singing, problem-solving, thinking, writing, understanding, sketching, exploring, etc.
When brought into the context of writing, an AI writing assistant is a set of advanced algorithms that can understand human language, converse with humans, and help people write anything.
Just think of an AI assistant as a super-brain that has read almost every book possible on the planet and thus knows almost everything.
Now, why should you or any other student require an AI writing assistant?
Six Reasons Why Students Need an AI Writing Assistant
Many people think that AI writing assistants can hamper the intelligence and productivity of the coming generation. But it rarely will be the case if you use it for assistance only; if you do not become dependent on it, just like Captain America is not reliant on his shield.
Here is why students need to befriend AI writing assistants:
Lift the learning curve – Using writing assistants, students can enhance their learning. How? By using it for quick and deep research, simplifying complex ideas, organizing thoughts, asking any doubts possible, etc.
Get past the writer's block – At one point during writing, we all face a dead-end where ideas stop coming. Here, you can simply ask an assistant to illuminate with further ideas.
Become the grammar guru – While writing, you would not want to get distracted by grammatical errors. It is a hindrance. But an AI assistant can take care of this as well, so you can focus on ideas that matter.
Be efficient – Essay structures, article outlines, tone suggestions, writing refinements, all these things can be taken care of by AI.
Plagiarism protector – An AI writer handles plagiarism by producing unique content with a different writing tone and style.
Stress and students go hand in hand. Exams, assignments, projects, research, all these things consume time, leaving little amount for relaxing activities. AI assistants can carry and share this workload and reduce stress.
Now that we know their importance, here is a list of the 12 best AI writing assistants for students.
Top 12 AI Writing Assistants for Students
1. Smodin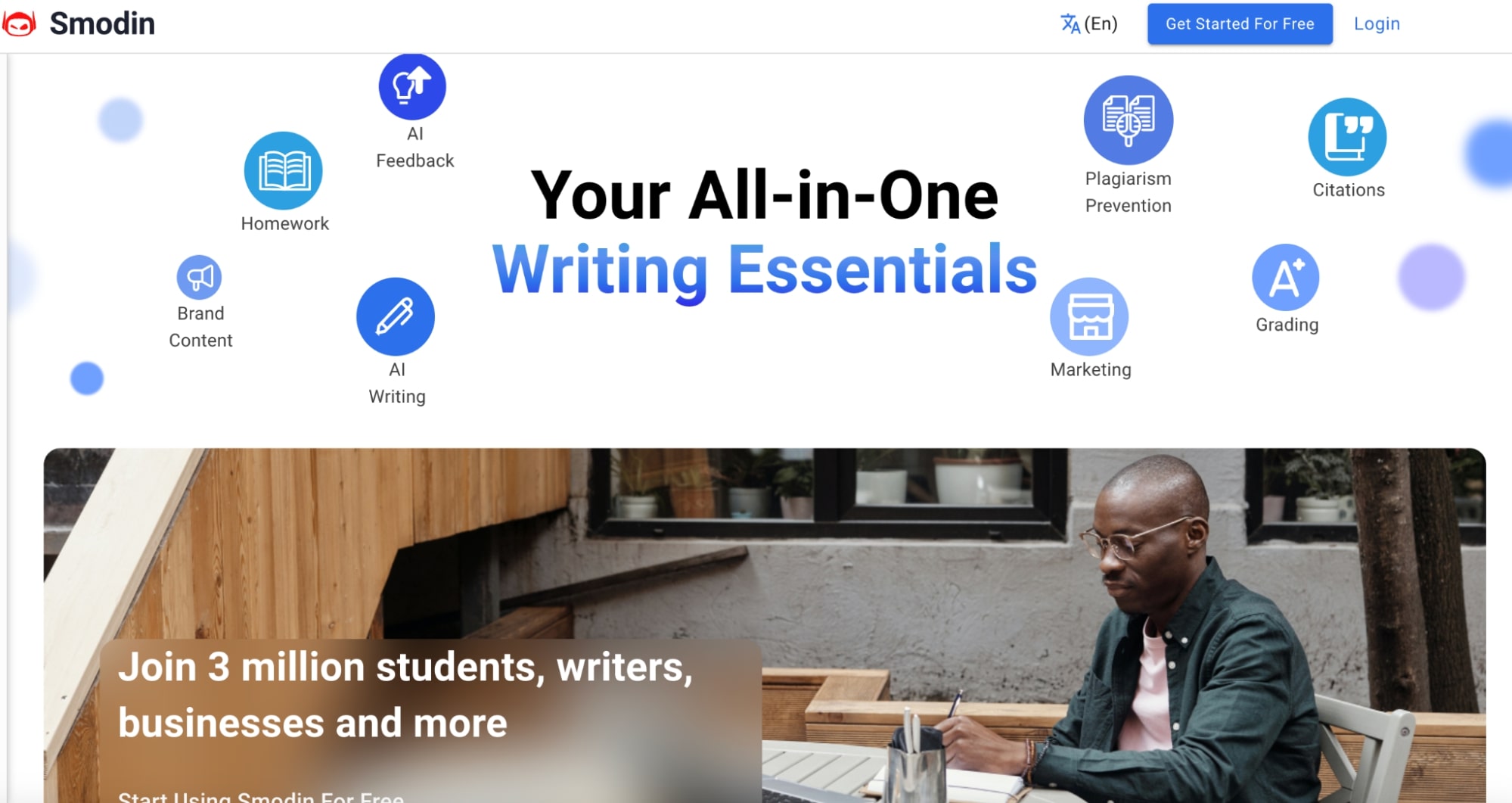 The best in the AI academic writer's class, Smodin can help you write anything, anywhere, and anytime. Sweating due to an approaching deadline? Use it. Need to work on an essay or an assignment? Use it. Need to do deep research faster about a topic? Use it.
Smodin is shaped using the most advanced algorithms in the human language field. It can write almost anything that needs to be written in the academic field, with A+ quality and 10x speed. Here is a sneak peek:
Descriptive essays
Argumentative essays
Personal statements
Research papers
Cover letters
Articles and blogs
Assignments
To understand its pure potential, let's look at some of the supreme features that Smodin provides.
Top Features
Automatic references and citations
Academic writing stands on the integrity of facts and their sources. Students need to tag them with proper citations and references to excel at essays, thesis, or academic assignments.
Smodin takes the stress away and generates references and cites them in any writing format, such as MLA, APA, etc. It can even provide in-line citations. And how? With just one click.
CHATin
Smodin can not only access Google in real-time, it can even tell you where it got the information from. And the most alluring thing? You can chat with it and ask anything as if it is a wise human being.
Different writing formats
Universities require different writing formats, such as MLA, APA, and Chicago. And we know how hard it is to learn all these.
Smodin can write A+ quality content in numerous writing formats.
Furthermore, you can ask it to write in any tone and style possible. For example, humorous, professional, threatening, promising, motivating, etc.
Smodin Omni – the homework expert
Now is the time for AI tutors who can help students with experts. Smodin's Omni feature provides homework solutions and explanations for all possible questions.
Need a short explanation? Or a long and detailed one? Looking for details of the correctness of the answers provided? Omni can be your super tutor with superhuman abilities.
Deep Knowledge Base
Smodin AI writer knows all the subjects in the world. You can ask it to help you in your math assignments, solve chemical equations, form an opinion in history, or even write in-depth content in biology.
It will serve you solutions in every field before you are done sipping your tea or coffee.
Plagiarism and AI detection-proof content
Why use a separate plagiarism and AI detector when you can get it included with your AI writer?
Academic content written by Smodin can pass any AI detection and plagiarism test. This is vital in an educational setting where one can be disqualified if found with plagiarised content.
AI Feedback
Smodin can even give you feedback on the written content regarding text, word choice, argument, structure, tone, style, etc. This means your academic content and educational grades are taking excellent leaps.
Pros
Students can finish various academic writing tasks such as descriptive essays, theses, research papers, cover letters, articles, blogs, etc.
It provides plagiarism and AI-proof content in no time
The automatic references and in-built citations are a must for students
It can access Google in real time and provide detailed answers
Smodin holds knowledge of all the subjects out in the world
Users can write in 100+ languages
10x faster writing speed with A+ quality and accuracy
It has decent pricing that can fit everyone from students to businesses
2. ChatGPT
ChatGPT can be considered as the AI that initially carried the AI writing wave. OpenAI owns it and is a conversational platform that can read, understand, and write any content. GPT in ChatGPT stands for 'Generative Pre-trained Transformer.' But is ChatGPT reliable enough at the present date?
Top Features
Human-level interaction: ChatGPT can interact with its users just like a user or any other AI language software does. It can understand what you say and respond accordingly.
Coding skills: ChatGPT can write a set of code in any computer language you want. Not only can it write code, but it can also read your code and tell if there are issues or space for improvements.
Trained in vast knowledge: This conversational AI has been trained using vast data available on the internet till 2021. It means users can make it ask questions from any field they want.
Pros
Its GPT-3.5 model is free to use
It can be tuned to perform specific tasks
Cons
ChatGPT's knowledge is limited to 2021 only
Its GPT-4 model can be costly
Response time can be quite higher
You'll face downtime without any connectivity
3. Copy.ai
Need quick and efficient content? Copy.ai is here. It is a 'copywriting' tool designed to help users generate high-quality written content. It primarily focuses on businesses looking for great copywriting to promote themselves and draw customers in.
Top Features
Brand Voice: Copy.ai shapes or creates fresh content that matches the brand voice. This resonates with the customers and builds long-term relationships.
One-click improvement: With just one click, you can improve your copywriting prompts and turn them into masterpieces. This enhances the quality of results.
AI prompt library: Copy.ai eases the work of marketers and writers by providing a free library of prompts that can be used to create content. It speeds up the work.
Pros
Copy.ai is a wonderful tool when it comes to marketing
It provides amazing tools that can enhance brand image in no time
Cons of Copy.ai
Copy.ai doesn't have any proper tools to help students looking to finish academic tasks
It produces content that AI content detectors can detect
The pricing could be worrying for students looking for pocket-friendly solutions
It lacks that soothing human touch
4. Rytr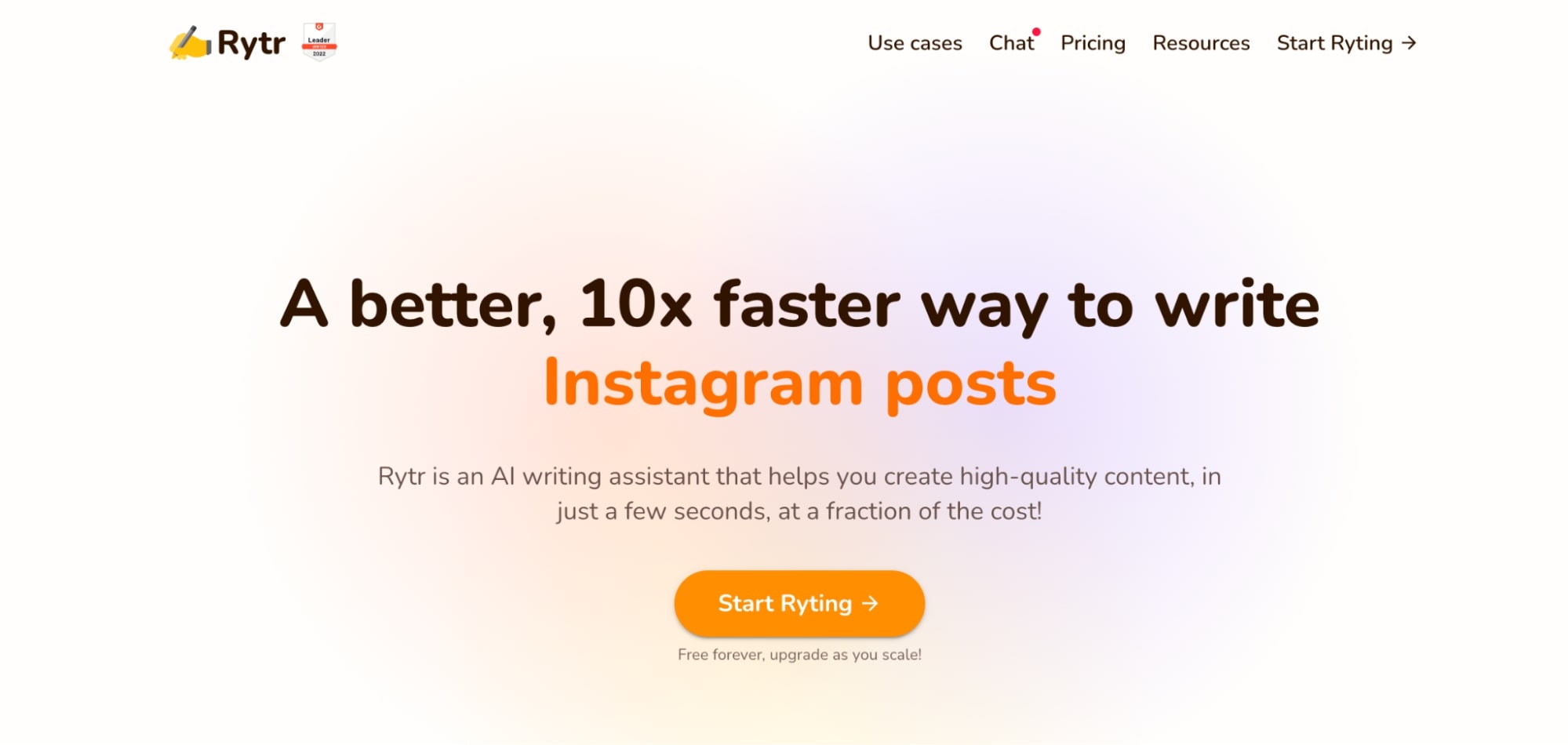 You may pronounce it as writer, righter, or any way you like, but Rytr AI writer won't change the quality of the content it produces. Founded in 2021, this AI writing assistant can create content from blog posts to articles, emails, marketing copies, personal messages, or more.
Top Features
CTA writer: With Rytr, marketing writers need not worry about crafting that great CTA that can push the customer further down the marketing funnel.
Copywriting frameworks: Rytr can help you write content according to different copywriting frameworks and customer's journey. For example, you can create a copy as per AIDA, PAS, FAB, etc.
Keyword Extractor and Generator: If you are a marketer, you must focus on SEO to get your content on the top of SERP. Rytr can help. It can help you with keyword research and extraction.
Pros
It is a good platform for short-form content
Rytr is well adapted to writing business copies according to different frameworks
Cons
Rytr can produce repetitive content after some time
It allows limited characters for prompts
5. Writesonic

Writersonic, a 2020-founded company, provides AI content for blogs, ads, product descriptions, etc. Its advanced language algorithms are mainly shaped to support great copywriting. The company also has a paraphrasing ability.
Top Features
Built-in SEO optimization: Writersonic mainly focuses on blogs and copywriting. To make sure that blogs are written by their rank, it provides in-built SEO optimization so that there remains no space for error.
Real-time trends: Trends are something that businesses aim to capture and capitalize on. It helps them make quick, profitable leaps. Writersonic accesses the internet in real-time, captures the trends and creates content for it.
AI-generated artwork: To help a great blog become the greatest, one needs to support it with some fantastic images. Writersonic produces artwork for social media, blogs, etc.
Pros
It has a great support team
Writersonic provides excellent features for blogging and marketing
Cons
It costs you credit for even minor changes made
It offers no tools focused on academic writing
Users have found it to be making grammatical mistakes
6. Jasper.ai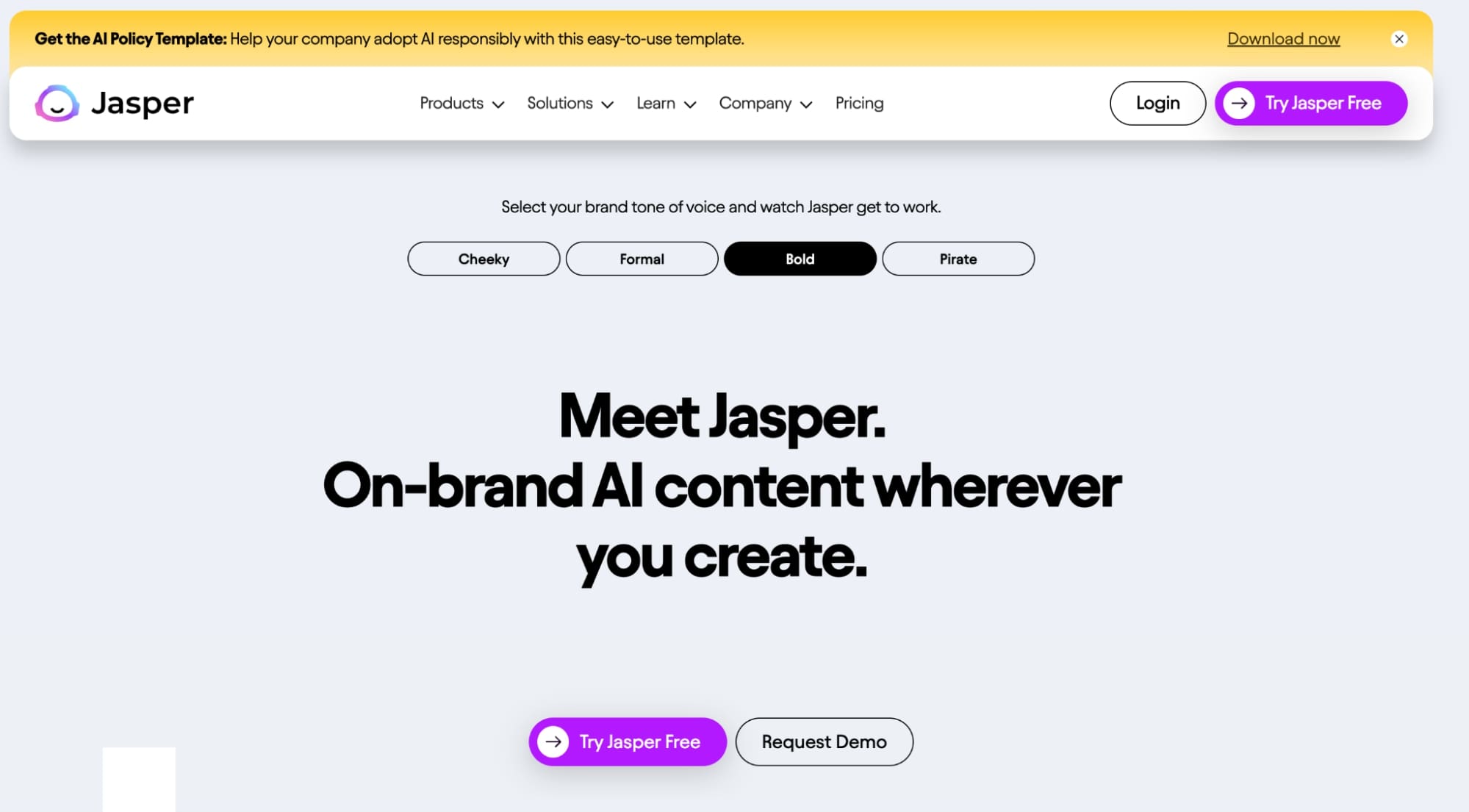 When it comes to marketing tools, Jasper.ai holds the specter with lots of promises. With Jasper, you can write blogs, social media posts, emails, landing pages, company bios, captions, and almost all things marketing.
Top Features
Company Intelligence: Jasper's intelligent AI can tap into your company's content and give you crucial insights about brand tone, image, product positioning, etc.
Campaign acceleration: With its campaign acceleration feature, companies can accelerate multiple campaigns, manage them, and get a summary of reviews.
Browser extension: Jasper also provides a browser extension for its AI writing assistant. This means you can create content no matter where you are on the internet.
Pros
An excellent platform for copywriting and other business writing
Provides numerous features to enhance digital marketing
Cons
It can produce irrelevant information
The company has a poor refund policy
Jasper does not focus on academic writing
Its price is at the higher end
7. Wordtune
Wordtune is an Israeli AI writing assistant company that was founded back in 2020. It helps its users write content of all sorts, such as blogs, answers, summaries, etc. Wordtune can also summarize YouTube videos and save users their precious time.
Top Features
Summarizer: With Wordtune, users can summarize long texts, blogs, articles, or even YouTube videos. It is a crucial feature for those who stay busy.
AI Answers: Users can create their knowledge base and then ask questions from that knowledge base. It is a vital feature for those looking for specific sources.
Wordtune Business: Wordtune Business provides tools and resources that help businesses write great content that enhances brand image and improves team productivity.
Pros
It corrects grammar on the go
Wordtune writes content in different tones and styles
 Cons
Wordtune does not automate citations and references
It provides no helpful tools for students
Users have complained about poor customer services
8. HiveMind
If you are looking for a platform that could help you manage your projects, HiveMind has the correct set of tools. Also, this AI writing assistant can write anything from articles to blog posts, how-to guides, meta descriptions, press releases, etc.
Top Features
Project Management: It allows companies and teams to manage all their ongoing projects at one stage. From here, projects can be tracked, managed, and executed.
Analytics: Hive provides insights on tasks done through the platform. One can track time, get an overview of the workspace, understand late actions, etc.
Automation: With Hive, you can automate everyday routine tasks and save your precious time. For example, segregating queries according to their complexities and class.
Pros
Workflow automation is a plus for business owners and marketers
The interface is clean and easy to use
Cons
Hive doesn't focus on AI academic writing
Users have complained about finding bugs on the app
9. Grammarly
Grammarly was initially launched as a tool to take care of all your grammatical errors. Now, it can check for plagiarism, help you in writing, and even rephrase the text.
Top Features
Plagiarism checker: Grammarly can help users check if the content has been plagiarized from somewhere or if it is original content. This is a helpful feature for students.
Grammar checker: As the name suggests, this platform takes care of all the grammatical errors and offers improvements regarding tone, style, and delivery.
Chrome Extension: Grammarly provides a Chrome extension to ease work for its users. With this, you can check your text for any errors, no matter where you are on the web.
Pros
Its grammar and plagiarism checker is a helpful tool for students
Grammarly has a smooth user interface
Cons
Its grammar assistant needs to be better. It sometimes provides wrong suggestions
No extra features, such as automatic citations, deep research, etc., for students
10. ParagraphAI
Paragraph.AI is a ChatGPT-based AI writing assistant that can write any sort of content. You can write poetry, songs, emails, jokes, bios, product descriptions, or even an excellent ad copy using it.
Top Features
Chrome Extension: ParagraphAI provides a free Chrome extension that can pipe down its true writing potential to any website you visit.
Supports Apps: It supports numerous apps such as WhatsApp, Gmail, Instagram, LinkedIn, etc. This can help you converse like a super-linguist.
Pros
It has a smooth and simple interface
ParagraphAI checks grammar as you write and provides plagiarism-free content
Cons
It does not have any unique feature to support specific tasks
You cannot get automatic references and citations
It could be a bit expensive for students
11. Frase.io
Frase is an AI-based writing assistant that primarily writes content to help people rank on Google. It can do SERP research, create article outlines, do SEO optimization, and even write content for you.
Top Features
Content condenser: It can save you time by analyzing the top SERP results and provide you with the best solutions possible.
SEO optimization: Frase.io can do SEO optimization for your website in no time. It can identify keywords, use them while writing content, compare competitors' content, or even provide crucial insights.
SERP content creator: You can write blogs and articles using its SEO-focused algorithms so that your content ranks on Google SERP.
Pros
It can analyze top SERP results and write content accordingly
Frase can access the internet in real-time
Cons
It offers no specific features for marketers or students
Frase cannot provide automatic references or do in-line citations
12. Anyword
Great marketing copies are hard to make, but Anyword can help. Its AI algorithms are well-adapted to create excellent marketing content such as copies, blogs, visual insights, etc.
Top Features
Copy Intelligence: Its copy intelligence feature can reveal to you the gaps in your marketing content, copies, website, ads, etc. This helps in improving the content.
Data-Driven Editor: Anyword helps you write copies for any channel using predictive performance scoring of top marketing ads, social media, emails, websites, etc. It also analyzes each visitor according to the pages and creates copies based on the language preferred by the target audience.
Blog Wizard: Looking for A+ blogs that can pass plagiarism and human detection tests? Blogs that are SEO-focused and can rank? Its blog wizard feature can help.
Pros
Anyword is an excellent tool for marketers
It has a great and responsive customer support team
Cons
Sometimes, it can provide inaccurate content
It is meant for marketers, not students.
Its pricing could be worrisome
Final Thoughts
As a student, finding time for yourself could be pretty tough, and that too with assured academic excellence. But with the help of AI writing assistants, one can not only get rid of redundant and fruitless work but also get fantastic academic scores.
The AI writers we just saw has some brilliant features that can help student write extraordinary academic content with A+ quality and 10x speed. Not only this, but to ensure content integrity, many of these offer student-focused features such as automatic citations, writing formats, etc.
Know what fits your academic needs, choose smartly, and elevate your writing, productivity, and overall success.