The Most Reputable Text-to-Speech (TTS) Software
Text to Speech is a specialized speech synthesis application that can read digital content aloud.
In the information age, quickly processing information and making it useful, whether the information is provided via text, audio, or video format, is crucial. This is why Smodin features text-to-speech software options that are compatible with Word.
Text-to-speech technology (TTS), also known as speech processing, is a breakthrough advancement designed to make information accessible to everyone. Even those who can't read and write, including the visually impaired, and those with learning disabilities (such as dyslexia) can enjoy any type of written content using a text-to-speech converter.
There are several use cases for the text-to-speech app, and everyone is using it, from professionals and students to kids and adults.
Choose the best text-to-speech software from here:
The software also helps people learn to speak a new language and helps them overcome language barriers.
Converting text to voice for audio lessons, voiceovers, or video is a great way to reuse large amounts of text content in a new format. Not everyone is born with the sweet tone of Morgan Freeman (Morgan Freeman).
Besides, converting text to natural speech in the old way may take you a lot of time. This is where the latest generation of text-to-speech (TTS) tools come in handy. With the advancement of technology, they sound less and less like robots and more like natural human readers.
In addition to many other practical use cases, text-to-speech can help you to:
Turn books into an audiobooks
Turn text lessons into audio lessons
Convert articles in your blog to videos on youtube, podcasts, or audio for Spotify.

Audioanything is not like any traditional TTS, Audioanything is excellent text-to-speech software, that includes Neural voices, providing a free version and a feature-rich paid version.
Neural voices are created by using machine learning technologies to generate synthesized speech from texts,  providing us with unique Neural, real human-sounding-like voices.
Its free version provides users with more than 50.000 characters; free!; At the same time, it also allows users to customize voice speed and pitch tuning, with the ability to save, view, and download previously converted audio files. Giving users all the tools needed from a TTS software, including the newest Neural technology.
Users from various fields can benefit from it,  thanks to its natural-sounding voices, it can also help you to understand a new language and greatly improve your reading comprehension, and by modifying its pitch, you could even create your own neural-sounding voice for your brand, book, podcast, radio, or anything else you might need!
More importantly, Audioanything provides over 200 unique Neural-sounding voices that can be spoken in 40 different languages, yes, Audioanything provides neural voices in multiple languages!
Find out more about Audioanything 
#2 Notevibes


Most suitable for personal use and learning. Notevibes is an excellent, classic text-to-speech software that provides a free version and a paid version. It provides users with conversions of more than 500 characters; at the same time, it also allows users to customize pronunciation.  Notevibes provides 177 unique voices that can be spoken in 18 different languages.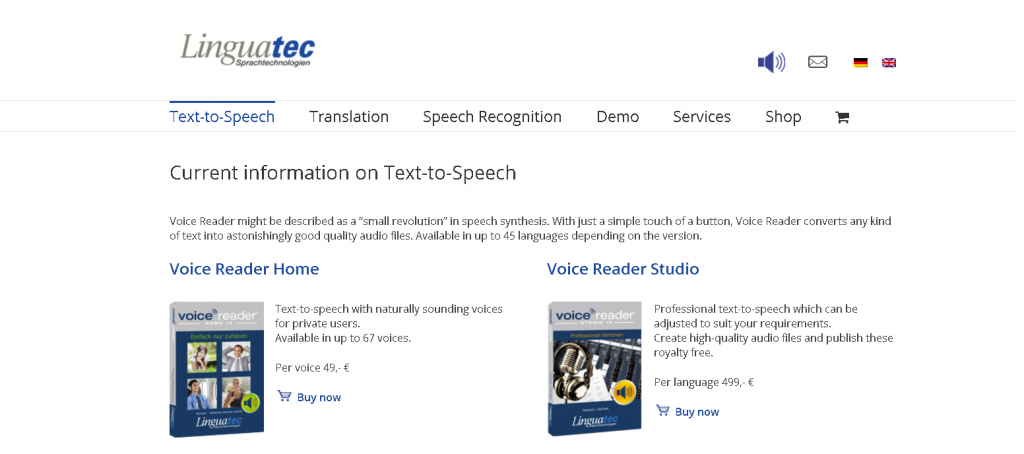 Linguatec, headquartered in Germany, is another company that has been creating text-to-speech applications for many years. Its flagship speech reader software can quickly convert text to audio files. The home version can quickly convert texts such as Word documents, emails, EPUB, and PDF into audio streams. Then, you can listen to them on your PC or mobile device. In addition, you can choose from 67 different voices, and support up to 45 languages, such as French, Spanish, Italian, Danish, and Turkish. The purpose of this software is to increase productivity. For example, you can use the app to read manuscripts of speeches, lectures, or presentations to find incorrect word order or missing words. Overall, the user interface is stylish and easy to use. You can quickly adjust the speed, pitch, or volume of audio files, and each export option is clearly listed.

It is most suitable for personal use and learning, especially for readers with dyslexia and foreign language learners.  Natural Reader is one of the few text-to-speech tools. Although it is completely free, it still provides exciting features. It is very simple to use, and you can start using it by directly loading the document into its library. More importantly, this tool allows you to manage multiple files in multiple formats.
Finally, the built-in OCR allows you to upload scanned photos or texts and read them aloud.
#5 Free TTS

A good choice for free online TTS. The Internet is flooded with free text-to-speech tools, but FreeTTS stands out for several reasons. First, it can convert up to 6,000 characters for free every week. This is more than other tools on the market. (For $6, you can get $1,000,000 for 24 hours.) Second, they provide voice samples-so you don't need to download any files to hear what you expect. FreeTTS also supports SSMS, which is a standard in TTS, you can use it to customize how the program interprets and reads your tests. And, to be fair, FreeTTS provides a list of free TTS to choose from, if you don't like the content they provide, you can choose another one.